Day 1 of 6: Sherwood, OR to Missoula, MT
And so it begins! On Monday June 6th we started our 6-day road trip. Our ultimate destination is Keuka Lake in upstate New York and we couldn't be more excited for this adventure. Of course it was an emotional morning. We were ahead of schedule with loading the car and final house cleaning when five of Matthew's friends came by around 9am to say a final goodbye. I was holding it together until they showed up! Partings are bittersweet and this was no exception. Matthew had been with these guys the night before - he got home around about 1am - but still they came to see him off.  These young men were riding such a high having graduated three days prior.  Throughout the summer and fall, each one will head for college scattering everywhere from California to Vermont. Matthew is the first to go. Leaving for an extended period makes you realize just what you are leaving behind. This is it: friends, community, history, home. We have lived in Sherwood for 16 1/2 years. We are not leaving for good, but it is certainly the end of a chapter, and like an incredible book you can't put down, I was torn - I wanted to keep moving forward, but I also tried to draw it out so it wouldn't end.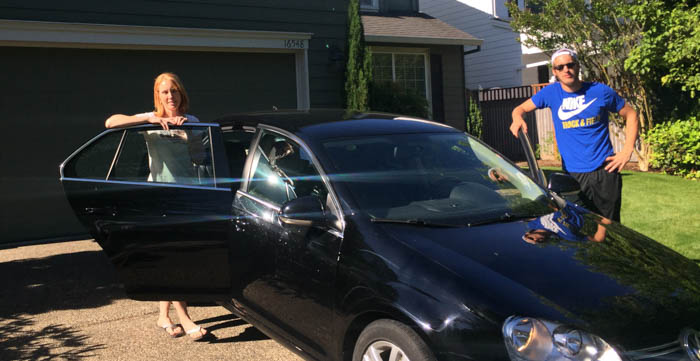 We said our final, final goodbyes and hit the road. Our route wound through the Columbia River Gorge, one of the most beautiful drives in Oregon. I clearly remember my first time through the gorge when we moved from Boise years ago. The drive west is more impressive; heading east the terrain grows ever more stark. When we stopped for lunch in Umatilla, it was 100 degrees and I felt surrounded by brown forbidding desert. It takes a hardy soul to live there! Chris started us off with a winner for lunch. The Crossroads Truck Stop wasn't much to look at, but the food and service were excellent. When Matthew ordered the steak sandwich, the lovely woman serving us asked how he wanted it cooked (!). Matthew reported it was tender and delicious.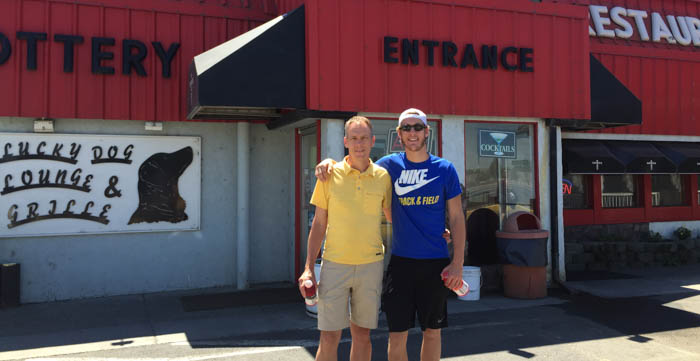 We had no sightseeing stops planned as we needed cover a lot of miles to get to Missoula; this was a good plan. It was our first travel day, and we were content to listen to a classic 80's mix and soak in the scenery as it changed from barren high desert to lush Big Sky country.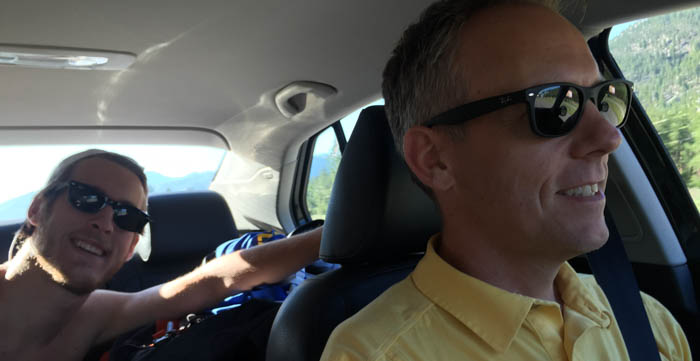 As we entered Montana, Matthew stated incorrectly "I've never been to Montana." You have Matthew, but you were too little to remember! Starting when the boys were about 4 and 2, we would travel to Keuka by Amtrak. Our route through Montana was much further north, easily remembered since Havre was our all-time favorite stop. It was a service stop so we could leave the train, and the station had a half dozen vending machines, a gentlman with a quarter changer strapped to his waist, and ice cream treats in half of the machines. It didn't matter what time we rolled into Havre, we were getting off that train for ice cream!
We arrived at the DoubleTree Edgewater in Missoula about 7pm. Matthew went for a run, so Chris and I headed to the hotel restaurant for a beer and appetizer. The beer was good but service was slow and the appetizer overpriced and average. Still, I fell in love with Missoula as we relaxed on the deck overlooking the river. The town seems full of active, outdoorsy folks and is nestled amongst low hills giving it a cozy feeling. After Matthew cleaned up, we visited Iron Horse Brew Pub for dinner. This was another winner with an interesting menu, good service, and a comfortable and extensive outdoor seating area. After dinner it was straight back to the hotel for a good night's sleep.
Miles traveled: 565
Hotel discount: 12,000 HHonors points to get the room for $50
This post is part of the trip summary 6 Days Across the USA