Hiking the Eastern Sierras and Death Valley
Overview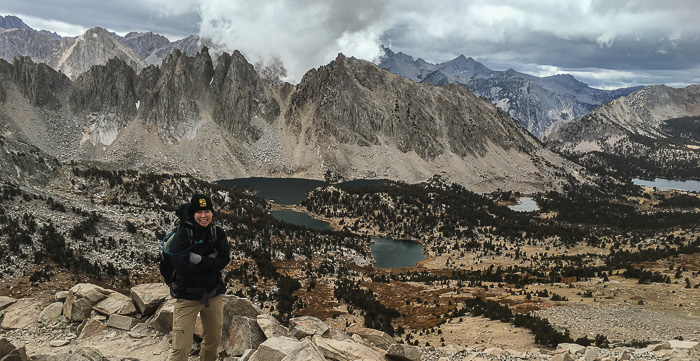 In October 2016, I was lucky enough to spend almost three weeks camping and hiking with my best friend Karen. We met in Reno (having flown from Alaska and Oregon, respectively) and then worked our way from Yosemite down to Mt. Whitney before cutting east to finish up in Death Valley.
We packed so much into our 19-day road trip it was challenging to document it all! Here's what I came up with:
Check out the trip map (on the "Map" tab) for restaurants and camping spots that might not have been mentioned in articles. Lessons learned and random things I noted:
When camping, always check water availability and overnight lows; we were ill-prepared our first night in Yosemite. From my trip notes: "I had just typed up 'easily forgotten items' and the last entry was FILLED water bottles. And yet we each just had 2 bottles and there's NO water in the campground anywhere. So yeah. Planning." Funny!
Since we had very loose plans and I wasn't sure how much we'd be camping vs. sightseeing, I packed way too much. The car was my downfall - if there's space, you might as well use it, right? Oy!
I sleep better when it's cold. After the Shenandoahs, I though I might be done with sleeping on the ground. Turns out it was just too stinkin hot there.
I'm becoming a fan of dispersed camping. It still makes me a bit nervous to be alone in the wilderness, but it's incredibly peaceful to be alone in the wilderness.
After camping for days in a row, staying in a hotel (or even a motel) feels like paradise. Paradise!
Karen has really nice friends. They took off work to hike with us, let us crash with them, lent us stuff, offered to return stuff for us…. Great people. Very glad to meet them all!
When our adventure began, I couldn't help but document the many ways the trip seemed to be the polar opposite of my last backpacking trip through Shenandoah National Park (SNP), just six weeks earlier. Before the SNP, Lynn (my hiking partner) and I had only met a couple times in person. This trip, I traveled with Karen, one of my oldest and dearest friends whom I've known since 7th grade. Other differences:
Planning: Lynn and I (mostly Lynn!) had intensely detailed plans for the SNP, but this time, I landed in Reno with zero knowledge. Nada. Zip.
Location: East to west, from Virginia to California.
Temperature: Hot to cold, sweltering even at night in the Shenandoahs, but struggling to stay warm with temperatures in the mid–20s our first night in Yosemite.
Environment: From lush, green, tree-covered "gently" rolling mountains to a stark, predominantly brown/gray landscape with massive granite outcroppings.
Elevation: Hawksbill Mountain is the highest peak in the SNP at 4,050 feet. In the Eastern Sierras, we routinely hiked at 7,000–12,000 feet in preparation to climb Mt. Whitney which tops out at 14,494 feet.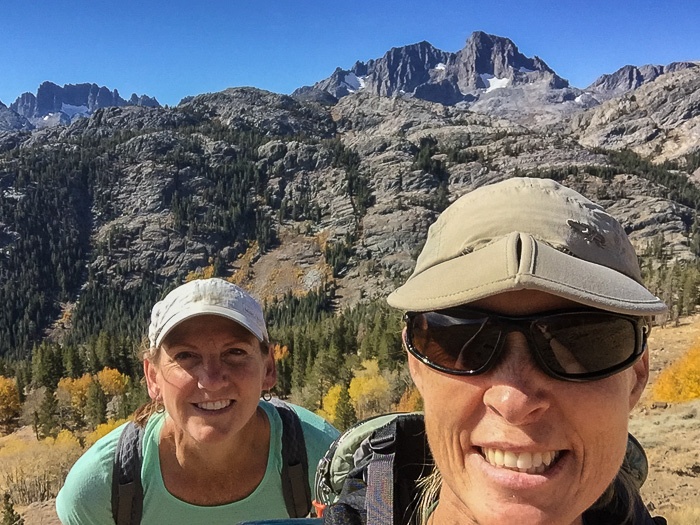 For all the differences, there were important similarities: 1) I was so very fortunate to travel with two strong, intelligent, kick-ass women who were kind enough to share their beloved "backyard" with me; and 2) the time together only served to deepen each friendship. Referring to Lynn in my SNP trip summary I noted that "…I actually went into a funk on my post-trip travel day back home, missing both her and the trail." Well, that happened again. I guess some people would be sick of each other and the outdoors after three weeks of camping and hiking, but I was hard-pressed to say goodbye to Karen (even as I also yearned to get back home to Chris). I also longed to hold onto the peace I found while hiking the Sierras. From The Last Season by Eric Blehm:
…there was magic in these mountains. After a couple of weeks in the high and lonely, all the backcountry rangers experienced a slowing down. Randy called is "decompression," a transition from the fast pace and crowds of civilization. Once in the wilderness, a Zen-like calm heightened their senses exponentially with each passing day. Even skeptical rangers admit that an unmistakable zone comes with time and solitude. Randy had likened the quieting sensation to religion - "a theology not found elsewhere," he wrote in his logbook while stationed at Charlotte Lake in 1966. He had struggled then to explain these "Sierra moments…only experienced when still…and surrounded by and conscious of the country."
I don't think I achieved a Zen-like calm, but definitely felt a quieting sensation. I see now why Karen loves the area so, and will be forever grateful that she shared it with me.
Map
This map highlights the main stops on our 19-day road trip from Yosemite to Death Valley including hikes, sightseeing locations, visitor centers, camping spots, and hotels.
If a location is pinned it has been mentioned in a blog post. To easily locate a specific article, use Plan-Pack-Go's "Search this website…" function. For example, Manzanar (a former Japanese internment camp) has a map pin. To find that write-up, type "Manzanar" into the search bar and any article mentioning the site will pop up.
Preparation
As I mentioned in the "Overview" tab, I did zero planning for this fantastic trip; Karen deserves all the credit! She takes a minimalist approach to trip-planning, figuring out the big stuff (flights, first couple nights lodging, major sights/activities) and then fills in the details day by day.
Since we'd be hiking nearly every day, Karen brought a bunch of trail maps including the Mammoth High Country Trail Map, and National Geographic Trails Illustrated Maps for Yosemite, Mammoth Lakes and Mono Divide, Sequoia/Kings Canyon, and Mount Whitney.
We also spent a couple hours shopping and re-packaging meals and snacks. Where I like to simply rehydrate food when camping, Karen actually cooks. In a pot. Crazy! She planned for angel hair pasta with pesto sauce, red beans and rice, couscous, flavored mashed potatoes with cheese and bacon, thai noodles, pudding, and more. Even her oatmeal was fancy with dried fruit and coconut mix-ins. I've had such a mental block against cooking (and the associated clean-up) it was nice to do it regularly. The verdict? I think I'm in. The clean-up wasn't bad, though it was a bummer to get my hands wet when it was cold. On the plus side, it's cheaper and allows for more creative meals.
If you plan to hike in the Eastern Sierras, read The Last Season by Eric Blehm. It's the story of Randy Morgenson, a seasoned backcountry ranger who disappeared while on duty in 1996. The author deftly describes the search operation while weaving in Randy's fascinating backstory. I read The Last Season after this trip and fell in love with the Sierras all over again! I've quoted this book numerous times already, but here's one more of my favorite passages:
When Sequoia and Kings Canyon were considering the implementation of a wilderness permit system in 1971, Randy wrote to the Sierra District office: "One virtue of the wilderness experience…is the unstructured, unplanned, relatively spontaneous mood…something which will be lost if we initiate a reservation controlled use system." "All of your life, someone is pointing the way, directing you this way and that, determining for you which road is best traveled," he wrote in his 1973 McClure Meadows logbook. "Here is your chance to find your own way. Don't ask me how to get to McGee Canyon or Lake Double-Eleven-O. Go, on your own. Be adventuresome. Don't forever seek the easiest way. Take the way you find. Don't demand trail signs and sturdy bridges. Don't demand we show you the mountains. Seek them and find them yourself….This is your birthright as an animal, most commonly denied you. Be free enough from intentions to find goodness wherever you are and in whatever is happening. Here for once in your life you needn't do anything, be anywhere at a determined time, walk in a certain direction. You can now live by whim. Here's your one chance to get lost, fall in the creek, find a beautiful place."
Packing List
It's a dream to camp/backpack with an experienced adventurer! Karen brought multiple options for water treatment (a SteriPEN, chlorine drops, and a filter), two stoves, two sleeping bags, and bag liner/bivy sack options. One of her sleeping bags saved me - I should have brought my heavier bag, but absentmindedly threw in the 30-degree bag I used in the Shenandoahs (too warm for that trip; not warm enough for this one!).
I generally brought the same gear that I packed for the last backpacking trip, with a few bigger exceptions:
Cold weather gear: My cold weather hiking layers consisted of a lightweight thermal layer (I love Uniqlo Heat-Tech), half-zip Nike long sleeve dri-fit top, down jacket, rainshell, knit beanie, gloves, Darn Tough socks, and toe sock liners. For Whitney, I also needed mittens and a neck warmer.
Bear equipment: Bear canisters are required (no hanging allowed); we rented one in Yosemite for $5/week.
Daypack: I threw in a small backpack for shorter day hikes.
My collapsible water tank doesn't seal well anymore and leaked in the car a couple times; I'll need a better water jug (or more bottles) for the next car-camping trip.