Overview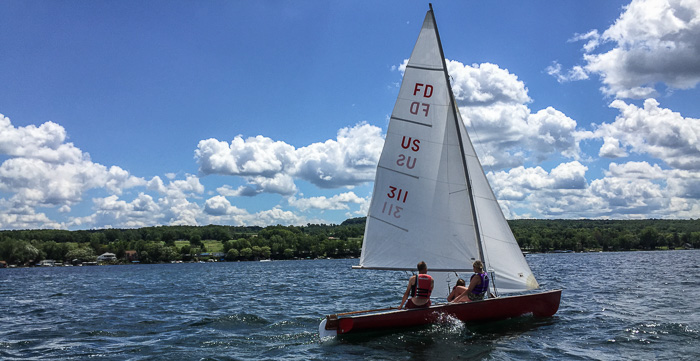 Keuka Lake (aka "The Crooked Lady") is one of eleven Finger Lakes in western New York. It's easy to pick out on a map due to the unique "Y" or wishbone shape. Many will argue which is the best Finger Lake, but there's no contest; Keuka wins hands down! It's just the right size, has pristine water, controlled lake development, hillsides dotted with vineyards and craft breweries, and thriving towns offering quality restaurants, shopping and sightseeing. Even better, we have a knowledgeable, dedicated, and mostly volunteer staff heading up the Keuka Lake Association whose mission is "to preserve and protect Keuka Lake and its natural beauty for future generations."
I've spent a few weeks at Keuka nearly every summer of my life and it's a place that is so dear to me, I'm at a loss to translate the feeling to words. You can imagine then how special it is to to spend the whole summer - heaven! Chris and I enjoy the beauty of the lake and the opportunity to visit with friends and family, but also have a specific mission to help my dad. He's been the main caretaker of our two cottages for 30 years and it's high time for us to take over opening, closing, maintenance, and financial oversight.
2015 marked the first year Chris and I spent the entire summer together at Keuka, a feat we hope to repeat. We expected to learn a lot and whip through much-needed maintenance projects, but we didn't anticipate one of the healthiest summers of our lives. Why so beneficial? Many contributors, but one biggie: we probably spent 80% of our days outdoors, working, running, and playing in and on the water. Our cottages are so open with huge screened in porches and doors propped wide, even when inside we're practically outside.
We are normally constrained to 10–14 days at Keuka but with months in the area, we're able to tear ourselves away from the cottages and explore a bit more. Blog posts (from both 2015 and 2106) are listed below in loose categories, or read the Visitor's Guide to Summer Fun at Keuka for even more area activities.
Hiking gullies:
Running:
Sightseeing around Keuka:
Sightseeing in Hammondsport:
Hiking:
Hiking the Finger Lakes Trail: This trip summary provides an overview map with all of the hikes listed below along with online resources, tips, and a packing checklist.
Exploring further afield:
Other Keuka-related stuff:
I loved and valued my time at Keuka, hated to leave, and hope to have a repeat next summer.
Map
As you can see from the map below, we've been pretty active exploring Keuka and the surrounding areas. If a place is pinned, it's mentioned in a blog post. To easily locate a specific article, use the "Search this website…" function on our Plan Pack Go website. For example, the Pulteney Fire Department Pancake Breakfast has a map pin. To find that write-up, type "pulteney fire" into the search bar and the article will pop up.
Preparation
Before heading to Keuka, I like to check dates for county fairs, music in the park, outdoor art shows, live music schedules at local restaurants, etc. It's tough to tear ourselves away from the lake, but it's nice to know what's on, just in case! These websites have served me well in the past:
Chambers of Commerce:
Keuka waterfront restaurants with live music:
Annual events:
Vineyards on Keuka's west side:
Keuka's craft breweries:
Packing List
Packing for Keuka is fairly straightforward. We live in our family cottages which are fully stocked with the basics along with plenty of beach towels, water toys, lifejackets of all sizes, etc. Two things I always forget:
Cheap sunglasses: Don't bring a spendy pair. Each year I lose at least one pair in the lake, usually while sailing.
My TOPS and Wegmans' loyalty cards: Groceries are expensive there so loyalty cards are a must. I finally got smart this year and left the cards in a drawer at the lake!
For more packing guidance, here's an excerpt from an email I sent to lake visitors:
Bring water shoes, especially for kids. Rocks on the lake bottom are covered in zebra mussels; you could cut your feet if you walk in the water without shoes.
Bring at least 2 bathing suits. If the weather is nice, you'll live in your suit.
No matter what the weather forecast, bring warm layers including a sweatshirt and long pants. The cottages have no insulation and can get cool in the morning and evening.
Don't pack much. You need grubby stuff for the cottage, and something casual if we head into town or out to dinner.
Don't pack white clothes :). These cottages are old. Really old. Even our dirt is vintage.