Backpacking the A.T. in Shenandoah National Park
Overview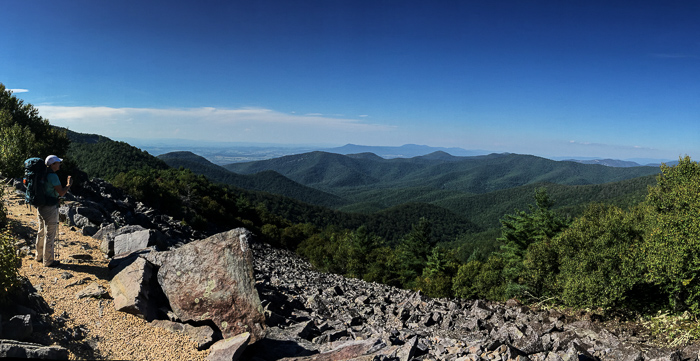 In August 2016, a friend and I backpacked the ~104-mile section of the Appalachian Trail that runs through the lovely Shenandoah National Park. To be more precise, Lynn and I began as mere acquaintances, but a friendship slowly emerged through months of online planning, and then blossomed over 7 1/2 days of 24-hour togetherness.
How'd I like it? "Like" doesn't cut it. Neither does "love." I will never forget this hike. It was my first time tackling a multi-day backpacking trip without Chris, my usual partner, which forced self-reliance and markedly increased my skills, knowledge, and confidence. The newfound friendship with Lynn was such a surprise and delight, I actually went into a funk on my post-trip travel day back home, missing both her and the trail. And that brings us to the heart of it all: the trail. Sure, the Shenandoahs are beautiful and offer stunning vistas, but it's the Appalachian Trail culture that dug in, grabbed hold, and is calling to me even now. Backpacking on the A.T. is like no other backpacking experience I've ever had, I think because it was my first time on a long-distance trail and therefore the first time I stayed in trail huts, and shared that special something with other hikers that grows from trodding the same stretch of dirt. I sincerely hope to pick up another section of the A.T. someday. Hey, if I hike 100 miles each summer, I could finish the whole thing in 22 years :)
Afterwards, Lynn summarized our hike "by the numbers":
0 - Rain
1 - Snake (Timber Rattler)
2 - Bears
3 - Huts
4 - Privies
5 - Deer
6 - Days without a shower
7 - Nights in a tent
8 - Days-a-hiking
14+ - Average daily mileage
27 - Backpack weight,lbs
104 - Miles hiked (give or take)
1,200' - Highest climb (to Mary's Rock Summit)
1,900' - Lowest elevation
3,850' - Highest elevation
With extra trekking to and from campsites, I think we actually hiked 109 miles. From north to south, each day is chronicled in the following trail journals:
My planning and packing articles note many lessons learned and things I'd do differently, but here are a few extras:
Get the PATC Shenandoah map app: I was frustrated with overall dearth of white blazes. Perhaps I was spoiled on the Finger Lakes Trail, but the A.T. rarely had double blazes at turns, and could be hard to find at road crossings. It's well traveled and pretty easy to follow, but a couple times, I was glad for the PATC Shenandoah map app on my phone.
Do laundry regularly, at least socks and underwear. I got lazy and the socks grew toxic.
Take a solar charger for the phone: With a few key settings changes I only lost about 5% battery charge each day, but with a solar charger, perhaps I could have had RunKeeper going in the background to capture actual mileage and climb data. Next time!
Take better photos! I took the worst photos on this trip, largely due to my increasingly smudged JOTO waterproof case. In the future, I'll remove the case when snapping pics.
Check the weather and pack accordingly: My big goof was the sleeping bag. A 30-degree bag was overkill and I was uncomfortably hot and sticky every night.
Talk to anyone and everyone: The people we met really made this trip. While simply chatting is nice, other hikers can share important trail, water, and campsite info, often saving miles of walking. Also, don't be afraid to ask for photos!
Personal re-supply is AMAZING: We were able to re-supply ourselves with help from Lynn's husband Steve. It was a boost to see a friendly face, and a car packed with familiar food, supplies, water, and clean clothes. It paid to throw in a bunch of extra stuff since we really didn't know what we'd need.
Adjust your diet before hitting the trail: I'd been eating a slow carb diet for months, but I'm glad I'd transitioned to higher carb meals a few weeks prior to backpacking. I think I would have had stomach troubles if I'd abruptly switched from slow carb straight to a trail diet.
Finally, other hikers recommended the following particularly pretty sections of the Appalachian Trail in Virginia (not in Shenandoah National Park):
Map
This map highlights the major stops on our hike through Shenandoah National Park, including the start, end, re-supply point, nightly campsites, and stores and waysides we visited.
If a location is pinned it has been mentioned in a blog post. To easily locate a specific article, use Plan-Pack-Go's "Search this website…" function. For example, the Elkwallow Wayside has a map pin. To find that write-up, type "Elkwallow Wayside" into the search bar and any article mentioning the site will pop up.
Preparation
Our months-long preparation for this trip is largely documented in this article, which covers long-range planning tasks including training, testing gear, preparing for bears and ticks, developing a hiking/camping plan, determining water and resupply points, and completing a backcountry permit.
To get in the mood for an Appalachian Trail hike, I read "Becoming Odyssa: Adventures on the Appalachian Trail" by Jennifer Pharr Davis. The book provided a nice baseline introduction to the A.T. culture and lingo, but for me, it was far more entertaining to read about an A.T. hike after I'd completed one of my own. I commiserated, laughed out loud, and nodded knowingly (to a degree!) through Bill Bryson's "A Walk in the Woods."
For nitty-gritty details about the A.T. and Shenandoah National Park, I appreciated:
Packing List
Check out this article for:
Breakfast, lunch, dinner, and snack ideas
A list of "don't forget" supplies
My packing list with post-trip notes
A checklist of last-minute items that are easily forgotten