Woodstock, West Point and Cooperstown Trip
Overview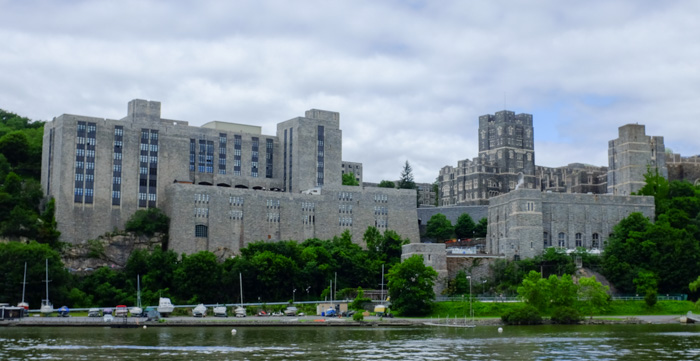 We built this trip around delivering our younger son Matthew to West Point; as long as we were heading that way, we might as well see a few things on the way! West Point is about a four-hour drive from our cottage on Keuka Lake and we took four days for the round trip. The Museum at Bethel Woods was a fun stop on the way out, especially since the Woodstock experience was the polar opposite of the regimented Army life Matthew would soon face. We also enjoyed the National Baseball Hall of Fame on the return trip but in hindsight, planning a major sightseeing destination the day after R-Day at West Point was a bit much; my energy was seriously lagging after the physical and emotional toll from the day before.
The trip posts included in this summary:
Update: We also traveled to West Point for Acceptance Day (aka A-Day) and Plebe-Parent Weekend.
Map
This map highlights our driving route along with sightseeing, restaurant picks, and lodging. For more information about the trip, refer to the pertinent blog post summary.
Preparation
This dates for this trip were set by our younger son Matthew when he accepted his appointment to the United States Military Academy at West Point: the mandatory reporting day was Monday June 29. We didn't want to feel rushed in our last few days with Matthew so planned to arrive Saturday afternoon. We were very glad for this decision; Sunday was relaxed and allowed time for a movie and final shopping.
Cooperstown was already a definite stop for the return trip, so we worked to find a sight for the trip out to West Point. Using Google maps, Chris narrowed the driving route to two main possibilities, a northerly route through Binghamton or southerly through Scranton. In an iterative process, he zoomed in on an area and searched for "museums" or "attractions" in that section. He almost missed the Woodstock museum since Woodstock isn't in the name; "The Museum at Bethel Woods" didn't ring a bell at first!
Determining a driving route and sightseeing was nothing compared to the preparation Matthew completed for West Point. Thankfully, the Army is a clear communicator. They provided detailed lists and instructions, and Matthew simply stepped through them one by one. Early in the process he adopted the KISS method (Keep it Simple Stupid): 1) he did exactly what West Point told him to do and no more; and 2) he packed the required and recommended items and no more. Did they tell him to practice shining his shoes? No, so he didn't. Was bug spray a required or recommended item? No, so he didn't pack it. With the internet and social media, there's a plethora of advice from so many sources it would be easy to get overwhelmed. Matthew's method was genius. By sticking to the basics he made the whole process less stressful.
I was not as disciplined.  Although Matthew didn't want any extra information or advice, I couldn't stop researching.  Increasing my knowledge base was the only way to ease the clanging in my head and mute the hills and valleys of my emotional roller coaster.  I scoured the internet, talked to anyone I could, and read a few books including:
When we realized Matthew was serious about West Point, Chris asked him to read Absolutely American: Four Years at West Point by David Lipsky, and we all watched the documentary National Geographic - Surviving West Point.  Both helped to gain a clearer picture of the good, the bad and the ugly.  It's no small thing to accept an appointment to West Point and vital to go in with eyes wide open.
West Point "research" doesn't have to be all serious business.  Check out West Point: The Complete Series for a look at West Point in the 1950s.  The dialogue and speech patterns had us laughing out loud, but we also boggled at the many buildings, uniforms, and traditions that are the same today.  For such a hokey show, we were surprised by big name appearances (some before they were big names) from Leonard Nimoy, Clint Eastwood, Steve McQueen, Larry Hagman, Barbara Eden, and more.  Overall, the show offered lighthearted fun and a welcome diversion while Matthew was incommunicado at Cadet Basic Training.
Packing List
Chris and I didn't pack anything special for this trip; it was a basic weekend getaway.  West Point had one main packing tip for parents: bring good walking shoes.  Listen to this advice!  The campus is vast and the terrain varied. Many folks (mainly women) were suffering in their sandals and heels by the end of the day.  Chris and I didn't anticipate how much time we would need to fill on R-Day and how much we'd try to pack in.  There were times when I was hungry and thirsty; a backpack with extra water and substantial snacks would have been welcome.  My "Don't forget!" items for this trip:
Warm layers
Rain coat
Travel umbrella
Walking shoes
Sunscreen
Backpack
Filled water bottles
Snacks