West Point Plebe-Parent Weekend 2016
What a difference a year makes. On Saturday March 14, 2015, Matthew escorted me across the stage at Sherwood High School during the formal segment of the Mr. Bowmen Pageant, the culminating event of his school's months-long fundraiser for a local children's hospital. Matthew looked dashing in a tuxedo while I did my best to stay upright in heels (never wear them!) and a black cocktail dress.
Fast forward exactly one year to Saturday March 12, 2016, when Matthew ushered Chris and me into a formal banquet at the U.S. Military Academy at West Point. I wore the same black cocktail dress and torturous heels, but Matthew traded in a tux for his West Point full dress uniform. Oh my. "Dashing" does not adequately describe how he looked that night. He's a changed man having gained about 15 pounds of muscle, and if they could be weighed, the same amount in maturity and poise. Everyone matures in college, but the intense nature of a military academy seems to have fast-forwarded the process.
Looking back again to March of 2015, Matthew was laser-focused on West Point, 100% sure that it was the right choice. I, on the other hand, had a laundry list of doubts and asked him to delay acceptance until after an overnight visit in late March. The visit cemented his decision, but did little to dispel my deepest concerns. Much to my surprise, this past year has thrown each doubt by the wayside one after another. The academy is challenging to be sure and Matthew has had his share of tough times with more to come, but overall he is thriving. Chris and I couldn't be more proud.
I couldn't write these words with such confidence had we not attended West Point's Plebe-Parent Weekend (PPW). Two full days of activities gave us hours of one-on-one time with Matthew (precious!) and deep first-hand insight into his daily life at West Point and relationships with fellow cadets, professors, and military leadership. Seeing is believing. Thank you West Point for this rare opportunity.
Although PPW lasted just two days with scheduled events running throughout Friday and Saturday, Chris and I arrived on a Wednesday and flew out a week later. I found super-cheap airfare and pounced, so our extended trip started with a day in Manhattan (we'll take every opportunity to see a Broadway show!), then a few days at West Point, and finished in and around Danbury, Connecticut. This post will focus on the best stuff, our time at West Point.
For families arriving Thursday, PPW festivities kicked off with an evening reception at the Thayer Hotel, a simple meet-and-greet with Deb Dalton (the West Point parent coordinator) and other parents. Since the Thayer reception started at 6pm, Chris and I planned to arrive at the West Point Visitor Center by 5pm, allowing plenty of time to pick up our Local Access Badges before the reception. A badge wasn't required for the weekend, but could speed access to West Point allowing badge-holders to use DOD lanes and avoid potentially lengthy inspections. As suggested, we completed and submitted paperwork online; with only a few ahead of us in line at the visitor center, we were done within 15 minutes. The process moved quickly for those who pre-registered since background checks were already completed and security simply needed to check identification, take a photo, and print the badge. If completing paperwork in person, background checks must be done on-the-spot.
After checking "Get badges" off the list, we went straight to the Thayer to have a drink and work a bit before the reception. Stopping into General Patton's Tavern is becoming a tradition and always reminds us of that very first visit Matthew's junior year when West Point seemed such a long-shot. Unfortunately my energy took a nosedive, likely due to that glass of red wine I was sipping while fondly reminiscing! The parent reception looked lovely (even offering an optional buffet dinner) but we left quickly and forged on to our hotel. We've stayed in different lodging each trip, and this one proved to be the most challenging. Fishkill is a 35–45 minute drive which didn't seem onerous on paper, but was a chore in practice. Days were full and long and I dreaded the late-night drive back each night. The Hyatt House in Fishkill was comfortable and we appreciated the complimentary hot breakfast with custom omelets, but I'd recommend staying within 20 minutes of West Point if possible.
On to Friday! We knew we'd be on our own until about 11am when Matthew would be free to join us. His timing seemed average; cadets reunited with their families at various times throughout the morning and early afternoon depending on individual commitments and duties. There were so many presentations, tours and open houses available Friday, it was difficult to choose what to do. Only one activity was ruled out since we were on an airplane when PPW registration opened up on February 24th. By the time we landed, the much-coveted tours of the Superintendent's Quarters were full. No biggie. While the house has rich history, our mission for the weekend was to learn more about Matthew's life. The Supe's house could wait! I'll include an image of the full schedule at the end of this post so you can see all options available but when in doubt, we chose activities that were most closely aligned with Matthew's experiences at West Point.
To avoid expected crowds, we got an early start on the day, entered West Point through the Stony Lonesome Gate, and parked at Michie Stadium at 7:45am. A shuttle was available, but the morning was lovely so we walked the half-mile to the West Point Association of Graduates (WPAOG) open house at the Herbert Alumni Center. We aren't alumni but received an invitation and RSVPd weeks ahead. Boy, no need to eat breakfast prior! They had hot and cold items available including fixings for scrambled egg burritos with grilled veggies and salsa; quite a spread and the coffee was delicious.
The association chairman Lieutenant General (LTG) Larry Jordan spoke briefly and then wandered the tables. When asked about the most positive change he's seen since his time at the academy, he responded "Women" and further mused that guys can be knuckleheads (himself included) and women increased the level of maturity on campus. He added that cadets have many more opportunities than he did in terms of academic trip sections, club activities and the like, many of which are funded by the WPAOG and its Margin of Excellence program. I can't say enough about this program! Matthew has been the recipient of many of these opportunities and Chris and I feel they've made the difference between surviving and thriving. He has traveled four times with the orienteering team to away-events and has joined three trip sections, one to Washington D.C. with the history department (for the Holocaust Museum) and two to New York City with the Investment Club (visits with banks, hedge fund managers, and Jim Cramer of Mad Money). These opportunities coupled with Spirit Pass trips to New York for Tunnel to Towers and the Army-Navy basketball game have provided a steady relief valve and near-term events to look forward to. Love it!
After quickly browsing the gift shop in the alumni center, we walked to Ike Hall to check in and wander the various vendors. Many parents purchased parkas and had patches sewn on right then and there, but we skipped having little use for that type of outerwear in Oregon. We were pleasantly surprised to find photos available and purchased two at $10 each, one of Matthew's Company during Cadet Basic Training (very somber!) and another of his academic year Company (much happier with smiles all around). Crowds were picking up at 8:30 when we left for the uniform factory, but were still surprising small. Upperclassmen had already been released for spring break, so campus was reserved solely for Plebes and their families. The overall feel was mellow and happy; of course sunny days with temperatures in the 60s helped!
We hightailed it to the uniform factory hoping to catch the first tour at 9am and made it just in time. Matthew couldn't believe we went; he has negative associations with the factory from R-Day when he was harried, confused, rushed, and yelled at constantly by upperclassmen. Nobody screamed at us so we enjoyed our time there. West Point is the only service academy with its own uniform factory and the last installation where everything is made in the USA. The employees are clearly very proud of their work and rightly so; it's impressive. With just 42 workers, they make all of the uniforms for the band and over 4,000 cadets. The factory cuts 47.5 miles of fabric annually creating 60 different product lines, each held to the highest standard.
At the time of our tour, employees were hard at work making uniforms for the incoming Class of 2020 and I witnessed a quality control station where embroidery spacing and length were double-checked by hand with a ruler (!). They've been making these same uniforms for over 130 years and have learned a thing or two. Most cadets will wear the exact same uniform all four years since they build in generous outlets (extra material) that can be let out as cadets grow. Smart!
Chris left the factory tour early to catch a 9:45am presentation by Dr. Elizabeth Samet from the English Department. Matthew recently switched his major to English so we were interested to hear from one of the professors. I made it to Ike Hall for the last 10 minutes and though we enjoyed her speech, the highlight was talking afterwards with COL Harper, head of the English department and Matthew's professor this semester. He had kind things to say about Matthew (or Matt as he's known to most around here) and gave us a preview of creative projects yet to be assigned.
Dr. Samet's presentation finished at 10:25 and we drifted outside to soak up the sun until Matthew's arrival. He appeared at 10:55 (YAY!!) and that's when we made a little mistake. At that point it seemed we had oodles of time to see and do things with Matthew, so we went straight back into Ike Hall for the "Core of the Corps" presentation by the West Point Band.
These are world class musicians and we were scattered amongst them for the next 50 minutes, immersed in their sound while an emcee used the band as a metaphor for leadership. Quite a presentation, so why the regret? In hindsight we should have used that time to run through the simple orienteering course Matthew's team had laid out at Trophy Point. We ran out of time Friday and when we tried Saturday morning, the course had been picked up.
The band program wrapped at 10:55 and we moseyed downstairs for a quick lunch at Ike's Riverside Cafe followed by a leisurely walk to the barracks so Matthew could change uniforms. We weren't allowed in yet - that would come later - so we hung out by the Eisenhower statue until his return. Where next? Back to Ike Hall of course for the mandatory brief from the Brigade Tactical Officer (TAC), COL Merkel, about cadet schedule, increased post security, leadership development over the four years at West Point, and the many roles and responsibilities of the Company TAC. The Colonel is well-liked by cadets and eventually shared his "Why I love tugboats" story that had us all chuckling. From the increased murmuring in the crowd, cadets clearly love this anecdote. I cracked up when I overheard one cadet turn to another and say with a meaningful stare and mock gravitas "You're my tugboat" and receive a dramatic sentimental response in-kind. Oh young people, you're delightful and highly entertaining!
Once released from the brief at 2:40, things got very interesting. With various open houses available until 6pm, we were afforded the rare opportunity to peek behind the veil and learn first-hand about cadet life at West Point. Matthew first escorted us to the Thayer Hall Academic Open House where we explored classrooms and met a few professors including two math instructors and a history instructor. We then hustled upstairs for the Company Briefing at 4:15pm, run by Matthew (acting Platoon Sergeant) and fellow Plebe Lisa Canak (acting Platoon Leader). Just for this weekend, Plebes took on leadership roles normally assigned to upperclassmen and due to reduced-strength, Companies morphed into Platoons.  It seems it was an eye-opening experience for all, not just for the direct leadership but also the time required to plan and execute tasks; a bite-sized taste of what's to come.
Matthew and his PL were tasked with planning the brief and they did a bang-up job; for me, it was a highlight of the weekend. They coordinated a fashion show that ran through each of the uniforms they'd been issued: PT (physical training), ACU (Army Combat Uniform), White Over Grey, As for Class, Dress Grey, Full Dress, and even Cadet Casual even though they can't wear it yet - must have borrowed from an upper classman! For each, there was a model in uniform and an escort who explained the significance of the uniform, when it's worn, and why. I'm grinning just thinking about it. We got to see and hear from over a dozen cadets in the Company, and in this (somewhat) casual setting, their personalities shone through with impromptu asides. There's nothing quite like seeing cadets laugh and share inside jokes to quiet niggling doubts about the happiness factor at West Point.
Matthew's TAC NCO SFC Eric Williams spoke briefly after the fashion show (NCO SFC = Non-Commissioned Officer Sergeant First Class). His job is to "train, lead, coach, and mentor cadets, with a continual focus on leader development." To aid the cadets in Matthew's Company, SFC Williams must wear many hats including legal commander, role model, counselor, teacher, life coach, and administrator. It's a massive role usually shared with an officer, but SFC Williams (aka SGT Will) is flying solo, likely through the end of the year. Chris and I are so very grateful for his dedication and hard work. SGT Will shared a story in closing: When cadets were smoking cigars (or planning to smoke cigars?) at the annual Christmas dinner, SGT Will asked them why. "It's tradition," they responded. When pressed further, he realized they had no idea how or why the tradition started. A bit exasperated, he shot back "So you take part in a tradition you know nothing about??" and they deadpanned "Sergeant, that's all we do here at West Point." Touché cadets; he had to give them points on that one!
We left Thayer Hall at 4:55pm and had about an hour to see Matthew's room (in Eisenhower Barracks), Washington Hall, and the Arvin Physical Development Center. With a new barracks being built and others in renovations, cadets are crammed in tight quarters with most living with three people in a two-person room. It's as crowded as you might think, but Matthew's very happy this semester. He had four people in a two-person room last semester so this seems roomy in comparison, plus they re-shuffled roommates and he, Collin, and Chris are very compatible.
We chatted with Collin and Chris while Matthew regrouped and gathered civilian clothes for dinner later, then checked out the Goon Cafe (with shared refrigerators and a mini-store selling snacks at-cost) and the Q (a small desk that's staffed 24/7 by the Cadet in Charge of Quarters) before heading to Washington Hall. Matthew admitted that Washington was confusing at first since it's laid out in similar-looking spokes that radiate from a central "fishbowl" - good thing he's been working on his navigation skills ;). He eventually led us to a huge relief model of West Point where we spent a good 10 minutes identifying various training routes used by the orienteering team; they fairly cover the post and Matthew seems to know the grounds backwards and forwards.
We took a brief spin through the Cadet Mess before heading to the Arvin Physical Development Center. We'd toured Arvin previously during an admissions visit but took another quick pass through Hayes gym to see the obstacle course and hear more about the Military Movement class that prepares cadets for the IOCT (Indoor Obstacle Course Test). Watch this video of a cadet breaking the obstacle course record; he makes it look so easy!
We moved on quickly to see both boxing gyms and the "stairway to heaven" (which Matthew's team uses for gut-busting stair climbs) before the place shut down at 6pm.
Once again we chose to walk to the Michie parking lot instead of catching a shuttle; our dogs are always barking at the end of a West Point day! Matthew changed into civvies right there before driving to the Newburgh Brewing Company for dinner. Once live music started, the place was loud and conversation difficult, but we enjoyed mac & cheese and rosemary garlic fries while playing a quick game of Rummikub. A couple other Plebes showed up and were a little surprised that Matthew was in civvies (they were still in uniform). Evidently it can be unclear as to whether civvies are allowed; Matthew was unphased though, yet another subtle change since A-Day. After hunting down a TGI Friday's for dessert, we dropped Matthew in the Clinton parking lot at 10:30pm and made it back to our hotel by 11:10pm.
It was a late night, but no rest for the weary! We met Matthew at the Ike statue at 9:20am on Saturday morning after parking in the more centrally-located Clinton parking lot. The plan was to tackle the orienteering course laid out at Trophy Point, but since it was cleaned up, set off instead on a lovely stroll along Flirtation Walk followed by a tour of the gorgeous Jefferson Hall library. We toured the library from the 6th floor down, stopping to see Matthew's favorite study spot. I don't know how he settled on just one area - the building offers a huge array of serene work spaces. At one point we ran into Scott, a cadet who will attend Airborne School with Matthew this summer. His family lives within a couple hours of Fort Benning and they offered to help with transportation; very kind!
It took just 10 minutes to walk from Jefferson Hall to Ike Hall for a 10:30 mandatory Academy Leader Team Brief where we heard from the Superintendent, Commandant, Vice Dean of Academics and the Athletic Director. I appreciated the updates, but we've had such good communication from West Point through emails from Deb Dalton and publications like The Pointer View, nothing stood out or surprised. The Brief concluded at 11:50 and with the Riverside Cafe closed and just 30 minutes for lunch, Matthew opted for Taco Bell at the Post Exchange; not terribly exciting, but quick, filling, and illuminating for us to see the PX. We finished quickly, dropped Matthew at the Clinton lot by 12:30, re-parked nearby, grabbed a salad at Grant Hall, then staked out a couple spots for the Cadet Review at 2pm.
[caption id="attachment_2201" align="alignnone" width="700"]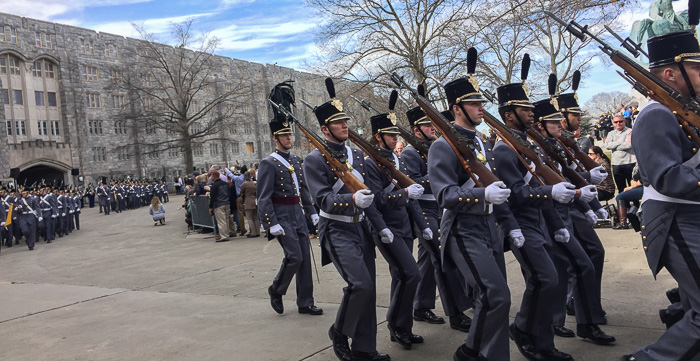 Matthew following his Platoon in the Cadet Review[/caption]
The review would occur on the Apron, the paved area southwest of the plain, snugged up against Eisenhower Barracks, Washington Hall, and Mac Long; check out this helpful map with labeled buildings. Spectators were allowed to line up on both sides along the route, but where best to stand to get good photos? Matthew said to lurk near the Washington statue and after asking around, I learned that the reviewing party for the Pass in Review would be standing on the steps of Washington Hall, and cadets would pass from right to left as you're looking at Washington Hall, so from Mac Long to Eisenhower. To hedge our bets, Chris stood near the Washington statue on the Plain-side, and I stood a bit further down in front of Eisenhower Barracks on the building-side. I'm glad we split up: we got a couple different angles of Matthew (he was tricky to catch since following behind his Company) and I got great shots of Julia, a friend from Sherwood High School who was a PL.
[caption id="attachment_2199" align="alignnone" width="700"]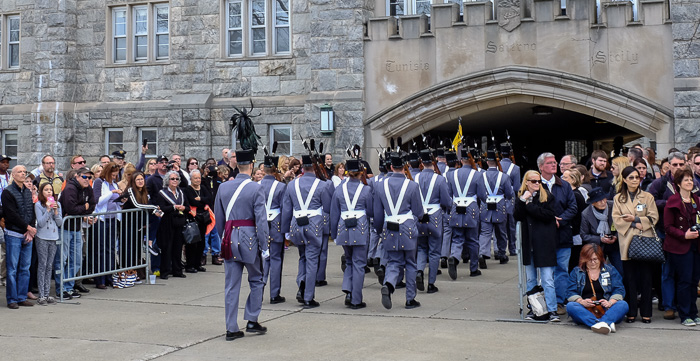 Matthew's Platoon passing into a sally port. That's Matthew bringing up the rear.[/caption]
Typical of parades at West Point, the announcer started 10 minutes prior to the scheduled start explaining the history of drill; the pass in review commenced at 2pm sharp. Since just the Plebes, this was a quickie parade finishing in 15 minutes flat but a surprise awaited. Four members of the West Point parachute team jumped from a helicopter passing high overhead and landed on the Plain to the applause of an awestruck crowd. Yee-ha!
[caption id="attachment_2198" align="alignnone" width="700"]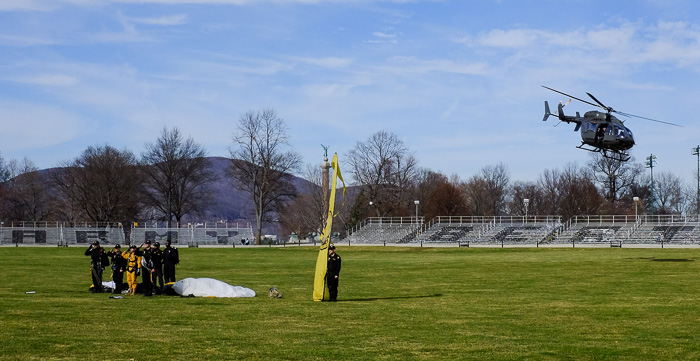 Member of the West Point parachute team, all safely landed. The one in yellow is the Plebe who just completed his first jump.[/caption]
Three of the cadets were extremely experienced with one having over 1,000 jumps, but the fourth was a Plebe who completed his first jump (in tandem) with the team. It was thrilling to see, and fascinating to learn about the sport. We were walking to the car by 2:50pm to take the long drive back to the hotel, change quickly into semi-formal attire and return by 5:30pm for the Plebe-Parent Banquet in the Cadet Mess.  Guests were asked to be seated by 5:50pm, and our 5:30 arrival gave plenty of time to park in the Thayer roof lot, meet up with Matthew, grab a few photos, hang up my coat (there was a coat room available just inside), and get situated.
[caption id="attachment_2185" align="alignnone" width="450"]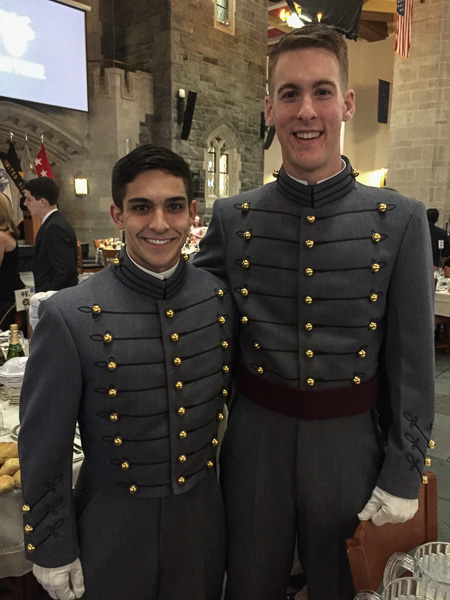 Matthew with his roommate Chris[/caption]
I have to pause. I mean I did pause just now and simply stared at my monitor. How can I convey the magic? The Hogwart's-like dining hall decked out in white table linens, cadets in full dress, ceremonial pomp, formal toasting, …it was an evening I will never forget. Santiago "Sonny" Busa was an engaging guest speaker (Class of 1976 and a diplomatic officer for over 30 years), but of course I was most captivated by Matthew's roommates. We got to know Chris and his father during dinner talking of boxing, their upcoming travel to Prague, mess hall rules, life in the barracks, and more. Fun tidbit: Did you know that cadets often store food on their windowsill to keep it cool? Works quite nicely. Well mostly. Sometimes food teeters, tips, and falls out (ha!).
[caption id="attachment_2192" align="alignnone" width="400"]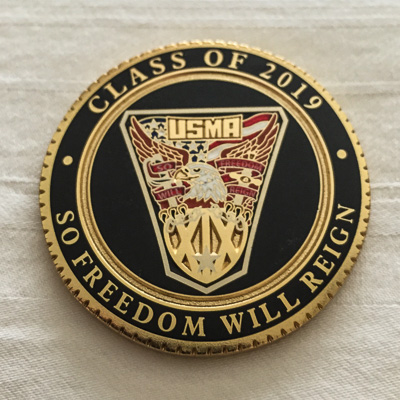 The Class of 2019 Crest and Motto. Of all the symbolism, I love how the Eagle claws (6) clutching chain links (9) give a nod to 2019's 50-year affiliate class, the Class of 1969.[/caption]
We didn't get to sit with Collin (Matthew's other roomie) but proudly watched him unveil the official Class of 2019 Crest and explain its symbolism.  The meal was quite nice. I'd love to know how they managed perfectly al dente green beans for thousands, and I was sorely tempted by the red velvet cake but managed to resist. No worries, it didn't go to waste; savvy cadets (Matthew and Chris included) took leftover sparkling cider and cake up to their barracks for later.
[caption id="attachment_2187" align="alignnone" width="450"]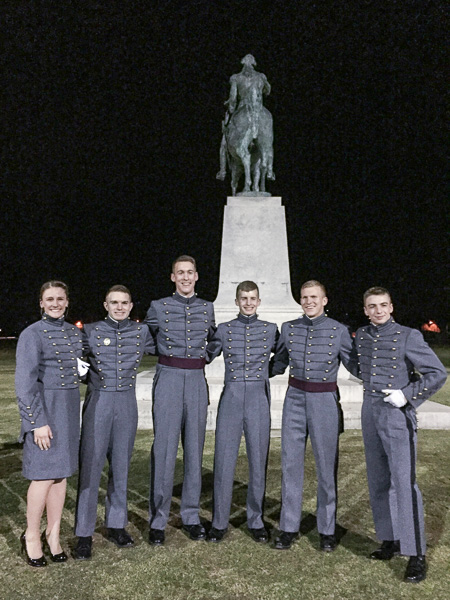 The Orienteering Team Plebes, minus one[/caption]
The dinner concluded around 8pm when satiated cadets and families spilled out into the night. We lingered on the Apron chatting and taking more photos before strolling to Ike (yes, Ike again!) for the Hop. Although "Hop" sounds like a casual event, it is actually a formal ball complete with receiving line. It was great fun walking to Ike, overhearing earnest concern about how to properly present family and friends in the receiving line. Where else will you find a bunch of 19 and 20 year-olds so dead-serious about etiquette?? Alas, we didn't get to take part. Matthew had zero interest in the Hop to begin with and once he saw the never-ending receiving lines (there were two), he asked if we could bail. I was a titch bummed, but having more one-on-one time with Matthew at the Bright Star Diner more than made up for it.
We returned Matthew to his usual spot in the Clinton parking lot at 10:30pm. He could have stayed out until 1am, but had a long night ahead. His barracks was the designated temporary housing barracks for those staying around spring break so he had to have all possessions packed into locked cabinets. In addition, he'd scheduled himself for the Q from 1am to 6am. Yikes! Terrible shift (that's why he scheduled himself rather than a fellow cadet) but Daylight Savings shaved off one hour (Matthew happily watched his phone shift from 1:59am to 3am) and a kind cadet relieved him at 5am.
[caption id="attachment_2188" align="alignnone" width="450"]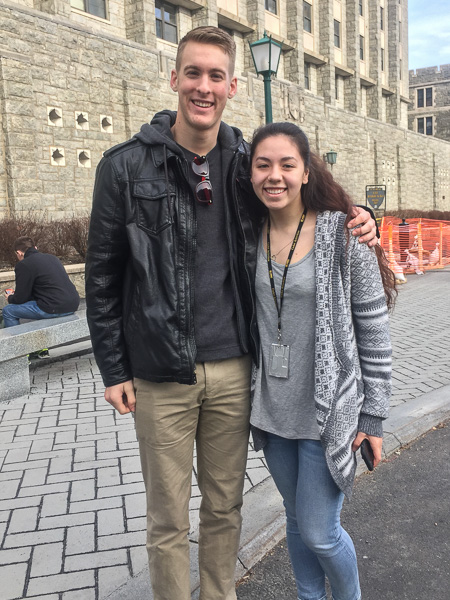 Matthew and Julia, ready for Spring Break![/caption]
We had one final surprise when we pulled up in front of Admissions to collect Matthew at 9am - Julia and her family were there as well. After quick catch-up and hugs, we were off. Matthew had a 5pm flight, so with the better part of the day to kill, we headed for Coney Island.
[caption id="attachment_2196" align="alignnone" width="700"]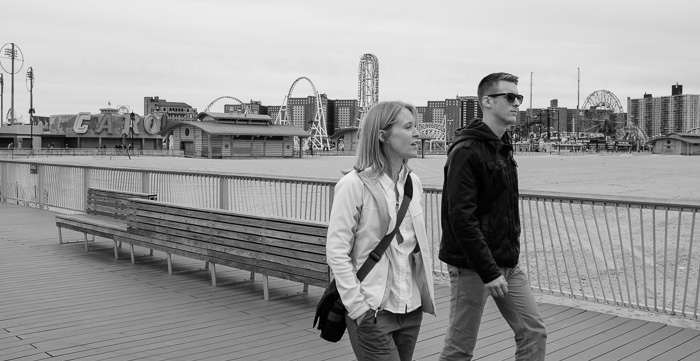 Julie and Matthew walking on the pier with Coney Island in the background.[/caption]
Matthew was completely zonked for the drive, rousing briefly for breakfast, but perked up when we walked the Coney Island Boardwalk, Brighton Beach, and nearby business district. It was quiet since rides were closed, but would be a fun place to explore on a balmy summer evening.
[caption id="attachment_2202" align="alignnone" width="700"]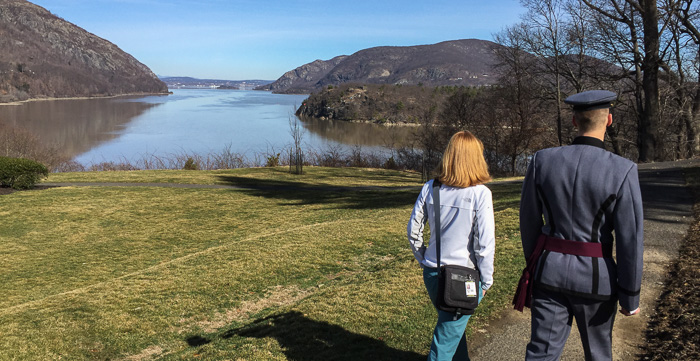 Julie and Matthew near Trophy Point[/caption]
And that's all she wrote folks. Matthew boarded the plane and our Plebe-Parent Weekend came to an end. Lucky for us, Matthew was headed to Oregon for Spring Break so instead of "goodbye", it was "see you at home." How cool is that?
[caption id="attachment_2190" align="alignnone" width="700"]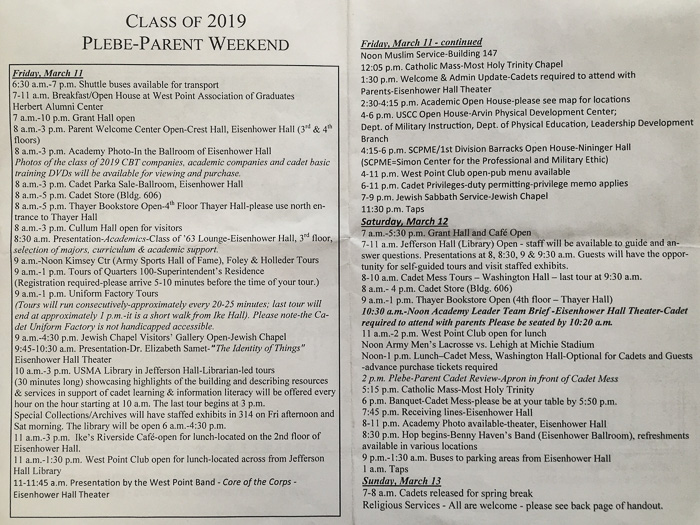 The itinerary printed in our handy Plebe-Parent Weekend brochure.[/caption]
[caption id="attachment_2191" align="alignnone" width="700"]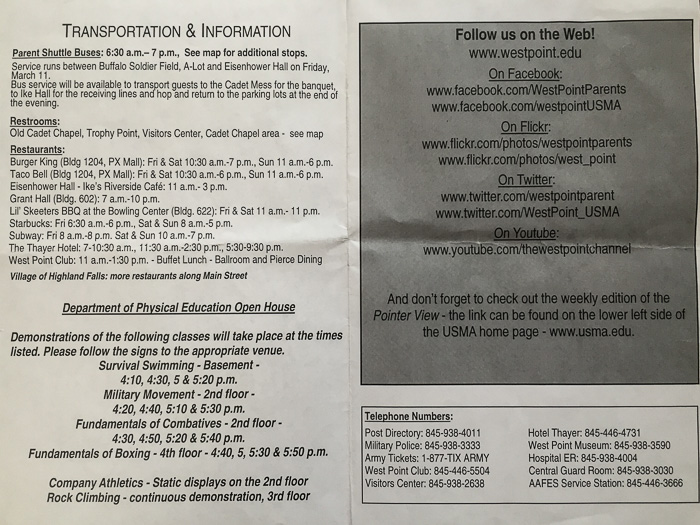 More info inside the Plebe-Parent Weekend brochure.[/caption]