Overview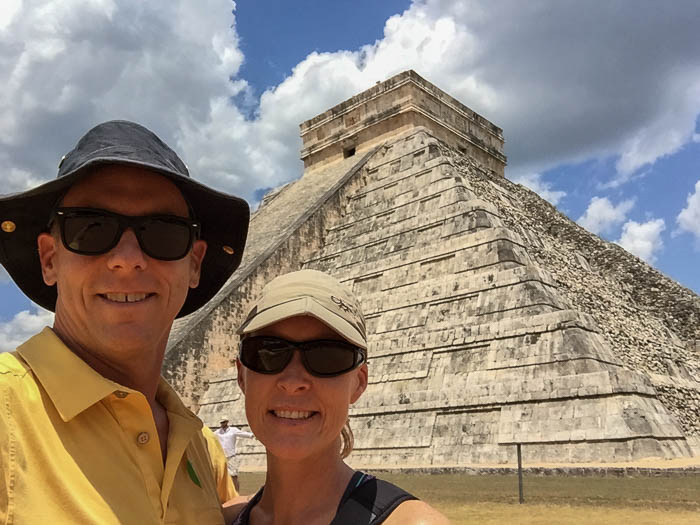 Chris planned a surprise trip to Cancun for our 25th wedding anniversary - so thoughtful! It was my first time to Mexico and we had a ball exploring Cancun, Chichén Itzá, and five different cenotes in the area.
I wrote four articles summarizing our 5-day adventure:
Map
This map highlights the places we visited in and around Cancun, or wish to visit next time. If a place is pinned, it's mentioned in a blog post. To easily locate specific articles, use the "Search this website…" function on our website. For example, Chichén Itzá has a map pin. To find that write-up, type "Chichen Itza" into the search bar and a few articles will pop up. Note that we also took an excursion to visit 4 private cenotes which are not identified on this map.
Preparation
Chris planned ahead and took a couple key actions to cut expenses:
He researched and booked our two full-day excursions online. This appeared to save us a bundle given the prices we saw while wandering the Hotel Zone in Cancun.
He also read the fine print on our credit cards to ensure we took those with no international fees.
I Googled a bit and picked up sage advice for traveling in Mexico including:
Only drink bottled water.
Be wary of drinks with ice or crushed ice; only consume ice that has been made with bottled or disinfected water.
Don't eat raw fruit or vegetables unless peeled.
Don't eat street food and make sure all food is cooked thoroughly and piping hot.
I got caught up in life and didn't make time for a book about Cancun or Mexico. Looking back, I wish I'd read Jungle of Stone: The True Story of Two Men, Their Extraordinary Journey, and the Discovery of the Lost Civilization of the Maya. It looks to be a gripping page-turner that tells the true story of how the Mayan civilization was discovered.
Packing List
We visited Cancun in early May when temperatures were forecast in the 80s. I knew we'd swim, run a couple times, take a bus excursion to Chichén Itzá, and zipline, kayak, and snorkel in cenotes. The key items I packed:
Sunscreen, hat and sunglasses
Swimsuit and flips
A beach bag and backpack: These doubled as airplane carry-on bags.
A rainshell: Thunderstorms were forecast one day.
Running shoes for exercise and sightseeing
Dri-fit clothes
One half-zip long-sleeve and one light sweater for cool evenings
Pepto Bismol caplets: My hairdresser tipped me off that Pepto Bismol can be used preventively and sure enough, online research supported her claim. It was a brief visit and we cringed at the thought of losing time to stomach woes. Better safe than sorry! We each took two take two caplets twice a day, which is less than the recommended two caplets four times per day. We never had issues, but it's impossible to tell if the Pepto helped - can't prove a negative!
Dramamine: I took some along but didn't use it. Here are my pre-trip thoughts: We are doing a tour of four cenotes and online reviews say the bus ride can be torture if you have motion sickness issues. Unfortunately I remembered at the last minute and only have regular Dramamine on hand, not the less drowsy formula. Hmm. Which is better: To be wide awake but nauseous, or lethargic but A-Ok in the head and stomach?
A packet of antibacterial wipes
Allergy medicine and ibuprofen
Passport
Printouts of our tour reservations plus airport transport info
I should have brought:
Bug spray: We bought some in Cancun.
A second swimsuit, or a little detergent to wash the one I brought.
Chris and I packed so little we fit all of our clothes and toiletries combined into one carry-on bag. It was freeing to travel light and entertaining each time someone asked incredulously "This is all you have?"