Overview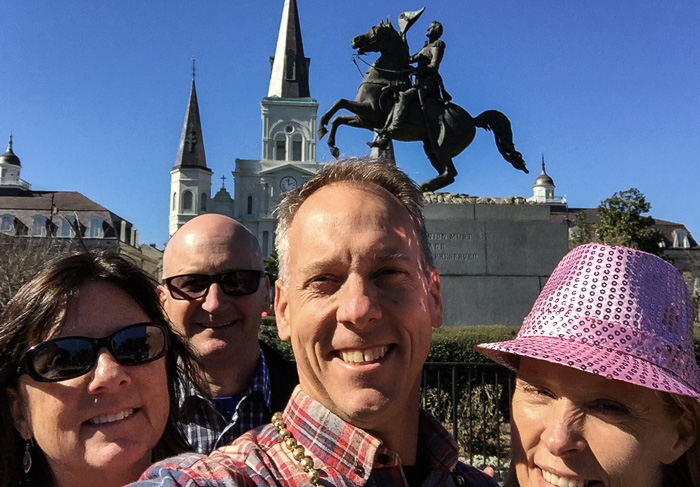 This trip was over 2 years in the making, rather a long incubation for a 5 1/2 day vacation! We traveled with our good friends Anne and Jack, and first tried for Mardi Gras 2015 but put it off since we both had kids graduating from high school that June. Fast forward a year, the kids were off to college, and the time was ripe.
Anne grew up in New Orleans and still has family in the area so we couldn't have had a better set-up. We planned a full sightseeing itinerary and their knowledge and experience helped hone each day's outings into fun, manageable, and stress-free jaunts.
I've said it before and I'll say it again: I fell in love with New Orleans. The history, culture and traditions are one-of-a-kind and come together to form a rich jambalaya, a feast for the senses. We had but a taste, and are now fully primed and ready for a return trip, someday soon I hope! I wrote five articles summarizing our explorations:
If you read each post, you'll note that I only mention two of the many restaurants we sampled (Cochon Butcher and Domilise's). For basic reviews about those two and the rest of our sit-down meals, take a look at my New Orleans 2016 Trip map and click on a restaurant (the orange-colored pins). Our absolute favorite? Shaya's delectable Isreali cuisine. This seemed a strange choice to us all - shouldn't we be eating gumbo or crawfish or something New Orelansy?? - but Chris's research was spot-on. We inhaled everything set in front of us, especially the brick oven pita - to die for!!
This is the point where I usually document the many lessons learned and things I'd do differently next time. I don't have much! We planned a full itinerary (see the "Preparation" tab for details) but not overly full or complex. I have a healthy list of things I'd like to see on the next visit, but don't feel we missed out since we hit a little of everything: music, food, history, Mardi Gras parades, etc.
We have just two gotchas, both concerning expenses. First off, our rental car was very expensive. Next time we might try to stay near the French Quarter and rely on public transportation and the occasional taxi. Second, we spent a lot of money eating out. Our pre-trip-thinking was logical: we planned to see music at Preservation Hall and evening Mardi Gras parades, so made restaurant reservations in the vicinity of each to be assured a table. In hindsight we probably didn't need to stress so much:
We were a relatively nimble and easygoing party of four. We could have done as our culinary tour guide suggested and simply grazed, hitting multiple restaurants but sampling just their specialty before moving on, kind of like a progressive party in the streets of New Orleans. I like the idea!
To save both money and time, we could have had our biggest meal of the day at lunch, again suggested by our tour guide. Many upscale, renowned restaurants offer lunch specials. Get the same food at a fraction of the cost? Fantastic!
We stayed in Metairie but ate primarily in the French Quarter and Garden District. New Orleans has fantastic food offerings all over the city and we could have ventured away from the more expensive touristy areas.
Regardless, we ate well and came home satiated in every way. New Orleans ROCKS. Plan a visit and you can't help but "laissez le bon temps rouler"!
Map
The map below highlights our major sightseeing stops in New Orleans. It doesn't relay the wandering of course; walking around the French Quarter and the Garden District were a highlight. Mardi Gras parades are also excluded, but this website has a complete listing of parades and parade routes throughout the Carnival season.
Except for restaurants, if a location is pinned it has been mentioned in a blog post. To easily locate a specific article, use Plan Pack Go's "Search this website…" function. For example, Preservation Hall has a map pin. To find that write-up, type "preservation hall" into the search bar and articles will pop up. Restaurants are briefly reviewed right there in the map.
Preparation
I'm becoming a big fan of reading up on a city before we visit and Anne's dad started me off right with Arthur Hardy's Mardi Gras Guide, a magazine that contains pretty much everything you need to know about Mardi Gras. Thanks Mike!
The Mardi Gras Guide piqued my interest in both Mardi Gras and New Orleans, so I went on to read Nine Lives by Dan Baum, and then City of Refuge by Tom Piazza. I enjoyed both immensely! They each gave a window into the people, culture, history and traditions of New Orleans while also relaying foundational knowledge of the city's layout and neighborhoods. I finished the Piazza book on the flight over, so felt like I hit the ground running.
A word to the wise: watching the James Bond movie Live and Let Die isn't the best way to get into a New Orleans state of mind. There are only a couple of street scenes that looked to be in French Quarter, and most of the New Orleans footage consists of motorboat chase sequences in the swamps! If interested in Hurricane Katrina and the devastation that followed, check out the Spike Lee documentary When the Levees Broke: A Requiem in Four Acts. Chris and I watched the first two parts; each answered questions and filled in gaps.
Of course excitement also built in the weeks prior as Anne, Chris and I researched and collaborated on a proposed itinerary. Here's the daily breakdown:
Tuesday
Wednesday
Thursday
9am–5pm at the National WWII Museum, with a break for lunch at Cochon Butcher a couple blocks away.
5:45pm Babylon parade (just caught the beginning)
6:30pm dinner reservations at Shaya
7:30pm Muses parade. It had a delayed start so we caught the whole thing. My favorite parade!
Friday
Saturday
11am Iris parade, but in the area by 10am
4:15pm Endymion parade, but in the area by 2pm. Brought food and drinks with us to the parade.
10pm very late dinner with Anne's family!
Sunday
Fantastic trip and I can't wait to return. Is it nuts that I already have a "next time" list going? Color me crazy :)
Packing List
This quick 5-day trip to New Orleans didn't require special gear. If you go for Mardi Gras, don't forget to pack:
Good walking shoes
Layers
A rain shell and /or umbrella
Sunglasses
Sunscreen
A lightweight backpack. This was handy for our walking tours holding water, snacks, extra layers, etc., but a necessity for Mardi Gras parades. We wished we'd had a second backpack or sturdy re-usable bag with handles. We got a LOT of goodies in each parade and our one backpack was always stuffed to overflowing.