Our 2-Week Sailing Charter in Greece
Overview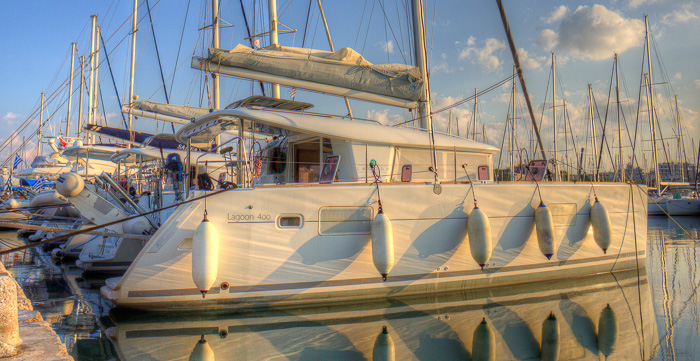 In late June of 2013, Chris and I spent two full weeks sailing the Greek islands aboard a 40-foot catamaran along with our two sons, our niece and nephew, and my brother and sister-in-law. We hired a local skipper and set sail from Alimos Marina near Athens. It was an epic trip, stunningly beautiful, historically significant, and culturally rich. Loved it! Chris took the time to blog about our experiences:
Overall the trip went well, but we had a few bumps along the way. The two biggies: our dinghy only worked intermittently, and we couldn't visit Santorini. More about those and more in these lessons learned:
Regarding itinerary and sightseeing:
Acclimate first: It would have been nice to allow for a day or two to acclimate before setting sail. We arrived in the morning after an overnight flight from JFK, had a few hours of sightseeing followed by grocery shopping to provision the boat, and then set sail the next morning. In retrospect, it would have been gentler to have one more day on the front end to allow for a light day on arrival and an overnight in Athens.
See the Roman Agora first: Our inital sightseeing in Athens took in Hadrian's Arch, the Temple of Zeus, the Panathenaic Stadium, the National Gardens, the Greek Parliament House, the Plaka, and the Roman Agora. Check that - we wanted to see the Roman Agora but it closed early at about 2:30 or 3pm and we just missed it. We should have reversed our loop and started with the Agora.
Take a taxi: While it's adventurous to walk and take public transportation, we should have taken a taxi from Athens to the Alimos Marina. The Metro from the airport to downtown Athens was a breeze, but figuring out the other train (while dragging all of our luggage) was difficult when severely jet-lagged and exhausted from sightseeing.
Hire a tour guide: We hired two different tour guides, one for the Parthenon and one for Delos. Both were phenomenal and well worth the time and money. Official tour guides in Greece are highly educated and trained; ours brought history to life. Fantastic!
Take a hard copy of sightseeing info: Wifi was spotty throughout the trip, so it was especially handy to have all of our pre-trip sightseeing research printed and tucked into a Greek Islands guidebook. We brushed up and made plans as we approached each island, then hit the ground running.
Sailing-related:
Mooring vs. sailing: We really wanted to be active participants on the boat and help sail but were only needed for mooring; unexpected, but the guys got really good at it! Perhaps we could have sailed more on a monohull.
Sailing vs. motoring: We sailed less than we thought, especially in the beginning. Wind was light so we depended on the gas motor.
More time on the boat: Travel between islands took longer than expected, at least 4–6 hours each day.
Our broken dinghy: On a trip like this, the boat's dinghy (a small raft with motor) is the lifeline to shore. Ours was dodgy from the beginning, leaving us stranded on the boat or facing long swims to shore. Very frustrating! In hindsight I should have been more forceful from the get-go insisting on a replacement.
No Santorini: This was the biggest disappointment of all. The charter company knew which islands we wanted to visit, but made vague statements that itineraries must be flexible due to changing weather conditions. Our skipper said weather wasn't an issue, there simply weren't any places to moor. Aaargh! We regrouped of course, but it was a blow. If planning the trip again and Santorini was a must, we'd spend a night or two in Athens, then ferry out to Paros (one island where sailing charters are based). We'd use Paros as a home base, take the ferry for day trips to Santorini and Delos, then sail a few other islands on a 7-day charter.
Even with hiccups and low points, this was a dream trip. We made memories with family that I'll cherish forever.
Map
The map below shows all of major stops on our 2-week sailing charter. In general, we traveled from Alimos to Kythnos, then counter-clockwise around the southern Cyclades. Once back to Kythnos, we sailed west to pick up Poros and Aegina before heading back to Alimos.
If a location is pinned it has been mentioned in a blog post. To easily locate a specific article, use Plan Pack Go's "Search this website…" function. For example, Delos has a map pin. To find that write-up, type "Delos" into the search bar and any article mentioning Delos will pop up.
Preparation
This trip was daunting to plan. Our prior sailing experiences were limited to one-hour trips on a small lake in upstate New York; two weeks in the Mediterranean was a whole 'nother kettle of fish!
Chris explained a bit about our boat and charter selection in this post. As for the rest, we read books, Googled, and asked friends and acquaintances about their sailing experiences. Every scrap of info completed another piece in the puzzle.
In the weeks prior to departure, I sent a series of emails to our crew of eight to help prepare and get psyched for the trip. The first few missives discussed the general itinerary, our boat, the skipper, and a packing checklist, all of which have been discussed in blog posts or in this trip summary. Excerpts from other emails are below.
---
Overview
Hi all! It's hard to believe, but our adventure is less than 2 months away. I am going to start sending you more information; read as much (or little) as you desire. So that it isn't a complete onslaught, I'll send an email every few days or so. Hopefully you'll get the info you need, but in manageable bites.

I will probably never send all the details we have worked out, so if you have any questions, ask! Also, Chris and I have made some executive decisions based on research, time available, interest level, etc. Right now, the only things we are locked into are the flight, the boat, and a personal tour of the Acropolis. We have a lot of flexibility around sightseeing/activities.

This email will give a general overview of the trip including the basic itinerary, average weather conditions, and possible activities. Future emails will cover the packing checklist, boat/skipper, eating/cooking, sightseeing, and miscellaneous details.

That's it for now – dive in to the attached document.

Cheers!
NOTE: No document is attached since the info has been covered in blog posts.
---
Eating and Cooking
Hi! This email will summarize what to expect regarding FOOD during the trip. Gyros, Spanakopita, Baklava, Greek yogurt & honey, … yum!

In general, our boat is our home for the trip. We will go shopping to stock the boat, but there is very limited storage and refrigeration so we will only provision for 2 or 3 days worth at a time.

This article gives a nice summary of what to expect. At first, we'll plan to eat breakfast and lunch on the boat and find dinner in town wherever we moor. Of course we'll be on land every day, so there will likely be opportunities to grab a coffee in the morning before we set sail, a snack from a local bakery while exploring, etc.

To be safe, we should provision for at least one dinner on the boat in case we are too late to a harbor, or if we decide to drop anchor in a more secluded spot. We may want to do additional dinners on the boat but we can play it by ear. Please note that cooking on a boat seems like an adventure. This site provides a summary of the challenges. If you have a quick, easy recipe for dinner/lunch/appetizer, feel free to pack the required spices. I doubt we'll want to spend time prepping and cooking, so keep it simple!

Please give your input for the first shopping trip. We'll need to shop efficiently since we have limited space but want to satisfy everyone's preferences. Perhaps we can finalize the list together in the JFK airport or on the plane. Only a few people will shop for the group, so we need to have a plan! Note that this could be a serious adventure – grocery items may only have Greek labels (no English).

Finally, here's a basic list of Greek dishes and how to pronounce them. It's nice to have a clue what you're ordering in a restaurant!

Καλή όρεξη!
(Kalí óreksi!)
Bon appétit!
---
Greek Language
Καλὸ ἀπόγευμα (Kaló apóyevma)(Good afternoon),

You all may feel differently, but from past international trips I've determined that: 1) I don't have a knack for foreign languages; 2) I don't have the time or inclination to apply myself to really learn another language; and 3) "learning" a language for travel consists of memorizing a few key words and phrases to be polite, to help with directions, and to protect against ordering something truly horrifying in a restaurant.

In the past, one of the most useful phrases to learn was "Do you speak English?" I'm not sure what to expect in Greece. Athens shouldn't be an issue, but on some of the islands, menus and signage may not have English translations. There are many language resources out there, but here are a few we've been using:

Omniglot is the site I've been using for my emails. It's been helpful since I can copy/paste phrases. I'll know you've really embraced this site if I see you in New York and you can say "My hovercraft is full of eels" in Greek.
Loecsen offers basic Greek, but has more words and phrases than Omniglot. I like that you can see the word written in Greek, see the phonetic spelling, and hear the pronunciation.
Chris likes this free app and has already downloaded it: Greek Language Guide from World Nomads

Greek seems hard to learn! It is not related to English or any of the Romantic languages (or any language at all for that matter) so there's almost nothing to recognize or intuit. Good luck to you all - hopefully you will fare better than I :)

I'll leave you with a useful phrase to translate:
Πού είναι η τουαλέτα
(pu íne i tualéta?)
---
Greece - Is it Safe?
In spring of 2013, there'd been major unrest and regular coverage in the news. An email addressing potential fears seemed appropriate.
So is Greece safe for tourists?
Όχι! Αυτή ήταν μια φοβερή ιδέα. Τρέξτε για τη ζωή σας!
Αστειεύομαι :)

The news coverage of Greece has been pretty disheartening, but here are a couple articles that should set your mind at ease.

And if you want extra insurance:

Λατρεύουν τους Έλληνες Θεούς!
Καλύψτε τις βάσεις μας! Προσευχήσου στο Δία, τον Ποσειδώνα, τον Αίολο, ο Διόνυσος …

Νάσαι καλά!
(Náse kalá!)
---
As you can see, I concluded each email with a Greek phrase. This has the unintended side effect of unleashing a series of exchanges all written in Greek. Google translate got a good workout from our gang. Very fun!


Packing List
I included a detailed packing checklist in one of the many pre-trip emails to our crew. The list is replicated below, but first a few memorable items:
We're glad we brought:
Starbucks Via instant coffee, though we should have brought more. No coffee maker on board!
Powdered ranch mix, useful for dips and salads. Wish we'd brought more.
Powdered drink mixes like Crystal Light to mix into water bottles. The boys especially got tired of plain water.
Sticheln deck. This one little deck and a few game pieces kept us entertained throughout the trip.
12-volt car adapters for charging USB devices
Bluetooth speakers for music on board the boat
Cheap sunglasses
Baby wipes! Need to be careful about water usage on board. Should have brought more.
We wish we'd brought:
Clothes pins. All items must be secure lest they blow off into the ocean, never to be recovered.
Clothes line. With eight people doing laundry, all railings were routinely maxed out.
French press for making coffee.
Here's the packing checklist with post-trip comments in italics:
Clothing
Please try to be minimalist regarding clothing since there's very little storage space on the boat (very little!), and we'd like to carry-on all items for the flight to Athens. Additional input from a charter site: "Unfortunately, most first time sailing vacationers pack too much! With plenty of sun and sea, life on the islands is very casual, and you really need very little."
As a guide, plan your clothes for a 4-day trip, and expect to wear everything repeatedly (your boat-mates don't care!). We won't have a washer/dryer, but we will do laundry. Try to choose fabrics that will dry quickly. To plan for unexpected cool weather, think in terms of light layers. Suggested packing list:
Swimsuits
T-shirts
Shorts
One pair long pants. Mandatory for guys. To enter a church, even for sightseeing, men must wear long pants and shirts with sleeves. Apparently true, but we didn't encounter this.
Light long-sleeve top
Fleece or mid-weight long-sleeve top. Personal preference - some may not need it. Julie's the only one who needed this - it was very warm.
Casual evening wear. Women should pack a dress or skirt that could work for dinner as well as church. To enter a church, women must wear dresses or skirts and tops with sleeves. Again, we didn't encounter the church dress code.
Sleepwear
Underwear. We use synthetic underwear that dries quickly which allows us to bring fewer and wash during the trip.
Socks
Light windproof jacket. The Brooks' will bring our lightweight rainshells.
Sailing gloves. Need a couple pair just in case. Nope, never needed them.
Walking/hiking shoes. Comfortable, broken in, with good support.
Flips or sandals for walking on the beach or showering in the marina (marinas may have facilities for roomier, longer hotter showers). Alimos did and we definitely wanted flips!
Sun hat
2 pairs of sunglasses (with lanyard?). Yes, bring a 2nd pair. My "good" sunglasses fell in the ocean on our first day in Galapagos. The cheap ones lasted the rest of the trip!
Bandana
Toiletries/Personal
From another charter site: "Most of the yachts will have some kind of electrical outlet (220 volt) but hair dryers, irons etc. use a lot of power and are probably best left at home. You are on a vessel that is powered by its own engine and batteries. It's not attached to a huge power plant that produces hundreds of megawatts of power." Basic checklist:
Toiletries, including biodegradable shampoo/conditioner/soap, lotion, toothpaste/toothbrush, razors, make-up, etc. Anything that goes down a drain gets pumped out the side of the boat. This includes toilet waste!
Sunblock. Bring enough to start; we'll buy a larger bottle to share.
Lip balm with SPF
Earplugs with spares – a must! Really needed them a couple times in noisy marinas.
Baby wipes
Prescription medicines
Allergy meds
Seasickness meds. We will use scopolamine patches.
Benadryl (topical and ingested) and Ibuprofen
Travel wash for clothes. Preferably concentrated and biodegradable.
Bug repellant. One small bottle per couple.
Cardboard air freshener. For your bathroom on the boat, so one per couple. Yes! We appreciated this.
Identification & Important Papers
Passport
Driver's license. For both passport and driver's license: Make a color copy and pack in your luggage. Also take photos of each that you can access on your phone. A couple folks got international driver's licenses but they weren't needed.
Travel insurance info. This was a big expensive trip. We all purchased travel insurance.
Medical insurance card
Cash and credit cards. We will get Euros when we land, and multiple times throughout trip. Make sure you have a secure way to carry money close to your body.
Plane ticket info
Boat/tour reservation info. Chris and Julie will bring :)
Gadgets, as needed
Camera with batteries, extra memory card, and waterproof bag w/desiccant
Kindle/books
Small flashlight or headlamp. At least one per couple. May be useful on board, or if returning on the dinghy in the dark. Yes, very handy.
Other entertainment. Chris will bring his travel game bag.
Guide book. Chris and Julie will bring Greek Island Hopping 2013.
Cell phone. If you're not getting an international plan, research carefully how to turn service OFF so you won't incur accidental charges. We may have intermittent WiFi access in island towns.
2-pin continental plug adapter. Chris will bring at least two of these.
12-volt car-type charger for mobile phones, cameras etc.
Chargers for all electronics. Plan per couple; probably won't need one per device.
Other
Thin (lightweight) beach towel. One per person. Instead of bringing a beach towel, you could plan to purchase one in Greece and bring it back as a souvenir. Or no towel and drip-dry. No, we all liked having a towel.
Small bath towel for showering. One per person. We will bring lightweight microfiber towels we use for backpacking.
Sturdy water bottle. One per person. I'll bring a 20 oz. Gatorade bottle so no worries if it gets lost.
Light daypack/backpack. At least one per couple to use sightseeing and possibly double as an airplane carry-on.
First aid kit. My brother and sister-in-law are doctors and they bring a complete kit for us all - very nice!
Mask and snorkel. Apparently snorkeling in Greece isn't spectacular. There's no coral and the entire area has been overfished so there's very clear water, but you see brown rocks and little brown fish. True. Nothing to see in the water. We only used the mask/snorkel to unfoul tangled anchor lines.
Water floats. Not a high priority of course. Maybe one per couple if you have room in the luggage (ha!) and think you'd use one. We only used them once, and one blew away right away.
Food drink mixes. We will shop regularly, but don't know what's available. We will bring a few powdered drinks to mix with water, and some back-up Via coffee packets. As noted, we should have brought more.
Favorite spice mixes. We can cook on the boat so if you have a very simple recipe for lunch or dinner, bring the required spices in small labeled ziploc bags. Julie and Chris will bring a salt & pepper set.
Roomy lightweight bag with handles. One per couple to use as shopping bag or beach tote; could also double as an airplane carry-on. Yes, we needed bags for both shopping and beach-going.
Ziploc bags. Maybe a dozen per couple in assorted sizes. They are light, take up almost no space and come in very handy.
Portable collapsible cooler. Chris and Julie will bring one for the group. Didn't really use since it was too small (and not insulated enough) to make a serious difference.
Greek mythology kids book. For story-telling as we make our way around the islands :)