31 Days Exploring Cambodia and Vietnam
Overview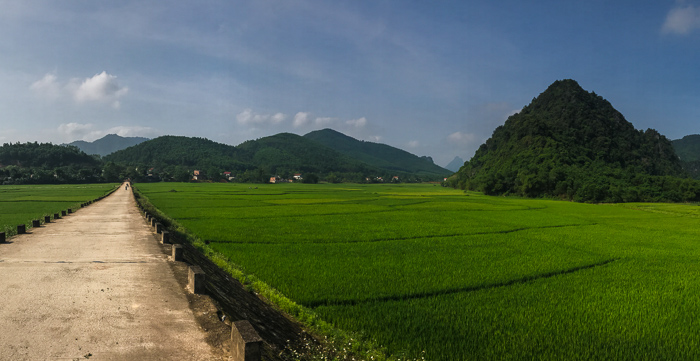 Wanna go to Cambodia and Vietnam? Ummm sure…I guess…
This trip was Chris's idea. To me, Cambodia and Vietnam seemed exotic, unfamiliar, and to be honest, a bit scary. We forged ahead since Chris really really wanted this trip (he's a huge history and war buff) and I love to explore so I figured I'd come around. Great call! My nerves eased once I started learning more about both countries (see the "Preparation" tab for books and movies related to Cambodia and Vietnam). And excitement skyrocketed once I finally got my butt in gear and dug into planning our itinerary and sightseeing.
We traveled for 31 days total with seven days in Cambodia and the rest in Vietnam. So what's the verdict? I'M SO GLAD WE WENT! We loved both countries and hope to go back someday, especially to explore the hill country of northern Vietnam. My travel articles will dive into a lot more detail, but these quickie impressions/summaries are straight from my travel notes, written as we were winging our way home:
What I'll miss: Cultural immersion, history lessons, motorbiking, kids shouting "Hay-lo!!", town markets, cà phê sữa, street food, river valleys, rice paddies, karst, wondering what each day will bring.
What I miss from home: Family, friends, carpet, proper bathrooms, clothes without sweat stains, cars that stop for pedestrians, Diet Dr. Pepper, proper cake, salad, clean air, being able to chat with strangers (language barrier!), sidewalks, sidewalks without motorbikes, sidewalks without burning trash, smoke-free restaurants, cushioned seats, water I can trust.
Ha! There's no place like home. The "what I miss" list can seem like a list of negatives, but most really weren't, they were just differences. A month of traveling abroad made me appreciate the many little things we take for granted in our daily lives. Sure, both countries were often dirty and smelly and traffic was bonkers, but the people, food, history, culture, landscapes…loved it!!
One other thing I'll miss about Cambodia and Vietnam: Both countries were cheap, cheap, cheap. We thought Cambodia was inexpensive but Vietnam took prices to a new low with $2.50 entrees and fresh beer for 25 cents a glass. Transportation and lodging followed suit with $3 tuk-tuk rides, Uber Motos for 65 cents each, and hotel stays for $25-$35 a night. It was hard to come home to higher prices!
A few random tips:
Bring crisp, new money to Cambodia. They don't accept worn or damaged bills.
Always ask for prices in advance before taking a boat, tuk-tuk, taxi, ordering food, etc.
When haggling, start at 25% of their original price, shoot to pay 50%, and always be willing to walk away. Or try, fail, and pay close to the original price like I often did! It was still fun :)
If getting SIM card, take your passport; we needed it to get a SIM card in Cambodia.
Always have toilet paper or tissue for bathrooms, just in case. Generally don't throw TP in the toilet; put it in the wastebasket.
See below for trip posts for Cambodia and Vietnam. Check out the trip map (on the "Map" tab) for restaurants and hotels that might not have been mentioned in articles. Note: I have listed articles below that I have yet to write! I'm switching things up and posting the Trip Summary first and will add to the lists below as new articles are published. If you have questions about anything (current or future posts), please email!
Cambodia and Vietnam
Coming:

Itinerary for a month-long trip to Cambodia and Vietnam
Impressions of Cambodia and Vietnam
Cambodia
Vietnam
3-Day Motorbike Tour: One of our favorite memories from Vietnam!

Day 1: Dong Hoi to Phong Nha: This recounts day one of our motorbike trip and also details our quick sightseeing around Dong Hoi the day before.
Day 2: Phong Nha to Khe Sanh: Our ride plus info about the Ho Chi Minh Trail and Vietnam's ethnic minority villages.
Day 3: Khe Sanh to Hue: Our DMZ day! Read about the Khe Sanh Combat Base (and the Battle for Khe Sahn), the history of the Hien Luong Bridge, and the Vinh Moc Tunnels.

Coming:

2 Days in Can Tho
3 Days in Ho Chi Minh City
2 Days in Hue
3 Days in Hoi An
2 Days on Cat Ba Island
2 Days in Hanoi
Map
This map highlights the main stops on our month-long exploration of Cambodia and Vietnam and includes sights, activities (hiking and kayaking), hotels, and memorable restaurants. Note: This map is not complete! I will add more pin locations as I write articles. See the "Overview" and "Preparation" tabs for lists of planned posts.
If a location is pinned it has been mentioned in a blog post. To easily locate a specific article, use Plan-Pack-Go's "Search this website…" function. For example, the Tuol Sleng Genocide Museum has a map pin. To find that write-up, type "Tuol Sleng" into the search bar and any article mentioning the site will pop up.
Preparation
A month-long trip takes bit of forethought; we planned in fits and spurts with the bulk of the serious work occurring in the month prior to liftoff. One exception: Chris took care of our airfare a few months in advance using rewards points to lock in business class seats for the flights out - woohoo!
Travel Health and Safety
We almost waited too long to get the recommended vaccinations and travel medicines and then made a costly mistake wasting $230 in live vaccines. Sigh. Read all about it here:
A few more health/safety reminders:
Language
I used Duolingo for a couple months prior to the trip to learn Vietnamese and though the lessons were useful for word recognition, Vietnamese is a tonal language so small variations in pronunciation can mean drastically different things. Take "dê" which should mean "goat" but apparently meant something like "fondle" when Chris said it (!). Of course Chris found it efficient that you can use one word to talk about fondling goats. Not that we did that. We just talked about it. In Vietnamese.
Khmer is also tonal so we had similar laughable mistakes in Cambodia. Though gun-shy at first, we still made valiant attempts to speak both Khmer and Vietnamese, which was polite and respectful but not strictly necessary. Locals spoke enough English, and when they didn't and our limited Khmer/Vietnamese failed, we could always rely on pointing, pantomiming, or Google Translate. A few days before we left home I made hot-sheets of both Khmer and Vietnamese phrases to refer to while traveling:
Books and Movies
Perhaps the best thing I did to prepare for this trip was to read books and watch movies relating to both Cambodia and Vietnam. I tell you, I knew so little at the get-go I must have been asleep during World History in high school! Reading, watching, talking, and researching laid a foundation that enriched my understanding, increased empathy, and deepened experiences. I got started a bit late with my reading, though, and decided to keep chipping away at the list while traveling - fantastic! It was a blast to read about things we'd just seen or were about to see.
Refer to this article for descriptions of a few books and movies about the "Years of Zero" in Cambodia under Pol Pot's oppressive regime.
If visiting the Angkor temples in Siem Reap, Cambodia, Dawn Rooney's guide Angkor: Cambodia's Wondrous Khmer Temples is an invaluable resource.
Coming: Books and movies about Vietnam
Packing List
Read the following article which shares everything I packed for over 30 days of travel through Cambodia and Vietnam. The checklist notes items I needed, didn't need, brought too much or too little of, and things I wish I'd brought: