Vietnam Motorbike Tour Day 1: Dong Hoi to Phong Nha
This article is the first in a 3-part series. Read about Day 2 here.
What a day! After day one of our much anticipated 3-day motorbike tour from Donh Hoi to Hue, Chris was hinting at buying a bike once we get home. I'm pretty sure he's kidding. He'd better be - one of us has to be strong!
Our tour started in Dong Hoi, a small town near the 17th parallel and just north of the old demilitarized zone between North and South Vietnam. We arrived the day before on a flight from Ho Chi Minh City; at only $55 per ticket and a 1 1/2 hour flight, flying easily trumped a sleeper bus or train.
The temperature in Dong Hoi hovered around 85 degrees, a welcome relief after the stifling heat and humidity of Ho Chi Minh City. That speaks volumes, doesn't it? It must be boiling hot if 85 feels blissfully cool! Anyway, the cooler weather was accompanied by overcast skies, rain and thunderstorms so our long walk through town, across the river, and out to the beach was aborted in the face of sideways rain. As we splashed back to the hotel, I fretted over having a scripted, locked-in activity ahead of us. The forecast called for days of unsettled weather throughout the region - who wants to spend three days motorbiking in the rain?? In that moment I realized the power of making plans as you go based on whim and weather but of course this tour might not have been available last-minute, which is why we booked ahead. Sigh. Nothing for it but to forge ahead and see what happens!
We got in a brief walk before the rain came down in earnest and appreciated the town's peaceful, mellow atmosphere. There are few sights to see since Dong Hoi was devastated by American bombing; very little remains of the old city save a couple of gates from the Citadel and a ruined church. The town has rebuilt, though, and now boasts a lovely landscaped waterfront park with colorful boats and huge, staked fishing nets dotting the river.
Before dashing back to the hotel (the Nam Long Plus) we hit a couple ATMs to cash up. We'd have to find a another ATM on the road in order to pay our guide since ATMs here have a daily limit of 2,000,000 vnd per card (vnd = vietnamese dong), so 4,000,000 vnd if we both withdraw, about $176. Under normal circumstances that'd be plenty - full meals only cost 50,000 vnd ($2.20), a full day motorbike rental is 160,000 vnd ($7), and a nice hotel about 800,000 vnd (~$35). So cheap! We're shocked when a restaurant has the audacity to charge 100,000 vnd for an entree - ridiculous! Lol. The rain subsided long enough to squeeze in a walk to dinner and also the Buffalo Pub for drinks, cards, and interesting conversation.
Hoping for better weather in the morning, we set the alarm for 4:45am and struck out at 5:30 in search of coffee and the local market. We are huge fans of Vietnamese markets (and Cambodian markets for that matter) and will gladly lose a little sleep to see another. Each market is "same same but different" offering a wet market (with seafood, pork, fowl, etc.), produce, dry goods, flowers, and food stalls, but subtly different in layout, vibe, and offerings. This might be my favorite market yet! We arrived while a boat was still offloading squid and shrimp so the wet market had a bustling energy as the locals laughed, talked, sorted, bagged, and set up their areas.
"Setting up" includes killing, descaling, cleaning, gutting, chopping, and cutting, so it's not for the squeamish. In addition to the regular actors (squid, shrimp, crabs, snails, frogs, eels,…) we found the biggest fish we'd seen yet including yellowfin tuna and pointy-noses thingys and flat dudes and one big-old honkin' something or other. It was a blast to wander and ogle.
The morning got even better when we settled into small plastic chairs, patiently waiting for our drip coffee while watching locals zip by, motorbikes loaded down with the day's shopping. Vietnamese coffee is strong and sugared up with a healthy dose of sweetened condensed milk - one of the many reasons I've gained about 5 pounds on this trip!
Hated to leave but had to get back to eat, pack and check out. Bang, our guide from Phong Nha Motorbike Tours, met us at 8am at the hotel. After a quick riding lesson for Chris (all of 3 minutes!), we loaded up and took off, me on the back of Sherlock's bike along with both of our backpacks. Sorry! Many Vietnamese choose western nicknames and Sherlock is Bang's other name; I'll likely switch back and forth when referring to him.
We started due west and north and I soon grew confused. The tour website mentioned a coast ride and sand dunes, but those were far to the east. At a scenic stop I hesitantly asked Sherlock and he immediately jumped on it, asking for clarification and checking the website's tour description. Turns out he'd never guided this section before and was directed to go straight to Phong Nha, our ultimate destination for the day. Typical of Sherlock (as we'd later find out), he seized the challenge and was dogged in his determination to find the dunes for us. The morning turned into an even bigger adventure, searching for a passable road out to the dunes. The hunt was worth it: beautiful dunes, fun to play on. Even the small road we used to cut east was a delight, surrounded by farms and rice paddies.
The day passed quickly and we settled into Sherlock's rhythm of riding for a bit then pulling over to stretch legs, take photos, sample something growing by the road (!), or learn about crops, culture, customs, and history.
The scenery grew more and more stunning as we approached Phong Nha Ke-Bang National Park, a UNESCO World Heritage Site with over 65 miles of caves and underground rivers and home of Son Doong Cave, the largest cave in the world. At over 400 million years old, the Phong Nha mountains are some of the oldest major karst formations in Asia, made of limestone and covered in tropical forest, magical giants rising above a lush farming plateau. I looooove this park and want to come back for a longer stay!
Hung, the owner of Phong Nha Motorbke Tours, grew up in Phong Nha and said that during the war, women and children hid in the caves for safety. Tourism only recently picked up in 2010 and most hotels in the area were built after 2013 (!). He feels that tourism has been good for the area since men previously only had two job options: farming, or scavenging the forest for wood and animals. The latter is now illegal so the tourism has created much-needed jobs as porters, boat operators, restaurant and hotel workers, etc. Hung worries that the government won't keep responsible control and the park and its natural wonders will be destroyed. I see his concern - there's no doubt this place will boom and tourism expand further.
Backing up, we checked into our hotel in Phong Nha, dropped gear, and found lunch. Lunch was a treat with rice, grilled fish, sauteed pumpkin stems, an omelet, barbecue ribs, soup and rice. From there, we rode to the Phong Nha ticket office to buy tickets for Phong Nha Cave which cost 150,000 vnd for the cave plus 360,000 vnd for the boat ride for 12 people (so if there are 12 on the boat, the per person cost is 30,000 and - it pays to make friends in line!). Since Tien Son Cave can be accessed from the same boat ride I wanted to add that to our itinerary, but the ticket agent said we wouldn't have enough time. Turns out we would have since the round trip only took two hours, not the posted 2.5–3 hours.
The boat ride to Phong Nha Cave took 30 minutes and upon entering the mouth, the driver killed the engine and paddlers took over. The mood became eerily quiet, with faint echoes and water plinking from stalactites high above. After a 25 minute out-and-back paddle through the cavern, we offloaded for a short walk through surreal formations.
It was a nice jaunt that left me wanting much much more. When we come back someday, we'll surely do a kayaking or trekking adventure to get deeper into the forest and caves. The Son Doong Expedition is a budget-buster at $3,000 per person (!) but there are plenty of other more affordable options. Incidentally, trekking requires travel on well-established trails. During the American War, the U.S. dropped ordnance on Laos, Cambodia and Vietnam that totaled 3x the tonnage dropped in all of WWII. With unexploded ordnance still dotting the countryside, wandering about is dangerous business.
While we were gone, Sherlock had been doing his homework. He knew I was interested in Tien Son Cave and learned that we could motorbike to the area, cross on a small ferry, then purchase a ticket at the base. We hustled out but were just a smidge too late. No worries, though; it was a great ride and fun cast a new lens on the same terrain we'd just boated through.
Although it was after 4pm, Sherlock asked if we wanted to ride more. Of course! We rode for another hour or so through rice fields and along the river, stopping periodically. Sherlock is very outgoing and always willing to stop, chat with a local, and ask to wander their property; one such conversation resulted in a quick hike to chicken coops perched high on the hillside. Truly, we saw things we never would have seen on our own, and went down roads we wouldn't think to choose. I was delighted by the riverbank road lined with houses, kids dashing out, yelling hello in singsong voices, and holding out hands to slap as we drove past. Priceless!
After showering off the day's grime, Sherlock led us to another small roadside restaurant for dinner. It was a ridiculously long wait for their specialty, steamed rice and shrimp in banana leaves (like a tamale but with rice), but one of the most delicious meals yet. Next, we rode out to a street vendor for barbecue, but since appetites were small, we tried the baby duck instead. Baby duck?! They select eggs that are just about to hatch and then boil them, so when you crack the egg and squeeze, a solid, egg-shaped, fully cooked baby duck squirts out. We sampled tiny bites (it was a tiny duck) dipped in a lemon-salt sauce; tasted like chicken. Not something I'll crave, but fun to try!
The Easy Tiger pub was our final stop for beer, fries, and a cut-throat game of Tien Len. Fantastic day! Traveling by motorbike is the perfect way to see the countryside. Stay tuned for day two...
Bonus shots:
[caption id="attachment_3603" align="alignnone" width="380"]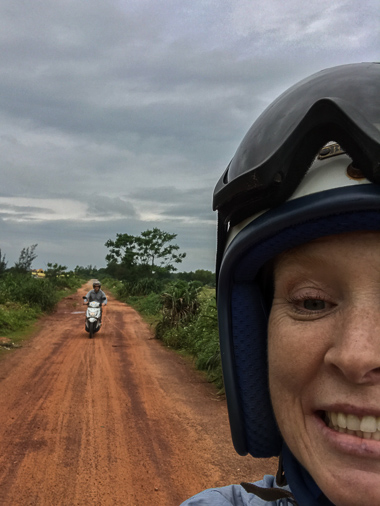 On a dirt road heading out to the sand dunes. This is just 90 minutes into our trip and I'm already comfortable enough to take selfies - thank you Uber Moto! All that biking around Ho Chi Minh City paid off.[/caption]
[caption id="attachment_3596" align="alignnone" width="700"]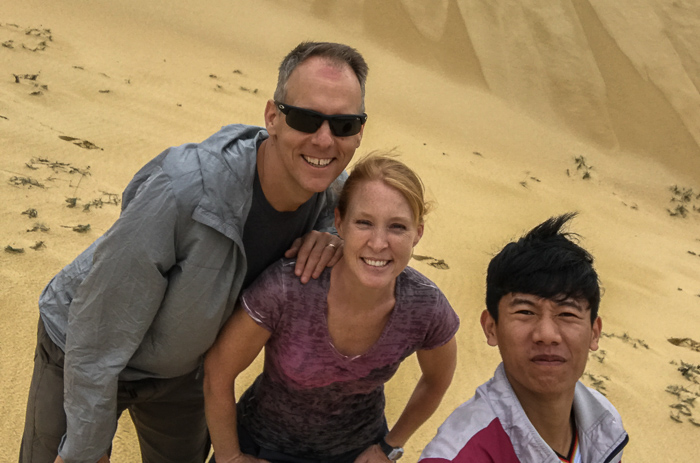 At the sand dunes. Our first selfie with Sherlock :)[/caption]
[caption id="attachment_3592" align="alignnone" width="700"]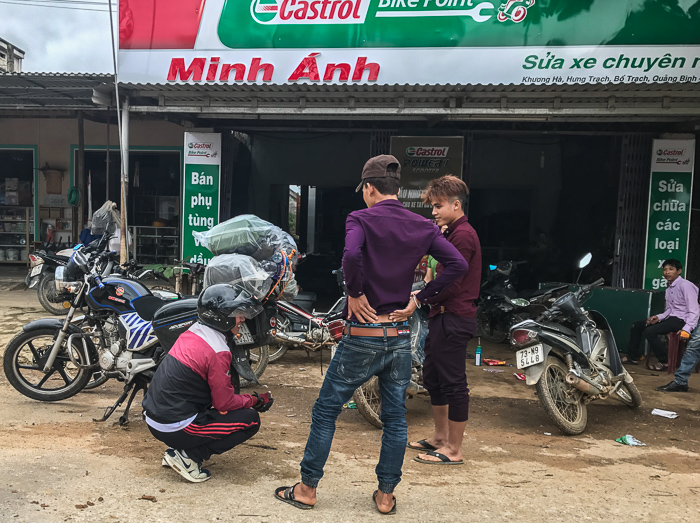 We stopped briefly at a bike shop in a tiny town. Sherlock added oil and removed a screw from his rear tire. This is very typical of stores/businesses: front wide open, guys hanging out, and work conducted out front or just inside the storefront.[/caption]