Overview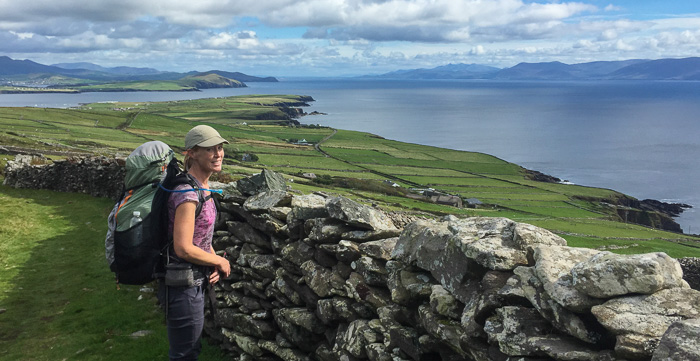 Chris and I spent a total of six weeks in Ireland: three weeks on our own, one week hiking with a friend, and the final two weeks sightseeing with family. It was a fantastic trip and I wouldn't trade it for the world, but was it "perfect"? Nope. Here's a taste of lessons learned (in no particular order):
Be constrained and slow down: We traveled by bus and train for the first four weeks which meant no side trips. We got to a destination and explored that place, usually on foot. It was slow, mellow, and allowed us to dive deep. Contrast that with our final two weeks. Since we had rental cars, we used them; boy, did we use them! Just because you can get somewhere, doesn't mean you should. In retrospect, we spent way too much time in the car. I wish we'd stuck closer to home and tried to cram less in.
Don't travel on Sundays: Many walking and hiking groups meet Sunday mornings, and trad music sessions are regularly scheduled for Sunday evenings.
Talk to people: Talk to anyone and everyone: B&B owners, shopkeepers, bartenders, fellow travelers, wait staff, tour guides, etc. This was a major highlight of the trip. We often asked for tips about where to eat or what to see, but mostly made small talk. No matter the topic, we always came away richer. Even if you're shy, what better way to experiment than in a new country with folks you'll likely never see again?
Eat vegetables: And turn down the big Irish breakfast every now and then. I can handle "vacation eating" for a short period, but a 6-week trip requires better habits. By the end, I was craving healthy food, light meals, and regular exercise.
Maintain routine: Again, this may not be necessary for a short trip; that's one reason we vacation, after all - to break routine. I can't help but compare the two halves of my trip though. I was very disciplined the first three weeks, our days tended toward a predictable structure, and I was healthy, productive, and energized. Over the last three weeks, things gradually got away from me and by the end, I had stopped writing and exercising, got little sleep, and ate way too much fried food. I do better with more order; even small nods to routine would have helped.
Look up: This one is from Karen. On one Dublin walkabout she practically swatted my phone from my hand. I like the reassurance of using Google Maps to quickly get where we need to go, while Karen prefers to briefly look at a map to get bearings, and then explore using landmarks and "street sense". I get it now! Since she was heads up the whole time, she had a much better grasp of the city's layout and noticed more landmark details (we always turn at this store, this street leads to the river, etc). I always say I have a terrible sense of direction, but there's one way to fix that - work on it!
This marks my second trip to Ireland, and I know I'll return. There's something about the island that speaks to me.
Moving on to the details, here's our loose itinerary and associated blog posts:
Flew into Dublin, then visited Battle of the Boyne and Newgrange on our way to Northern Ireland
Explored Belfast
Spent a day on Rathlin Island
Hiked the Causeway Coast Way
Spent a couple days getting to know Derry
Visited all three of the Aran Islands via Doolin
Spent a day regrouping in Tralee, then hiked the Dingle Way
Spent a week touring Dublin, and took a day trip north to see Newgrange (again) and Trim Castle
Saw Glendalough and Jerpoint Abbey on the way to our rental house in Kilmallock
Spent our last week with family exploring sights in Counties Limerick, Tipperary, Cork and Kerry
Dropped family at the Dublin airport, wandered Carlow, and wrapped up our trip with a few days in and around Kilkenny
Map
It would be unwieldy to mark every place we visited, ate, stayed, or listened to music, so we stuck to the highlights in the maps below. If a place is pinned, it's mentioned in a blog post. To easily locate specific articles, use the "Search this website…" function on our Plan Pack Go website. For example, Rathlin Island has a map pin. To find that write-up, type "rathlin island" into the search bar and a few articles will pop up.
Preparation
As with most trips, my research involved a whole lot of Googling. It's not rocket science, but it can be overwhelming. I wrote this article pre-trip to document the websites and organizational tools I found helpful. While in Ireland, I continued to research and gravitated to these websites to find hidden gems:
The following articles further document our pre-trip planning and prep:
These post-trip articles offer relevant tips:
If you plan to hike the Causeway Coast Way, perhaps we can help! We wrote a book documenting our experience on the trail. Learn all the ins and outs of the Causeway Coast Way through trail narratives, mileage breakouts, photos, custom maps, and more.
Finally, a couple in Kilkenny highly recommended two novels by Leon Uris: Redemption and Trinity. After visiting the Kerry County Museum's Tom Cream exhibit and drinking a pint of Tom Crean's at The South Pole Inn, I just had to pick up An Unsung Hero: Tom Crean - Antarctic Survivor - fascinating read!
Packing List
Packing for such a unique trip required many iterations. It wasn't the length (six weeks) that was daunting, but the mix of activities. We had to plan for everything from rugged hiking in the wind and rain, to sightseeing and eating out in nice restaurants. Of course the whole kit and kaboodle had to fit in my backpack and be light enough to lug around every day, sometimes all day. I did a pretty good job overall, but there were a few revelations:
I ditched body soap at the last minute but it was a big mistake. I assumed it would be readily available, but we stayed in a few hostels where nothing was provided. Thank goodness for wipes and my little bottle of Febreze :)
A couple of small, empty, refillable containers would have come in handy, especially for the soap issue mentioned above. Travel size toiletries weren't easy to find and I didn't want to lug huge bottles in my backpack.
We were glad to pick up a plastic knife on one of the Aran islands - it stayed with us the rest of the trip! We didn't check bags, so we couldn't pack a pocketknife. The plastic knife was great for cutting soft cheese, spreading peanut butter, etc.
We had to buy a lock for the one hostel where we shared a dorm room. The room came with a small cage for our personal items, but we had to provide the lock.
I didn't care about make-up as much as I thought I would. I definitely wanted all of it for the final few weeks with family, but when I was hiking, I went into outdoor-mode and only used face lotion and mascara.
We didn't really need the JetBoil. It was nice on colder days to be able to make a cup of coffee or have hot soup for lunch, but I think we only used it 5 times the whole trip. I'd leave it home next time.
It pays to pack light, even for day trips. We used my backpack as a day pack on Rathlin Island, but since we had so much room (and we'd be bicycling) we took a bunch of unnecessary items. The island was hilly, the biking challenging, and we regretted the weight!
We really really really should have taken gaiters and waterproof hiking shoes. These are a must for hiking Ireland! We've hiked, camped and backpacked in the rain - we're from Oregon for Pete's sake - so we thought we'd be fine. None of our experiences prepared us for the boggy, waterlogged terrain in Ireland. More than once, if I stopped too long I started to sink. Given how many days I hiked with completely soaked shoes and socks it's a wonder I didn't have more blisters or foot problems.
Chris's iPhone died on the last leg of our Dingle Way hike after pulling it out one too many times in the rain. Next trip, we'll invest in a good waterproof cell phone case.
Here are the packing articles we wrote, along with a few updates: