My Backpacking Equipment for Ireland
Sometimes it can be challenging to write an article, but this time I couldn't even decide what to title it! We will be in Ireland for a total of 6 weeks and the final 2 weeks will be familiar, traveling by car and sightseeing.  During the first 4 weeks, though, are we backpacking, hiking, trekking, hillwalking, or doing a walking tour? These terms suggest different things to different people, but "backpacking" and "walking tour" are probably the best fit. Backpacking is defined by carrying gear on one's back when hiking for more than one day, while a walking tour is a European term for a extended walk in the countryside, often following a marked public right-of-way. Chris and I plan to carry our gear and either walk or take public transportation. We will do day-hikes, explore towns, and see sights, but also take extended walks on national waymarked trails. Only our first few nights lodging are booked; we'll find hostels and B&Bs on the fly. I'm excited for the make-it-up-as-you-go aspect of this trip! We've been researching and have a healthy list of places to investigate, but few set plans.
I've already written articles detailing the clothing and toiletries I plan to bring, and Chris summarized our technology choices. Here's the rest of my gear; commentary follows.
Note: I have tried to give links to the exact products I use, but many are too old and I can't find an exact match. In those cases, I give a link to something very similar. 
1 60-L internal frame backpack, my REI pack is the older version of this bag
1 daypack
1 Asolo waterproof dry bag. Our Asolo may be discontinued, but this bag is similar.
3 slim eBags
1 12"x12" foam pad (for sitting)
1 Jetboil
1 canister fuel
1 spork
1 2-liter Platypus Hoser water bladder
1 20-oz plastic bottle (I use an old Gatorade bottle)
1 headlamp
1 small "emergency" kit with thermal blanket, lighter, whistle, duct tape, cord, safety pins, thread/needle, rubber bands, extra bite valve, bandaids and moleskin
10 resealable plastic bags, freezer quality, mix of gallon and quart size
1 pr nailclippers
1 pr patella knee bands
1 bandana
1 Field Notes notebook
1 pen
1 Eagle Creek travel purse (like this) and wallet
1 passport
Backpack: I've had my backpack for years, and while I'm not wild about the pocket arrangement, it's light and fits well. One thing I changed: I cut off the small hip-belt pocket and added two roomy zip pouches with a jury-rigged cord system to keep them in place. This was a huge upgrade and I love it. I like to have my essentials handy, so one pouch holds my headlamp, hand sanitizer, etc., and the other is reserved for snacks. Yes, snacks are essential in my life!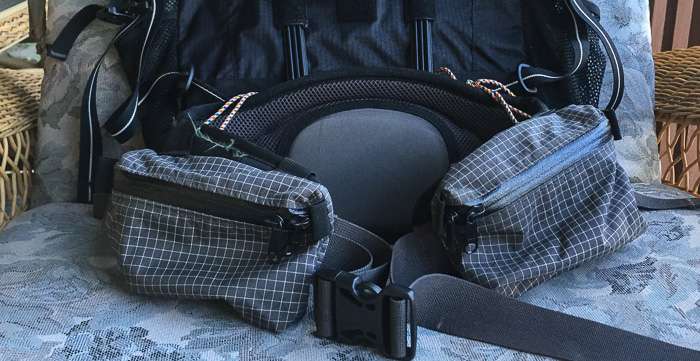 Pack cover, liner and eBags: Chris and I don't use pack covers anymore. We've lived and hiked in enough rainy regions that we grew tired of the on/off/on/off. Instead, we keep water-sensitive items in waterproof bags inside the backpack. My clothes go in an Asolo pack liner while smaller gear ends up in basic resealable plastic bags. I usually further organize my clothes into gallon bags within the Asolo liner, but Chris got me a set of eBags for my birthday so I'll give them a try.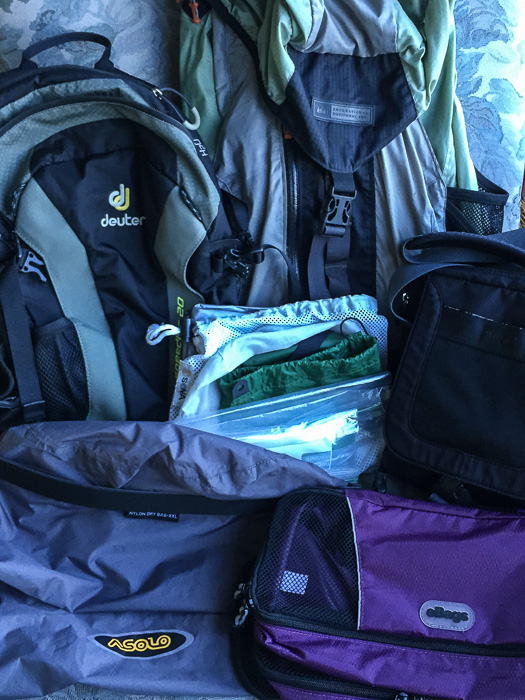 Jetboil: We'll have many all-day hikes where we'll certainly take breaks, and when I stop moving, I get cold. A Jetboil can produce a hot drink in minutes; instant warmth from the inside out!
Knife: I love my tiny Leatherman pocket knife but we won't check bags so it can't come along. I shouldn't need a knife often (if at all) and I'll bring a pair of nailclippers which could help in a pinch.
Other stuff: I'll take the knee bands I wear running; fingers crossed I won't need them much, but I'm sure they'll come out on extended hiking days. Chris will carry a compass for us to share, and the notebook and pen will come in handy for jotting quick notes when I don't want to whip out my phone. I'm hesitating over my travel purse since we're already bringing a lightweight daypack, but I think it will be a good option for restaurants and sightseeing days when we are sans backpacks. It's also an old friend having accompanied me on every trip over the last 10 years.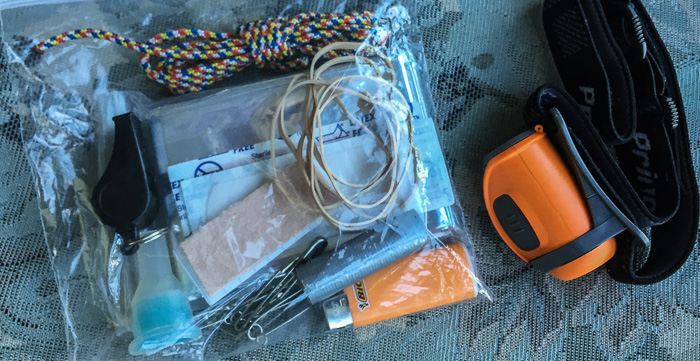 We are at T minus 11 days, so I'll need to get serious, load my bag, and weigh it. Moment of truth time! I want to be under 25 pounds so my gear choices may change once I see the number on the scale. I'll update this post with any major changes. Update: The pack was too heavy! Here's my final packing list for Ireland.  Sainte!