How I Choose Clothes and Pack Lightly for an Extended Trip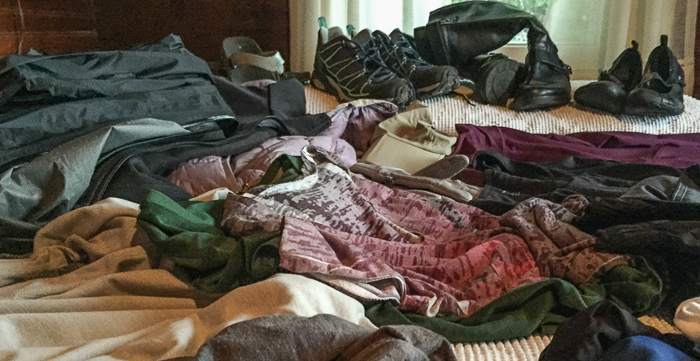 I used to be a disaster at packing. I'd start out with good intentions, but then the "what-ifs" set in and I'd throw in clothes and shoes for every possible weather/activity combination. Chris is a seasoned traveler though, and started working on me and the kids 15 years ago. Rule #1: No checked bags, period. It was a great first step and I got used to fitting everything into my trusty Rick Steves Convertible Carry-On. It wasn't that difficult since we were only traveling for a week at a time, and I could often cheat and stick something in someone else's bag (!). When we were faced with our first 2-week international trip, things got real - oh how I agonized! We've had many multi-week trips now, and while I still overpack and bring items I don't really need, I've had a few big breakthroughs that make packing easier. My cardinal rules:
Choose a color scheme and stick with it. This is a no-brainer; if you can easily mix and match tops and bottoms, you can create more outfits. Somehow I have collapsed down to lavender and grey, and it all started with a purple puffy coat. I never wore purple - ever - but when shopping for an Alaska trip in 2008, I found a 700-fill lavender down coat on super sale at

REI

. It's not very stylish (much like me), but it's super-warm, lightweight, and squishes down to a 6-inch ball. Since I'm always cold, it comes along on most trips. Aaaaand, now I'm purple.
Think layers. Have I mentioned that I'm always cold? Layers are my best friend. They're also a great way to look different; yes, I may be wearing the same t-shirt I've worn for the past 3 days, but you'll never know if I have a snazzy half-zip over it! Seriously though, smart layers are a huge key to packing light and still being comfortable on the road. Coincidentally, I also learned this lesson on the Alaska trip. It was the first time I heard the expression "There is no bad weather, only bad gear." Spend a little time gathering comfortable, quality, lightweight wicking layers and it'll pay off in spades. Good quality layers can be expensive, but they last. Case in point: my purple puffy coat. It's 9 years old and I've toyed with getting an updated version, but… why?
Plan to wash clothes. For many trips, especially international, we don't have access to laundry facilities so we wash clothes (at least underwear and socks) in the bathroom sink. I have to admit this was hard to get used to, but necessary. When Chris was training us all back in the day, Rule #2 was: No matter the length of the trip, only pack for 5 days. Ugh! I always wanted to throw in more underwear. It's so small! Why not?? Our

Philmont

backpacking trip finally convinced me not to. When you're carrying everything on your back for 11 days, every ounce counts. An extreme trip requires extreme measures and I brought just 2 pairs of underwear for 11 days, one to wash and one to wear. It works. You do NOT want to forget to do laundry each evening, but it works.
Embrace uniformity. This was the hardest for me to accept. I'm no fashion maven to say the least, but I still want to be dressed appropriately for whatever occasion arises. What was my key breakthrough here? Realizing that nobody cares if I wear the same thing twice, or three times, or 10. When traveling, we're often in a new place each day so who would know? And even if I'm with the same people, it's not about what I wear, but who I'm with and the experiences we're having; nobody gives a rip what I look like. I admit I work harder to pack things I really really like. If I'm going to be wearing one of two outfits every day, I want to love those two outfits.
Chris and I will be exploring Ireland for 6 weeks in the fall and I have to fit everything, including toiletries and electronics, into my 60-liter backpack. I'll also have to carry that backpack on my back for 4 of the 6 weeks, so weight matters. What clothing am I planning to bring? Here's the list; photos and details follow.
Note: I have tried to give links to the exact clothing I have, but many of my clothes are too old and I can't find the exact match.  In those cases, I give a link to something very similar.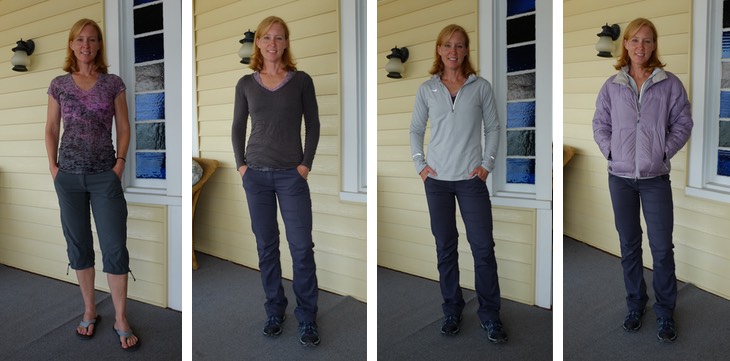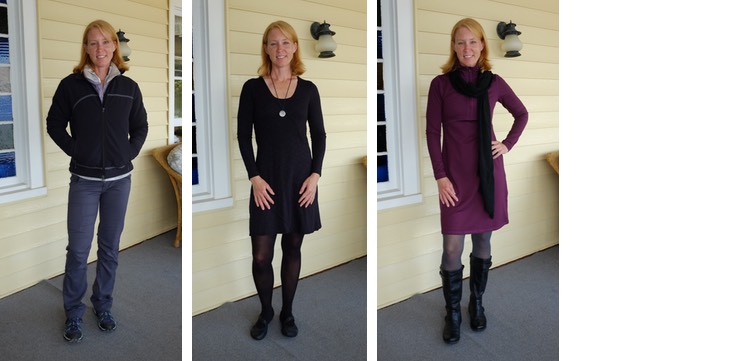 This trip is a unique mix for us, with 4 weeks of backpacking and 2 weeks of traditional touring. For the backpacking portion, we will hike or take public transportation from town to town and find lodging on the fly. Family and friends will join us for the last two weeks bringing our party to 10. Since it's such a large group, we rented houses through AirBnB, one in Dublin and the other south of Limerick, and will travel by rental car. We need to pack for the entire 6 weeks and plan as best we can for the changing weather and a myriad of activities including extended hiking, sightseeing, and (hopefully!) ceili dancing. Here's a bit more commentary on my clothing choices:
Pants: I decided against taking shorts; my knee pants are extremely lightweight and more versatile. And while I adore my Mountain Hardwear Yuma II hiking pants, I didn't want convertible pants for this trip. The prAna Halle pants are quickly becoming a favorite. They fit nicely with a hint of stretch, have great pockets, and are tough hiking pants but look nice enough to wear for dinner or sightseeing. Finally, rain pants are a must since we are backpacking and plan to have many full-day hikes.
Tops: I'm still debating how many long-sleeve tops to bring.  When hiking, I'm constantly readjusting layers as I warm up and cool down, so shirts are in heavy use and rotation.  I usually like to pack a backup for each clothing item I expect to wear every day, but do I really need a second long-underwear top and half-zip? With this type of hiking, how sweaty and dirty will I get?  I think I'll be fine with one of each, but I am waffling.  Have you tried the Uniqlo long underwear top as a base layer? I practically live in it from fall through spring, no joke. The tops are thin, smooth, nicely warm at rest, very warm with a little activity, and dry quickly - perfect for someone with my temperature set (have I mentioned that I'm always cold?).
Dresses: I have only recently become a dress-wearer. In fact, I bought the black Horny Toad dress pictured above for my previous Ireland trip in fall 2012. It was a huge stretch for me and totally out of my comfort zone, but I figured traveling to a new country was a great time to try out a new look. Now I'm a huge fan! My travel dresses are comfortable, don't wrinkle, and can be dressed up with a few simple changes like adding a necklace or scarf. I'm bringing two since I can wear them for sightseeing or dining, plus the purple one is heavier weight and allows for good layering. The black dress with tights and ballet flats will be my go-to outfit if we get to do some Irish dancing (fingers crossed).
Coats: I've already described my awesome purple puffy coat but I must add that down jackets rock. When I've gotten chilled to the bone, I've been known to strip off all top layers and put on the down coat for instant, cozy warmth. My Columbia Titanium softshell jacket is a solid wind/weather resistant layer and has been a work horse for me; I bought it over 10 years ago. It doesn't have a hood, though, and is a bit heavy for warmer weather or active hiking; the lightweight rainshell provides a nice alternative.
Shoes: I know, I know, I'm bringing a lot of shoes. Two of the four pairs are very lightweight though, and will take up little room in my bag. I'm bringing flip-flops for the hotel as well as hiking breaks. I don't know what the bathroom/shower arrangement will be each night, plus I like to free the feet and give them a chance to breathe. The ballet flats have Vibram soles and are a nice change for light walking/sightseeing days. I was happy to find Salomon light hiking shoes since I already own (and love) Salomon hiking boots. These hikers have good tread, are flexible, and plenty wide in the toe box; I'm optimistic about their long-term performance. The tall black leather boots are my biggest question mark. I want these to wear with my dresses, but they're pretty clunky. By the time I thought about shopping for lower profile boots, there were none in the stores. I'm taking this pair, but I might be purchasing a replacement in Ireland.
Socks and Underwear: I have historically worn Wigwam or SmartWool socks, but we've heard so many good things about Darn Tough socks and their lifetime guarantee, we're going to give them a try. I always wear sock liners when hiking, and toed liners provide additional blister prevention power when it's hot. As for underwear, I've tried many "smart" products from ExOfficio, SmartWool and others, but I've never found items that fit me well. I'm taking my everyday sports bra and underwire bra, and my underwear is a Hanes polyester/spandex blend.
Other Stuff: I'll keep a set of long underwear just for sleeping in order to have something relatively clean for night-time, although the top will serve as a backup in case my other Heattech top is wet or dirty.  The hat will come in handy for sun protection but also to contain my hair on windy hiking days. E-tip gloves are a lifesaver for cool days - I can take photos without taking my gloves off - and I'll pop the earband on when it's windy and cold. Finally, a scarf can add style, but also offer warmth as a neck warmer, wrap, or even a lightweight blanket.
As I write this, we are about a month away from leaving. I'm sure I'll tweak the packing list a bit when push comes to shove, but it won't change much. Update: Yes it did!  Here's my final packing list.  Once we get back, I'll do a trip summary and update the packing list with what I actually brought - or wish I had brought. Slainte!