My Final Packing List for 6 Weeks in Ireland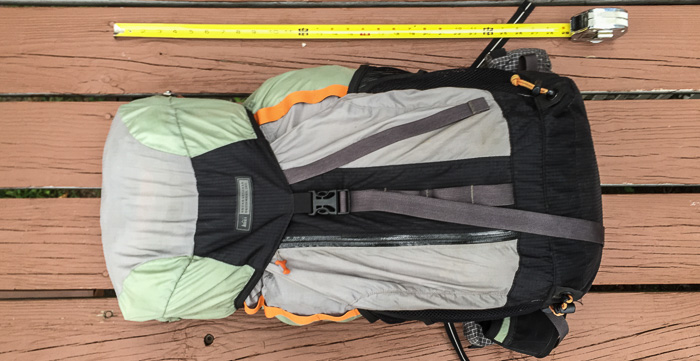 I previously posted articles detailing the clothes, toiletries, and backpacking equipment I planned to take to Ireland. The items listed would suffice for a normal trip, but I'll be backpacking for 4 weeks and my pack was too heavy. After carefully rethinking and then discarding or replacing items, I got my pack down to 19.5 pounds carried weight. This does not include the weight of the clothes and shoes I will be wearing on the plane, nor does it account for water, snacks, and fuel for the JetBoil. I have copied my original lists below and marked all changes. Note that Chris will be carrying most of our electronics and will publish his packing list separately.
Clothes:
Toiletries:
3 oz face lotion with SPF
3  2 oz shampoo, shared with Chris

3  2 oz conditioner, shared with Chris 3 oz body wash, shared with Chris I have wipes as back-up, but we're staying in hotels and hostels so should be ok. 2.5 oz body lotion I'll live.
0.5 oz travel deodorant
0.75 oz travel toothpaste
1 dental floss
1 toothbrush
45 q-tips
1 oz base make-up
1 small neutral eyeshadow palette
1 tube waterproof mascara
1 oz mascara remover
1 travel hairbrush The roll brush fits in my travel purse.
1 round roll hairbrush
3 hairbands
2 small hairclips
1 razor
1 oz sunscreen
0.5 oz bug spray
2 10-ct pkg wipes
1 oz hand sanitizer
2 tubes lip balm with SPF
4 ear plugs
2-week supply feminine hygiene products
Addition:
2.8 oz travel size Febreze. To help push out laundry day.
Backpacking equipment:
1 60-L internal frame backpack, my REI pack is the older version of this bag
1 daypack, Deuter Speedlight 20 Chris is bringing an ultralight daypack and I can use my travel purse or empty out my backpack and use it as a daypack.

1 Asolo waterproof dry bag. Our Asolo may be discontinued, but this bag is similar.
3 slim eBags Too heavy. I'll use gallon ziplocs.
1 12"x12" foam pad (for sitting)
1 Jetboil
1 canister fuel
1 spork
1 2-liter Platypus Hoser water bladder
1 20-oz plastic bottle (I use an old Gatorade bottle) Replace with 1 slim 17 oz plastic bottle that will fit better in my travel purse
1 headlamp
1 small "emergency" kit with thermal blanket, lighter, whistle, duct tape, cord, safety pins, thread/needle, rubber bands, extra bite valve, bandaids and moleskin
10 resealable plastic bags, freezer quality, mix of gallon and quart size
1 pr nail clippers
1 pr patella knee bands
1 bandana
1 Field Notes notebook
1 pen
1 Eagle Creek travel purse (like this) and wallet
1 passport
Additions:
Other items in my travel purse I forgot to note: sunglasses, a short nail file, small vials of allergy medicine and ibuprofen, and a sharpie
Other additions:
1 cell phone and charger
1 pr headphones
1 plug adapter
3 waterproof guide books from Rucksack Readers, one for each of the Ways we plan to walk.
1 journal
1 reusable grocery bag.  It'll be handy for the plane ride and when shopping in Ireland.
That's it! After the trip, I'll update with what I wish I'd brought, and what I could have left behind.