How We Booked Lodging for 16 of 43 Nights in Ireland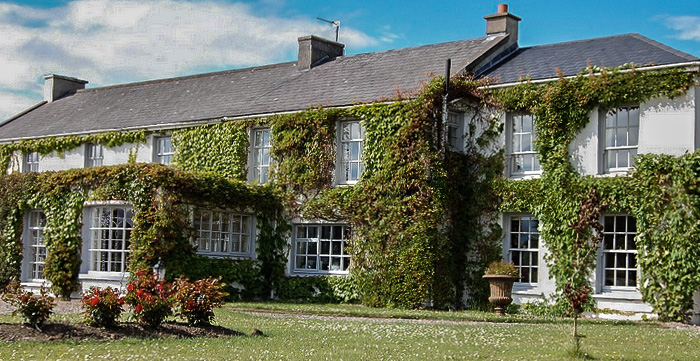 We will be traveling Ireland for 6 weeks and have lodging locked in for just 16 nights. I'm fairly risk averse and would normally book the entire trip. Why the change? Our travel will be broken into two distinct phases: the first four weeks Chris and I are traveling on our own; the last two weeks family and friends join bringing our party to 10. Let's talk about each phase:
Booking for a Party of 2
This trip is meant to be a break from the norm. We've traveled for years, but always with our boys and a few extra awesome family members thrown in for good measure. Those trips required detailed advanced planning with activities and lodging well mapped. This time we are footloose and fancy-free. We've been researching and gathering ideas for where to go and what to do, but have few set plans; we'll make it up as we go along. Since I'm cautious by nature, I've locked in lodging for the first three nights. We will be tired from the trip and I want to know we have a place to rest our weary heads, plus we're landing at the tail-end of high season so preferred B&Bs and hostels may book out.
Our loose plan is to land in Dublin and explore the island counter-clockwise. On Days 1 and 2, we hope to check out the Battle of the Boyne and Knowth (we'll do Newgrange later with family) and then head directly to Belfast in Northern Ireland. To search for lodging in each area, I used three main criteria: 1) price; 2) proximity to public transportation; and 3) reviews. We have 4 weeks of lodging to finance, so cost is key but we do have standards, and we'll rely heavily on the bus network since we're not renting a car.
I originally booked a room at The Failte B&B in Slane. To find it, I opened Google maps and entered "Battle of the Boyne Visitor Center" then did multiple rounds of "Search nearby" for "hotel", "hostel" and "B&B". I dove deeper on the few that seemed promising. To confirm proximity to a bus stop, I used Google Maps again and asked for driving directions between travel points, in this case from Battle of the Boyne Visitor Center to The Failte, and selected the "Bus" icon for public transportation routes. All seemed fine, but luckily Chris double-checked. Turns out I was researching at just the right time of day. Chris searched based on when we'd actually need to catch a bus and none was available - the necessary route only runs twice a day!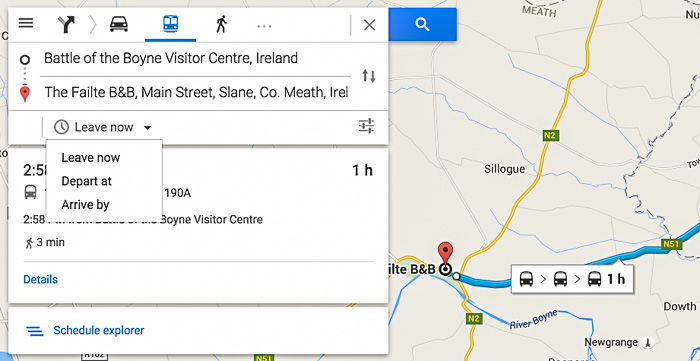 Back to square one. This time, we expanded the search using AirBnB and found the Lock-keepers Cottage within walking distance of the Battle of the Boyne visitor center. We were going to have quite a walk from the Drogheda bus station, but our host graciously offered to pick us up.
I did similar searching with Google Maps and AirBnB for our two nights in Belfast, but limited my search to hostels. I've never stayed in one and want to try it out. I booked a 4-person dorm room in the Global Village. What better time to test? If I can't handle a hostel during the first part of our trip when I'm puppy-dog excited, I'll probably never like it. Having roommates will add an interesting element, but I'm game!
The first few nights lodging will costs about 50 euro per night for the two of us; I hope we can continue to stay in this price range. We plan to search and make reservations as we go, but only a night or two ahead at most. At least once we'll hit a town without advance reservations and find lodging for that night, just to see how it goes. With a party of two, this is very do-able; a party of 10 is another matter entirely.
Booking for a Party of 10
Clearly we won't have as much flexibility with such a big group. We also nudged into the range where a house makes a whole lot of sense. Chris started researching in January and locked in housing by early February for our September stay. He mainly used VRBO and AirBnB, but found houses cross-listed on multiple sites. There were a plethora of options, but once Chris filtered for homes to accommodate 10 with at least 5 bedrooms and 2 bathrooms, the field narrowed appreciably. Other considerations:
We'd need two houses: one in Dublin to serve as home base for exploring the east side, and another in county Limerick or county Clare for day trips around western Ireland.
The Dublin house should be within walking distance of restaurants and sights.
The overall price should be less than a comparable hotel in the same area.
The booking site should contain enough photos to get a good feel for the home.
Ideally, the home should have recent positive reviews.
These additional requirements brought the list down to just a few homes. As a final check, Chris sent email inquiries and gaged interaction with each potential host. He settled on this townhouse in Dublin, and this lovely home in Kilmallock.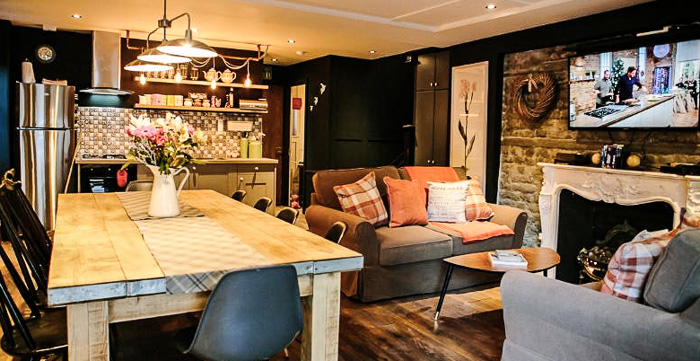 You never really know what you're getting until you step in the front door (as we found out the hard way recently), but we are very excited about these properties! Especially the Kilmallock home; Chris has been delighted by the interaction with our host Imelda.
We have 27 nights to figure out and we'll use the same methods listed in the first section above, although we'll also ask folks for recommendations along the way - probably the best way to find where to stay, what to do and where to eat!