How I Choose and Pack Toiletries for a Long Trip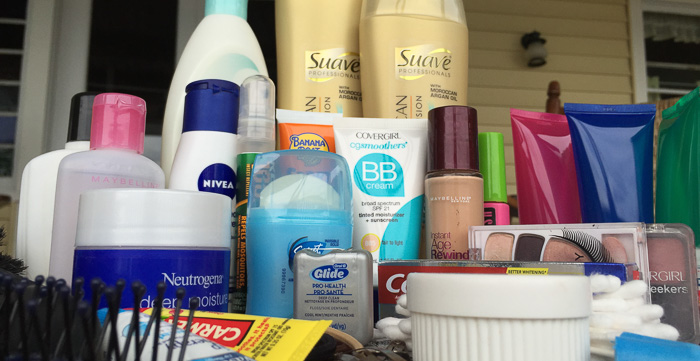 I wasn't planning to write this article, but a recent email from a friend revealed I'm not the only one who broods over lotion and shampoo and travel containers. While I haven't asked Chris specifically, I'd bet dollars to donuts he devotes a tiny fraction of the time I do to this subject. What can I say...I feel like I'm fairly low maintenance (wishful thinking?), but I have more hair to contend with, and more stuff to smear on my face. So I brood. What exactly should I take? How much will I need to get through the trip? Remember, I'm always stuffing everything into one carry-on bag that I wear on my back so space and weight matter. With each trip, I learn, adapt, and get a bit better. I don't have any earth-shattering revelations, but here are the guidelines I've developed through the years:
Determine the true "must-haves". This is probably my age showing, but I want to feel comfortable. I could travel as a minimalist and leave all make-up behind, but that's never going to happen. Once I've gathered the pile of sacred items, I pack just enough of each. One biggie for me is my Oil of Olay face lotion with SPF, and I always take too much since I don't want to run out. Will I never learn? This trip I'm trying something new. I just bought new travel containers, filled a 3-oz tube with my face lotion, and placed it front-and-center on my bathroom counter. After 2 weeks, I'll check what I've used and then triple it. I could certainly run this experiment with other products like shampoo or body lotion, but those aren't must-haves for me since I'm ok with just about any brand.
Whittle it down. I have a lot of stuff packed into my bathroom drawers, but I just can't travel with every kind of of make-up, lotion, etc., even if I transfer each into a travel-size container. It's not reasonable and my face and body will survive for a few weeks without ______ (insert anything here). Like night cream.  I could bring a bit, but I won't. I use so little face lotion, one small travel container can last 2 weeks even if I use it both day and night. As for make-up, I'll pack just one each of the basics - one mascara, one neutral eyeshadow palette, etc. - I don't need options. Our Philmont trip was an eye-opener on this front. I was backpacking for 11 days with a bunch of guys and knew I couldn't take any make-up, but I hate how I look without mascara. My solution? I dyed my eyelashes before I left. Ha! This was extreme and a little nuts, but I traveled light, saved time each day, and was still happy(ish) with the photos.
Don't throw in more "just in case". Think about it. What's the worst that will happen if you run out of q-tips? Hm. I found that I can fashion a square of toilet paper into a small cone-like shape and whaddya know, it does the trick. Same with other stuff. If you run out, you can borrow from someone else in your party, get creative, buy more, or simply make do without. Over time I've found that I am hardier and more resilient than I thought I was. For me, a big factor in being a happier traveler is having a wide comfort zone.
Buy stuff there. Always take enough to start, but know that you can buy products on the road.  I hesitate when traveling internationally but it's so silly - I'm never headed to the boondocks for Pete's sake. There are stores everywhere and it's part of the fun and adventure of travel to duck into a store and shop. It can be hilarious trying to find stuff and cash out, but fun. Depending on the exchange rate, you might pay a bit more, but it's worth it to save space and learn a titch more about the country.
Here's what I'm planning to take for the 6 weeks in Ireland; details and commentary follow.
3 oz face lotion with SPF
3 oz shampoo, shared with Chris
3 oz conditioner, shared with Chris
3 oz body wash, shared with Chris
2.5 oz body lotion, shared with Chris
0.5 oz travel deodorant
0.75 oz travel toothpaste
1 dental floss
1 toothbrush
45 q-tips
1 oz base make-up
1 small neutral eyeshadow palette
1 tube waterproof mascara, shared with Chris (kidding!)
1 oz mascara remover
1 travel hairbrush, for my travel purse
1 round roll hairbrush
3 hairbands
2 small hairclips
1 razor
1 oz sunscreen, shared with Chris
0.5 oz bug spray, shared with Chris
2 10-ct pkg wipes
1 oz hand sanitizer
2 tubes lip balm with SPF, one for backpack and one for travel purse
4 ear plugs
2-week supply feminine hygiene products
Make-up: I'm bringing more that I'd like, but it is what it is.  After reading this article I tried using tinted face lotion with SPF so I could ditch the bottle of base make-up, but I didn't like the result. I'll take my base but save a bit on weight and space by nixing the night cream, as mentioned above.
Shampoo, body wash, etc.: I'm bringing just enough to start and will purchase more as needed. I could save space and take a 2-in–1 shampoo and conditioner but I've never liked how it leaves my hair; I'm dubious there's even conditioner in there!
Hair dryer: I'm not bringing one, but I hope I don't regret it. Wet hair = cold Julie!  I checked the websites of a couple hostels and B&Bs; each list a hair dryer as an amenity, so fingers crossed. And the two hairbrushes may seem like overkill, but the round roll brush takes the place of a curling iron.
Backpacking items: I'll take sunscreen, bug spray, and lip balm with SPF since we'll be hiking in the elements for long stretches. Wipes and hand sanitizer come in handy when bathroom facilities are dodgy. We plan to try hostels and may end up in dorm-style rooms, so ear plugs could be a lifesaver.
Travel containers: I purchase travel-size items but also repackage products into reusable travel containers. I haven't yet found a trusted brand; I'll give these Mon Image tubes a try for the Ireland trip. In case of leaks, I place all liquids in a larger resealable bags.
TSA: Getting through airport security is a concern since TSA still uses the 3–1–1 Rule but in all my years of travel, I have never taken just one 1-quart bag of liquids. My two 1-quart bags crammed with stuff haven't even raised an eyebrow let alone been confiscated. It doesn't mean it won't happen, but it hasn't yet. If you do the same, take care to pack the must-haves separate from easily replaced items so you can quickly ditch one bag if TSA insists. Don't be "that" person holding up the security line!
We leave for Ireland in 2 1/2 weeks and I feel so ahead of the game. After writing this article, my toiletries are practically packed. WIN! Once we're back, I'll do a trip summary and note any updates to this packing list. Slainte!