Organized Travel: eBags Packing Cubes, Eagle Creek Pack-It Specter Cubes, and Rick Steves Convertible Carry-On
Chris and I have been traveling for over 4 months now and our crazy adventure is drawing to a close. When we pull into our driveway in just 8 short days, we will have traveled over 7,000 miles by car, backpacked 140 miles, passed through 20 states, and explored bits of 3 countries. I've learned a lot about a lot and I'm sure I'll be mulling the experience for months to come, but now's a good time to share rather mundane (but hopefully useful) realizations about packing.
My 46th birthday fell a few weeks before the Ireland portion of our trip and Chris thoughtfully gave me a set of these packing cubes from eBags to organize clothes into smaller sub-sets. I fully intended to take them along, but as you can see from my final packing list, they didn't make the cut. Backpacking is no fun with a heavy pack so after the initial weigh-in, I cut items with a vengeance and opted for the negligible weight of freezer-quality plastic ziploc bags instead. The eBags got shelved, but not for long. We are currently traveling by car, slowly picking our way from New York to Oregon, and I re-packed using my snazzy eBags. The verdict is already in - I love these bags! They are durable, zip easily, and come in handy sizes for smaller unmentionables up to bulky sweatshirts. Best of all, I can discretely sort clothing and therefore locate items without having to unpack the whole kit and kaboodle.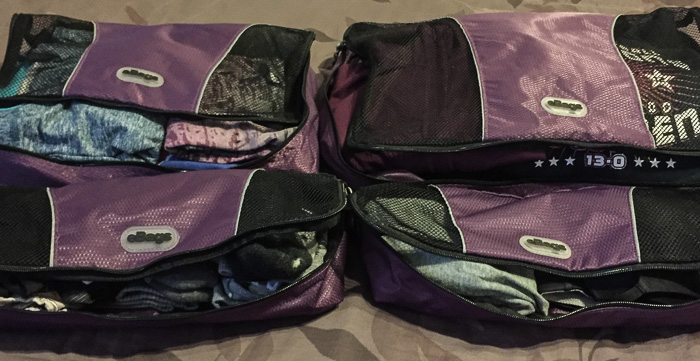 I should note that my friend Karen swears by the Eagle Creek Pack-It Specter Compression Cubes, similar to eBags but lighter weight. Given that she's one of the most seasoned travelers I know, I'm confident they're a top-quality choice. I have no need for two sets of packing cubes, though, so I'll stick to eBags for regular travel and the humble ziplocs for backpacking.
Finally, the "suitcase."  I've used the Rick Steves convertible carry-on bag for over 10 years and I have nothing but rave reviews: the construction is solid, nothing has failed, and it still looks like new. Unfortunately its best feature - the ability to wear as a backpack - has become something of a monkey on my back (haha). The older I get, the more I feel like I've strapped on a bag of rocks. I find myself gazing longingly at roller bags, effortlessly gliding along behind smiling, burden-free travelers.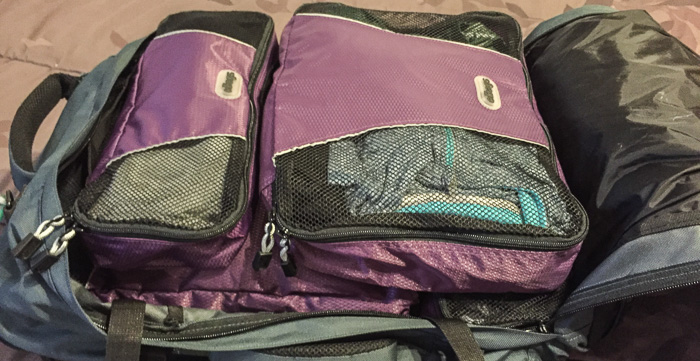 But then I picked up my bag yesterday and had an epiphany.  The problem isn't the bag, it's me. I've been stuffing my bag with so much stuff - did I mention it expands admirably? - it should feel like a bag of rocks. Who's to blame?  Me (of course) and my relationship with these much-loved compression sacks. Who knew they're an enabler? They squish my stuff down so well, I inevitably pack more! Apparently I need to save me from myself and stick to these cardinal packing rules:
Pare down
Stick to the basics
Don't pack extras
Yes, these are three ways of saying the same thing. If I would just pack lightly, pack lightly, pack lightly (as I was forced to do this trip), the Rick Steves bag is a dream. And if I take less stuff, there's no need for compression and plenty of room for my perfectly purple eBags.