Ireland's Hidden Gems: Mullins Mill, Kells Priory, and the Kilree Monastic Site
On a drizzly Tuesday morning in October, Chris and I set out early for the village of Kells, a quick 20-minute drive south of Kilkenny city. Note that this is not the Kells where the magnificent illustrated manuscript was found; that Kells is further north in county Meath. This Kells may lack fame but its cup runneth over with medieval historic sites.
Mullins Mill
Mullins Mill is one of 16 mills that once operated within a 5-mile stretch on the Kings River; must have been a bustling area back in the day! Although the current buildings date to the late 1700s when the Mullins family established a flour mill complex, a mill was first constructed on the site in 1204. The buildings have been restored and are now home to a small museum and craft center, but sadly we arrived too early to check them out.
Still, it's a tranquil spot and the nearby bridge is a lovely piece of architecture that grabs the eye. We were delighted with the find and took bunches of photos, but it was weeks later when I realized why the bridge grabbed me so: it's the arches! The original bridge constructed in 1725 had eight arches, but when the bridge was widened and strengthened in 1775, the new parallel structure had five arches. You can see both sets from the Mullins Mill side of the bridge; the other side simply shows the original eight arches. Very cool!
Location: In the village of Kells, County Kilkenny; GPS: 52.5423, -7.27129
Hours: Access to the grounds is not controlled; visit whenever you like. The museum and craft center are seasonal, but I couldn't find a website with published hours. The craft center has a Facebook page and their number is +353 83 454 4484.
Cost: Free
Kells Priory
I've been told that this priory's main claim to historical significance is its size. And how! This place is a kid's dream stop with oodles of space to run around. Just keep a sharp eye out for cow/sheep droppings (there are lots) to avoid an aromatic drive home.
This Augustinian priory was founded in 1193 and is locally known as "The Seven Castles" due to the collection of tower houses and connecting walls that enclose a vast 3-acre site. It looks more like a fortress than a priory! The property is divided in two main areas: the monastic ruins are clustered by the river, while the outer walled courtyard is believed to have been used to house and protect livestock.
First established at Strongbow's behest, the priory functioned for years with relative stability but alas, peace couldn't last. The priory was sacked many times, dissolved in 1540, and in 1650, had its lands confiscated by none other than Oliver Cromwell. This website offers a timeline of Kell's rich history.
To extend your fun, walk through Kells Priory down to the river, cross the bridge and follow the path to Hutchinson's Mill. This corn mill was built in the 1800s with two mill races, one of which still houses a water wheel.
Location: In the village of Kells, County Kilkenny; GPS: 52.53838, -7.26701
Hours: Access is not controlled; visit whenever you like
Cost: Free
Kilree Monastic Site
We weren't sure we'd be able to find our final stop in Kells since my best info simply said "follow the signposts from Kells Priory." Turns out it was easy as pie, as stated. The Kilree monastic site is a 3-minute drive from the priory and features a 29-meter round tower which kinda stands out from the landscape.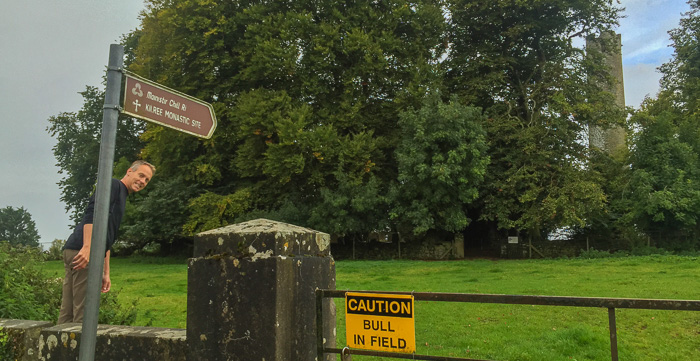 The monastery is believed to have been founded by St. Brigid but nothing from the 6th century stands; the current church and round tower date to the early 11th century. The round tower is unique in that the entrance is only 5 feet off the ground; most are 7 to 10 feet up. Stroll across the open field (again watch your step!) to find a carved 8th century high cross.
Location: In the village of Kells, County Kilkenny; GPS: 52.51833, -7.26805
Hours: Access is not controlled; visit whenever you like
Cost: Free
Have more time in the area? Treat yourself to Jerpoint Abbey and Kilfane Church.