Irish Music in Dublin: Irish House Party, Musical Pub Crawl, and the Best Session Pubs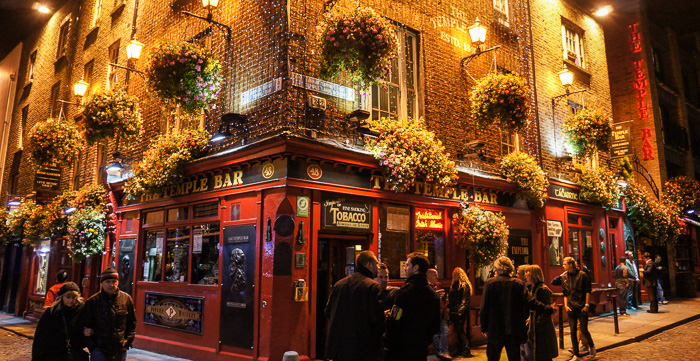 There's really no trick to finding good Irish music in Dublin, just get out, walk around, and you're bound to see pubs advertising live music. The biggest concentration is in the Temple Bar area; that's where we listened to popular Irish classics at both The Old Storehouse and The Temple Bar - around lunchtime no less! But we also found decent music at Doheny & Nesbitt's while exploring the neighborhood near our townhouse.
Finding music on the fly is easy, but we booked spots for the Irish House Party and Traditional Irish Musical Pub Crawl to learn more about Irish music, its history, and role in Irish culture. As an added bonus, our pub crawl musicians shared where to find the best trad sessions in Dublin.
Irish House Party
I'm conflicted about this show. The website bills it as "…traditional Irish music and Irish dancing at its very best, performed by All Ireland champion musicians, dancers and entertaining presenters." I agree! Our three hosts for the evening were warm, welcoming, and talented: one played guitar, another danced and played fiddle and harp, while the third played uilleann pipes, Irish flute, whistle, and bodhrán. They provided outstanding entertainment through song and dance, interspersed with helpful explanations of each instrument, styles of dance, and types of music. Thanks to them, I can finally tell the difference between a jig and a reel (rashers & sausages, Black & Decker)!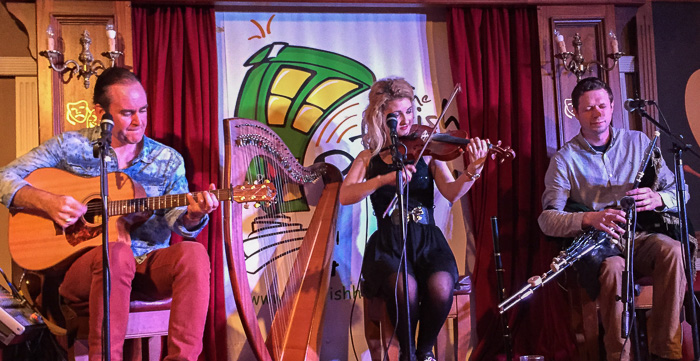 Unfortunately, our whole experience was overshadowed by the two large, loud, extremely drunk groups seated behind us. It was difficult to relax and have fun with the near-constant distraction. We suspect our show was cut short but we couldn't fault our hosts - the situation was untenable. Drunks aside, I'm not sure I'd return. I was expecting an intimate setting, perhaps seated at tables, so the rows of chairs felt too formal. Still, it was a rare treat to hear harp and uilleann pipes and see Irish dancing. As I said, I'm conflicted!
If you go and are looking for dinner close by, we enjoyed our meal at The Waterloo Bar just down the street.
Website: The Irish House Party
Location: In the Lansdowne Hotel, 29 Pembroke Rd, Dublin 4, Ireland
Hours: 8:30–10pm for show only; dinner seating at 7pm
Cost: €25/adult for show only; €49/adult for dinner and show
Musical Pub Crawl
Pub crawls are quite popular and our group was split between two: a few were interested in the Literary Pub Crawl (excellent!) while the rest of us went for the Traditional Irish Musical Pub Crawl which is "…led by two professional musicians who perform tunes and songs while telling the story of Irish Music and its influences on contemporary world music." I had high hopes, but was sorely disappointed at the start. The crawl gathered upstairs in Oliver St John Gogarty's where there wasn't enough seating and I had trouble hearing our acoustic musicians over amplified music from the pub below. Frustrating! Thankfully we stayed only 15–20 minutes before striking for the next pub.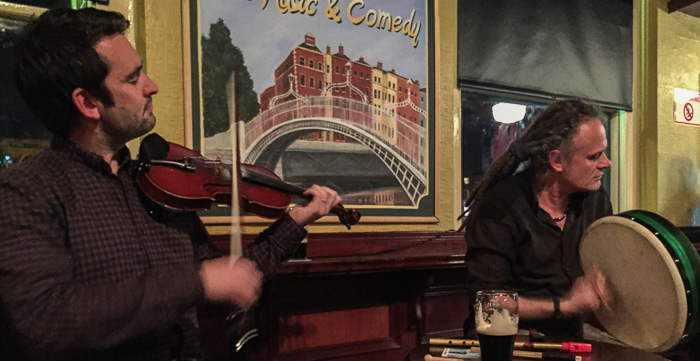 This is where the evening turned. Our crowd gathered in a cozy room above a quiet pub where Dermot and Mark reached out, grabbed hold, and quietly captivated. They are excellent musicians and gifted entertainers who somehow managed to make a crowd of 60 feel a part of an intimate conversation. They clearly love music and grew up with it as an essential thread in the fabric of their lives. We heard traditional music played on fiddle, guitar, and bodhran, and in between heard jokes and stories and learned of Irish music, instruments, history, and culture. I came away feeling that to even begin to understand the Irish, you need to understand their relationship with music. What a special night. I highly recommend this crawl; just know there are 20 different musicians involved so if you come, your experience will be unique. We visited three pubs over the course of the evening and it was an easy walk to each.
Website: Traditional Irish Musical Pub Crawl
Location: Begins upstairs in Oliver St John Gogarty's, 22 Anglesea St, Dublin 2, Ireland
Hours: 7:30–9:30pm every evening
Cost: €12/adult
Best Trad Sessions in Dublin
Dermot and Mark wrapped up by sharing a few of the best places in Dublin to hear a traditional music session. A "trad" session is an informal gathering of amateur musicians; it's not meant to be a professional performance for the crowd, but more of a drop-in jam session. Note that none will start before 9:30pm, and 10 or 10:30 is more likely. From my experience, if you'd like to get a seat close to the musicians, go early and settle in. Before heading out, read this article for more tips. Back to the pubs! Dermot and Mark recommended:
I feel lucky to have experienced two; O'Donoghue's was right around the corner from our townhouse and we randomly ran across Bowe's walking home from the pub crawl. When we arrived at Bowe's, we found six musicians in the back corner playing fiddle, guitar, accordion, Irish flute, banjo, and incredibly uilleann pipes - a rare find in a pub trad session!