Find Cheap Airfare Using ITA Matrix, The Flight Deal, and AirFare WatchDog
Until recently, my air travel booking "strategies" were limited to: 1) searching with flexible travel dates; and 2) booking early. I didn't expend much energy and always wondered if I was paying too much. That all changed a few months ago when I sat down with the calendar and realized that we'd planned 6 trips in 6 months - yikes! The first couple flights were already booked, but for the rest I had time to dig in, research, and up my game in the airfare-finding department.
Wow. There's a lot of advice out there but much of it seemed overly complicated, time consuming, and I just wasn't ready for it. Baby steps! After much Googling, sifting, and pondering, I came up with a basic strategy, then tested and refined it to a pretty manageable system. In short, I found that my old "strategies" were solid, but shored them up with calendar reminders and more useful websites. To find good deals (and be assured I wasn't paying to much), I set up a few simple email alerts.
Does it work? Incredibly, it does! We are planning a trip to West Point in March for Plebe-Parent weekend, and found round trip airfare from Portland to JFK for $188 each. Smokin' deal! Here's my process:
Plan ahead
Boy I can't count how many times I've gotten lost in life's details, waited a couple weeks too long, and suffered higher fares. I'm now adding electronic reminders to start checking for domestic fares at least two months prior, and 4–6 months for international travel.
Search with flexible travel dates
Not always possible, I know, but even changing one day (or time of day) can save a bundle. I switched to Kayak for its flexible search criteria, clear data presentation, and purchasing advice metrics. When searching there, I always ask for options 3 days before and after my "ideal" time frame. I'm also a fan of their price alerts and fare forecasting data/advice (when available).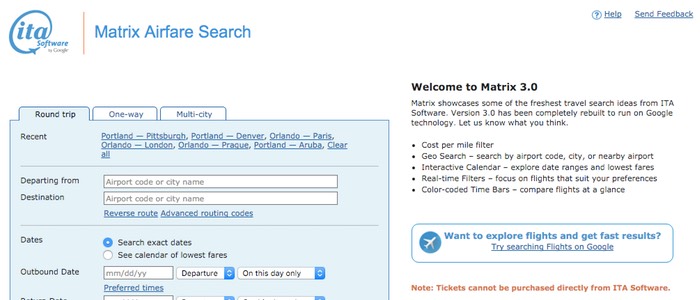 Though Kayak is a helpful tool, I drift most often to ITA Matrix. You can't book through this search engine, but it's a very handy way to check fare fluctuations over a one-month period. I search by entering a departure date, an approximate length of stay, and select "See calendar of lowest fares" instead of searching for exact dates.
Use The Flight Deal: Set up an RSS feed for alerts
The Flight Deal comes highly recommended for those crazy "fat-fingered" airfares that occur when an airline posts an incorrect fare. Since these deals disappear quickly, time is of the essence. I was planning to simply add a calendar reminder to check the site once a day, but then found this article that walked me through setting up an RSS feed so alerts are sent directly to my inbox. NOTE: This is pretty advanced stuff for me (ha!) but I followed the directions and it worked seamlessly.
I now get an email whenever The Flight Deal posts a new Portland airfare alert, about once a day at most. The basic details are included in the Subject line, so I can often delete without even clicking into the message. If a deal looks interesting, I'll quickly scan the details to make sure my preferred travel dates are covered. If dates look good, I switch to ITA Matrix to double check fares and dial in exact travel dates and flight numbers. Don't worry that these deals are fake - every time I checked, the numbers from The Flight Deal were spot-on.
Use AirFare WatchDog: Sign up for email alerts
No RSS feed needed! The Flight Deal finds good fares, but alerts are limited to a few major cities so it may not work for everyone. I have now added AirFareWatchDog to my arsenal. In their "My Alerts" section, you can set alerts for departure city, arrival city, or even city-to-city. I currently have two alerts set: departure city (Portland), and city-to-city (Portland to Pittsburgh, to see son Jacob). This site annoyed the bejeebers out of me initially! I got too many emails from them, and checking fare deals on their site is laborious and inundated with pop-up ads. My fix:
Set email frequency under "My Alerts"
When deals come through, quickly check the details on AirFareWatchDog. Again, date restrictions are usually the limiting factor.
If dates look promising, go to ITA Matrix to double check fares and dial in exact travel dates and flight numbers.
I get up to 2 emails a day from these guys and have to go to the website to check details. I haven't found a workable deal through them yet, but I still like the service. Because of the departure city alerts, I'm dialing in on the cheapest destinations from Portland; good to know, and I clearly need to plan a trip to Denver or Oakland!
Search Southwest separately
Southwest doesn't participate on fare aggregator sites. Searching their site is an extra step but could be worthwhile given their low fares.
Book directly with the airline
Once I have flight numbers, I book with the airline. It's the best way to ensure no hidden fees, customize travel, and get direct alerts if flight schedules change.
---
That's the plan for now. Pretty basic, but it works without overwhelming. I'm currently looking for Pittsburgh flights and haven't found a great price break yet; fares have been stubbornly set in the $355-$375 range. Perhaps a deal will come through, but if not, I'll feel confident pulling the trigger knowing I'm getting a reasonable fare.
Do you have another way to find cheap airfare? Please let me know - I'd love to try it out!