Use Google Maps for Navigation - Even Without the Internet!
Back in August I wrote about the travel technology I planned to carry with us on our Ireland trip. One of our goals was to minimize our need to use mobile data and hence avoid excessive bandwidth charges. I'll dive into that more shortly in another post, but one area warrants a separate discussion: how to use digital maps and navigate without being connected to the Internet.
Note: I'm going to focus on Google Maps in this post because that's what I use (even though Julie and I both use iPhones and iPads) and because I still think it is the best mapping app available.
Note 2: Yes, I know Waze is also awesome, but they are owned by Google and over the past two years I've gradually seen the benefits of Waze work their way directly into the Google Maps app. I can't prove this, but I believe they are incorporating aspects of Waze's real-time traffic crowd-sourcing directly into the Google Maps app. If you left Google Maps a while back in favor of Waze, consider giving it a try again.
---
Here's the fundamental question: can you use the Google Maps app while driving or hiking when you will not have access to the Internet?
First, let's talk about how we configure our phones (iPhone 6 in this case) to be Internet-free while roaming in another country like Ireland.
I don't advise using airplane mode for this. This disables too many services that may be important to you, and will make your phone impossible to locate using "Find my iPhone" if it gets lost.
Head to Settings>Cellular>Roaming> and make sure "Data Roaming" is disabled. This will allow you to safely keep your phone on the roaming networks and be available for incoming phone calls without risking excessive data roaming charges.
This will keep your GPS on and allow you to access WiFi it becomes available. There's no roaming charge for GPS – it's just between you and the satellites!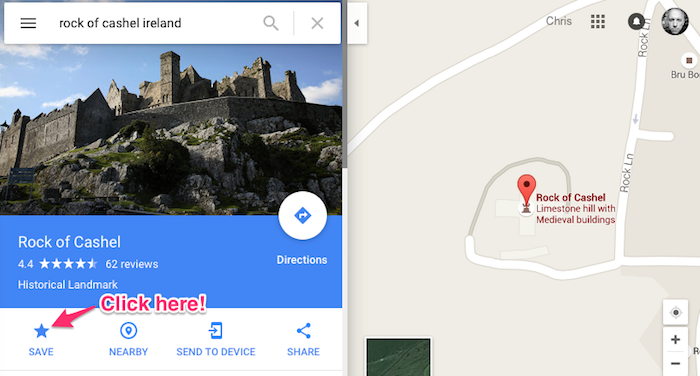 Next, let's say you are preparing for a day trip (driving, public transportation, or hiking). Make sure you have access to the Internet with your device and do the following:
Search for key locations you plan to visit and "Save" (aka "Star") them. When we were backpacking we would do this with our destination lodging location plus perhaps a few key landmarks along the way.

If you sign in to Google Maps on your phone or tablet, and do the same on other devices (such as laptop), all of your saved locations will be shared across those devices. This was handy for us when we would sit at the laptop the night before in our B&B, saving locations in Google Maps, then loading them up on the phone for our journey.

Get out your travel navigation device (likely an iPhone or Android phone) and open Google Maps. Zoom in and scroll around your destination and travel area. Make sure you can see your starred locations. Just doing this should save (aka "cache") enough of the mapping data for you to go about your journey. Don't use the app to go exploring other parts of the world or you run the risk of that data being deleted from the phone!
Optionally, and perhaps this is a safer way to download the map data, follow these instructions from Google. I never did this while in Ireland but this may be a better way to ensure that your location stays loaded in memory on your device.
Once you have the map data and your saved locations loaded, you can begin your journey without being connected to the Internet. You will not be able to get navigation instructions, but you will have your GPS tracking you so this will still be better than using old fashioned paper maps.