Dunquin to Feohanagh: Where 13 Miles is 13 Miles
Today marked the end of day 5 of 8 on the Dingle Way, a notable day since: 1) we are now more than halfway; and 2) it was the first day we hiked the advertised mileage! We have always walked more than expected for varying reasons:
Day 1 to Camp: Guide said 11 miles; we hiked 12.75 miles. We had to detour around the Finglas river; it was running high with recent rains and the stepping stone crossing was impassable.
Day 2 to Annascaul: Guide said 11 miles; we hiked 11.8 miles. We missed a signpost and did a loop-de-loop that added to our day. There's nothing quite like hiking the same road twice in 30 minutes!
Day 3 to Dingle: Guide said 12 miles; we hiked 14 miles. No detours and no missed signs this time. The trail was just longer.
Day 4 to Dunquin: Guide said 12 miles; we hiked 15.5 miles. Ugh! Again no detours or missed signs. The trail was much longer than anticipated.
Day 5 to Feohanagh: Guide said 13 miles; we hiked 13 miles. Woo-hoo!!
How do we know our daily mileage? Chris uses RunKeeper on his iPhone and only pauses it for side trips away from the marked trail. We've hiked enough to know our average pace and feel confident that RunKeeper has been accurate. Aside from Day 4, the extra mileage has been relatively minor. Still, our sore feet will tell you that every step counts; the cumulative effect has had us hobbling at times. It's also made us gun-shy and skeptical. We have a hilly 15 1/2 mile day tomorrow, but will it really be just over 15? If a 15 turns into an 18, we may "achieve gingersnap" - Chris's new descriptor for when Julie has reached her limit and all bets are off :)
The hike from Dunquin to Feohanagh was nice but nothing to write home about. We had a couple long stretches of beach walking which was a welcome change for the feet. The weather was almost sultry in the morning but turned to cool light rain in the afternoon.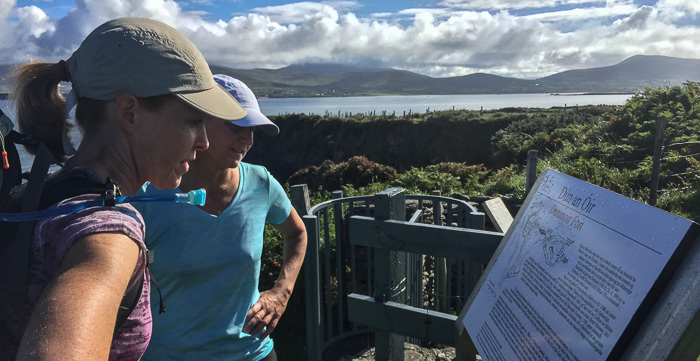 We took one small detour to Dun an Oír, the site of a terrible massacre that ended the Siege of Smerwick in 1580. It was a lovely spot set on a promontory, but no ruins left to see. We reached the highest point of the hike a couple miles out from Feohanagh and enjoyed views of the rugged coastline from atop our jagged 60-foot cliffs.
Dinner was the true high point of the day; we splurged and made reservations at The Old Pier. We had to walk a mile to get there from our B&B and it was worth every step! Stuffed mussels (for Chris), spinach and goat cheese tart, crab-stuffed sole, and monk fish with prawn - all were delicately prepared and we practically licked our plates clean.
Chris gave us a final laugh at our pub stop on the walk home. We sat at the bar and talk turned to the upcoming Gaelic football final between Kerry and Dublin. Chris first stepped in it when he assumed the bartender would root for Kerry. We're in county Kerry right now so it's a logical assumption, but no, he's rooting for Dublin and hoping they can pull out the win. Then Chris put the final nail in his coffin with the follow-up "Yeah…Dublin's not very good are they?" Turns out our bartender is from Dublin and used to play football for them. The look he shot Chris was priceless! Thank you Chris, your bold ways provide endless entertainment.