How to Research and Organize Trip-Planning Information
We live in an age where information is easy to find - almost too easy - and the volume can be overwhelming. My challenge in recent years hasn't been how to find information, but how to efficiently capture and organize it.
Finding Information
I tap three main resources when researching trips:
People
What better way to gather recommendations? I'll strike up a conversation with just about anybody anywhere and I'm amazed at how often we uncover commonalities. While travel preferences may not align, I always appreciate new input. People like to share their experiences and a few simple questions can open the floodgates: "What's your favorite memory?", "What do you regret that you missed?", "If you could go back, what would you see?". My memory is a fickle thing so I take notes on the spot or as soon as practical.
Guide Books
I utilize guide books less and less, but they remain a valuable tool. It can be handy to have an entire country's main sights succinctly summarized in one volume, complete with maps and tips. When we visited Paris in 2008, I had my dog-eared and highlighted guidebook practically glued to my hand. Why have I moved away? I prefer detailed up-to-date information, lots and lots of photos, and sights that are off the beaten path.
Having said that, we will likely rely heavily on three waterproof hiking guides from Rucksack Readers: Causeway CoastWay, The Dingle Way, and The Wicklow Way.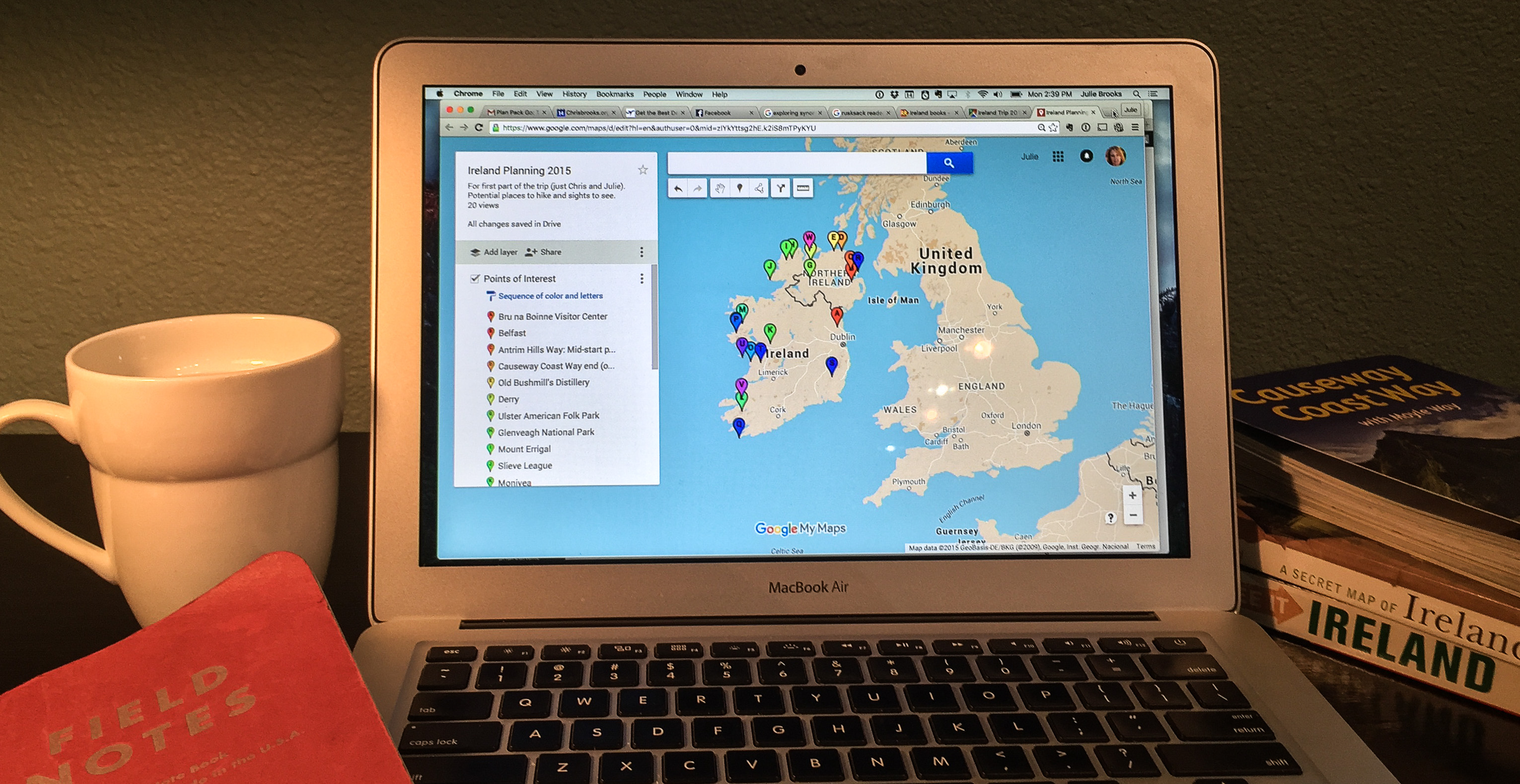 The Internet
Aaaaah, here we go. When looking for information, I gravitate to my keyboard. I'm practically a Google-holic Why leave a question dangling when the answer is out there, a few tantalizing keystrokes away? I tend to search in two ways:
Directly in the Google search bar: We will be hiking for most of our trip, so my search phrases were variations of "best hikes in Ireland" or "walking tours in Ireland". This revealed helpful trail sites like Walk Northern Ireland, Irish Trails, and Wicklow Way. It also spit back a wealth of professional tour sites including Hillwalk Tours, Wonderful Ireland and Mountain Travel Sobek, which provide detailed descriptions of multi-day hikes with daily breakdowns including mileage and difficulty.
In a website's search bar: Travel blogs are fun to peruse and most provide a search bar. Just look at the results of searching for "Ireland" on: Rick Steves, Nomadic Matt, and Y Travel. Searching can have a domino effect: the Nomadic Matt search above led me to this Ireland Travel Guide where I first heard of the OPW Heritage Pass which could save us a bunch of money while sightseeing. Update: The Heritage Pass was a great deal for us! This article explains the pass and documents how much we saved.
Instead of reaching out for information, Chris prefers to have it come to him through his RSS feed and newsletter subscriptions. If short on time, he'll save articles to Pocket to read offline later.
Capturing and Organizing Information
So I talked and read books and Googled, and got tips and gathered ideas and found articles like:
Now what? Before Chris got his hooks into me, I would open a Word document and copy/paste pertinent info and notes. It definitely works, but there are more powerful tools out there; our favorite is Evernote. All of the webpages above (and so many more) are saved into our shared "Ireland" Notebook and I grabbed each with one easy click. I am writing this article on our flight to Dublin and could access every selection since each page was clipped and saved for offline use. Once back on Wifi, I will be able to click on the note and travel to the full website.
Evernote isn't just for clipping webpages. I also have notes in the Ireland notebook containing a friend's travel itinerary, my rough plan for day-trips from Dublin, lyrics to favorite Irish songs, and a photo of my passport. The possibilities are endless, and all notes and notebooks are fully searchable so finding things is a breeze.
In order to plan daily travel itineraries, I use Google Maps to build a visual representation of the ideas saved in Evernote. I created a personalized map titled "Ireland Planning 2015" and as I found interesting sites, I dropped a pin and added notes and links for easy reference. The map is shown below - it's a working draft, so pretty rough!
With a map like this, it is straightforward to create daily itineraries by focusing on pin clusters.
---
There you go. Pretty basic stuff I know, but perhaps some of the links or tools will be helpful. It's also important to note that while we are researching and planning, our goal is to create a loose framework not detailed day-by-day sightseeing plans. We will be on our own for three weeks in Ireland. With only two people to worry about, we can be nimble and plan as we go.