Are We Spending Money Like Pros?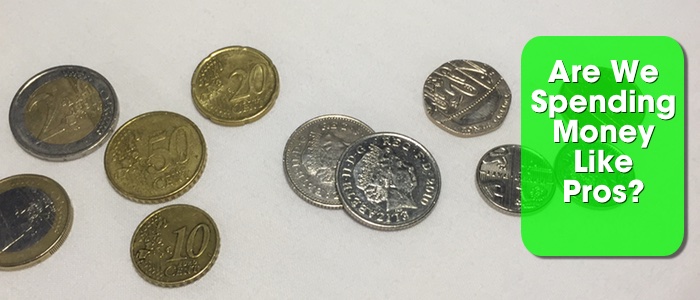 About three weeks ago I wrote about how we plan to handle spending in Ireland. Now that we are over two weeks into our trip and have traveled in both Northern Ireland and the Republic of Ireland, I can update you on how things have worked so far.
Cash is still king here. We've been able to use our chip and signature cards quite a bit, but more than a few times we've been surprised with having to make a big cash payment. Some examples include:
This morning we checked out of our wonderful B&B here on Inis Mór. While I reserved the booking with a card and they normally take cards, her terminal is down for a while so we had to pay with cash. So we we ran over to the ATM in the Spar grocery store to withdraw enough cash for the payment.
When hopping on a bus in a small town, there's no way to buy a ticket at a pay station so be prepared to offer cash when you board. For our longer trips this can be as much as €25 to €40 per person one way. We boarded a Bus Eireann bus in Derry which created its own special complication. We were in Northern Ireland so no easy way to withdraw Euros from an ATM, and no way to buy a ticket in the bus station as we were boarding a foreign bus. We had nearly enough cash for the full trip but were about €0.50 short – fortunately he had no problem taking the extra in pounds. Pro tip: use the fare finder to calculate city to city fares. The fare finder can be a bit of a challenge to use, but as long as you put in the bus number for one of your segments, you should be able to select any valid start and end point to get a full fare.
When you pay by card there's no opportunity to add a tip to the transaction, so keep some small bills or change handy for this.
Remember how I talked about magnetic stripe vs. chip & PIN vs. chip & signature cards? Only one time has the chip & signature card not worked where a chip & PIN would have. Surprisingly, this was in a grocery store in Derry. We just moved on to a different store. Sometimes cashiers and severs are a little surprised to see the receipt print out for signature rather than a PIN entry.
So while we are paying with credit card (mostly the Chase Sapphire Preferred so that we can get double points), we always try to keep a few days of cash handy. ATMs, while easier to find today than in the past, still may not be in every town. They weren't on the first two Aran Islands we visited and there will not be one in Doolin where we are staying tonight.