Our Aran Islands Getaway: Inis Oírr, Inis Meáin and Inis Mór
So I kind of dropped off the earth for 4 days. We landed on the Aran Islands and I simply…unplugged. I don't know why I felt so at peace. Perhaps it was seeing nothing but ocean to the west (next stop Boston), being intimately surrounded by water, or entering a concentrated area of the Gaeltacht. Whatever the cause, I like the results. On our first night in the islands, I took a nap for an hour and a half, went to dinner, and then came back and slept for a solid 10 hours. For a person who averaged 5 hours of sleep a night for the past few years, that's a minor miracle.
I consider myself especially lucky since we hadn't planned to visit the islands. After finishing the Causeway Coast Way, we re-evaluated our loose travel plan and something had to give. Unfortunately, the Wicklow Way dropped off our itinerary; we realized it wasn't feasible anymore due to time and transportation constraints. On the plus side, that left us with time to fill before hiking the Dingle Way. Once we zeroed in on the Aran Islands as an alternative, I felt like Goldilocks trying to choose which one to visit: this island seems so cozy and untouched, but that one's got the big attractions…which one is just right? I agonized briefly, but came to the obvious conclusion: Just like Goldilocks, we tried them all.
The Aran Islands lie just west of Galway in the mouth of Galway Bay and were ruled in the Middle Ages by the mighty O'Brien Clan. It's said that the Clan was paid an annual tribute of wine by the merchants of Galway "in consideration of their protection and expenses in guarding the bay and harbor of Galway against pirates and coast plunderers." The O'Briens weren't the island's first inhabitants, however and the lands are dotted with megalithic tombs, clochans (beehive huts), and early churches. Some of the most impressive archaeological remains are the massive stone forts dating to 800 AD. There are seven forts in total in the Arans; we didn't set out to do a "ring fort tour" but in the end, we saw them all. Yes, friends-who have-traveled-with-us-and-climbed-more-stuff-than-you've-ever-cared-to-climb, every fort was on top of a hill, and yes, the hike was worth it every time!
We launched from Doolin and visited the islands from smallest to biggest: Inis Oírr (East Island), Inis Meáin (Middle Island), and Inis Mór (Big Island). It's important to note that we visited in September, just into the shoulder season when kids are back to school and tourism drops markedly.
The three islands have a few things in common. All offer multiple ruins, networks of dry-built stone walls, marked walking trails, and lovely sandy beaches. Each has ferry service, an airstrip, lodging, a store, and at least one pub. Note that only Inis Mór has an ATM, so travelers should come prepared with cash.
The Arans are part of the Gaeltacht meaning Irish is the primary spoken language. I have to admit that from the very start of this Ireland trip, I've often felt like Chevy Chase in European Vacation when talking with locals, especially older folks. I know they're speaking English, but still want to pull out a translator. And if the Irish on the mainland can be difficult to understand, forget about those on the islands! I've done the smile and vacant nod too many times to count. And although indecipherable (to me at least), Gaelic is a melodic language to hear.
Inis Oírr (Inisheer)
The "which island to visit" debate is largely between Inisheer and Inishmore. Those who vote for Inisheer tout its charm, simple beauty, and feel of an isolated fishing village. Although the smallest island, Inisheer boasts a small store, a decent array of lodging options, and at least 3 pubs. The tiny village is clustered near the main pier and the island is small enough to be easily walked.
The major sights to see include a holy well, O'Brien's castle ruin, St. Kevin's church, and the wreck of the Plassey. With the exception of the Plassey, we saw hardly a soul and felt the island was ours alone. We'd often stop walking just to listen, and the silence was absolute. No cars, no machinery, no talking, no music; nothing but the wind and distant crashing waves.
On our first walkabout, we were awestruck with the intricate network of stone walls that fairly covers the island; you see these on the mainland of course, but not nearly as dense or prominent. You may wonder what's so impressive about walls, but trust me, they're super-cool. It's no surprise that the local arts center offers stone wall building workshops; those are classes I'd love to take!
Our favorite walk was along the rocky shore from the lighthouse to the Plassey. We were accompanied by an eager island dog who played in the water, chased shore birds, determinedly dug out rocks, and generally led the way hoping we'd follow to his favorite spots. It's surprising how an animal can warm an experience - he made us feel welcome as only a local can.
We certainly felt warmth from the human locals even though we visited on an atypical day; there was a large funeral in the afternoon, so most shops were closed and few people were about. Still, the funeral party descended on our pub after the service and joined us in watching the all-Ireland senior hurling finals. It was a spirited group and would have been epic had Galway pulled out the win.
In the end, we agree with what we'd read. Inisheer is a cozy island with enough pubs and services to feel comfortable, but you can literally get away from it all in a few minutes walk. There's even a dolphin named Sandy who frequents the harbor - how can you top that?
Inis Meáin (Inishmaan)
Inishmaan is the least visited of the three islands, a fact that becomes obvious within minutes of landing. A new harbor and pier were built in 2007 and yet no services have been built in the area. The lone greeting is one small sign outlining historical sites and walking loops on the island. It's over a mile to town, a walk that took us 35 minutes through an almost surreal landscape. All of the islands are part of the Burren but the unique geology is most starkly evident on Inishmaan with massive slabs of limestone covering the lowlands.
When Edmund Ludlow experienced the Burren in the 1600s he described it as "…a country where there is not enough water to drown a man, wood enough to hang one, nor earth enough to bury him." It's a fitting portrait, but the island also possesses a rugged beauty. Certainly the stone walls in Inishmaan put all others to shame. The stones are precisely fit and stacked both vertically and horizontally to create 6-foot high works of art that blanket the island in a patchwork quilt.
The town is smaller than that of Inisheer, with just a handful B&Bs, one pub and one small store. The Inis Meáin Knitting Company's museum/store is the one true tourist attraction on the island and is simply a store with beautiful photos and a few informative displays tucked between garments. Our B&B doubled as a restaurant but reservations and pre-orders were mandatory as she only cooked to order. Although we were a captive audience (we were unsure if we could even get dinner elsewhere), the meal was one of the most delicious we've had in Ireland.
The sites on Inishmaan aren't well advertised, so we expected little but found a dense concentration of ruins. We saw two ring forts, a collapsed megalithic wedge tomb, a clochan, and an old graveyard with church ruin dating to 1200 AD. We never encountered a soul while exploring and had the freedom to (carefully) climb on the ring forts and survey the land and surrounding rock structures from a bird's eye view. Phenomenal!
As a final walk, we visited Synge's Chair, a favorite writing spot of the playwright JM Synge, and continued beyond along the sheer cliffs on the west side of the island. It was an exhilarating hike and we got only slightly lost trying to navigate through a labyrinth of stone walls to pick up a path back to town. It would be challenging to see all the sites on a day trip and although a bike hire is tempting, the island is hilly enough I'd be frustrated at the effort required.
Inishmaan offers solitude and wide-open spaces, but the lack of services and harsher landscape lend a desolate feel. Although we wouldn't recommend it as a must-see, Inishmaan won us over. We felt like two souls washed up on our own private island, the first to discover ancient sites and wonders.
Inis Mór (Inishmore)
I admit I was biased against Inishmore from the get-go. This is the big island, the one everyone visits. I was sure it'd be touristy and over-run with people and stores and stuff that would completely ruin the private-island vibe I had going. As we approached by ferry the relative "bigness" was evident. The town in Inishmore is large enough to have a name (Kilronan) and was bustling with activity. Two ferries arrived near the same time, and crowds were disgorged onto the pier and funneled along the road to town. There were services galore with multiple bike hire shops, hotels, B&Bs, pubs, coffee shops, the Aran sweater market, and even a Spar grocery market. Chris and I were tired from tramping all over the other two islands, so did little more than hire our bikes and head out for dinner and music. Inishmore is much bigger than the other two islands; bike hire (or other transport) is a must.
We wanted to avoid crowds if at all possible so planned to be up and out early and head straight to the island's main draw, the Dun Aengus promontory fort. My cool attitude first started to thaw on the ride along the north shore. The coastline was beautiful and the surrounding hills greener and more lush than the other islands. Cars passed, but we saw no other walkers or bicyclists. Dun Aengus has a visitor center and admission fee. Once through the center, we only passed one couple on our way up to the fort; we otherwise had the place to ourselves.
This prehistoric fort is the largest of the seven ring forts in the islands and considered one of the best examples of its kind in Europe. Chris and I were awed by the size and scope, especially the sheer drop off the 300-foot cliff, but this was the first fort we visited that had controlled access and posted signage keeping people off and away. The caution is understandable, but a disappointment following out previous freedom. The silver lining was the treasure trove of information in the visitor center. The islands are rich in ruins but often short on explanation. At the center, we learned about all of the ring forts, not just Dun Aengus.
After the fort we continued to explore the island, riding for stretches, then pulling off to hike to posted sites. Inishmore contains more ruins than the other two islands combined and then some: churches, clochans, megalithic tombs, castle ruins, ring forts…fantastic!
Throughout the day, we ran into a few folks but not many. The island seems big enough to scatter people, plus most simply head to Dun Aengus and then back to the ferry. The only time we felt caught in a mass was our second visit to the Dun Aengus visitor center (to read a bit more info and use the restrooms). We turned the corner and were faced with 4 buses and 7 pony-drawn carriages. Crazy, but that was it for the day. We covered the island end-to-end riding and hiking and nearly always had sites to ourselves.
The standout highlight of the day - and of our Ireland trip to date - was the hike out to the Black Fort. The walk is almost indescribable with intricate jagged stones, sheer cliffs, crashing waves, a ring fort set on a precarious cliff…it was jaw-droppingly beautiful.
[caption id="attachment_1020" align="alignnone" width="700"]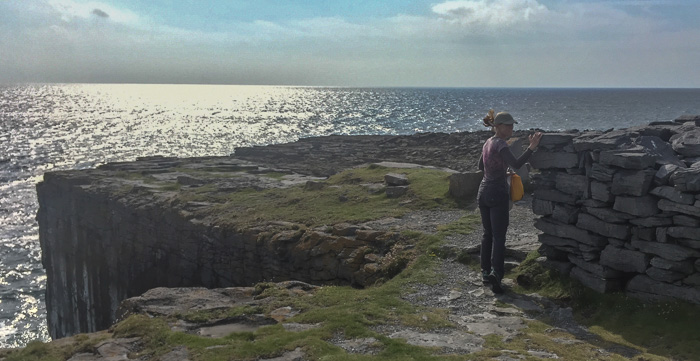 Julie rounding the corner to enter Dun Duchathair, the Black Fort. Watch your step - it's just a few feet to a looong drop![/caption]
At our host's suggestion, Chris and I brought a small picnic and spent a peaceful interlude sitting near a cliff edge, sheltered by fort and stone, mesmerized by wind and ocean.
[caption id="attachment_1017" align="alignnone" width="700"]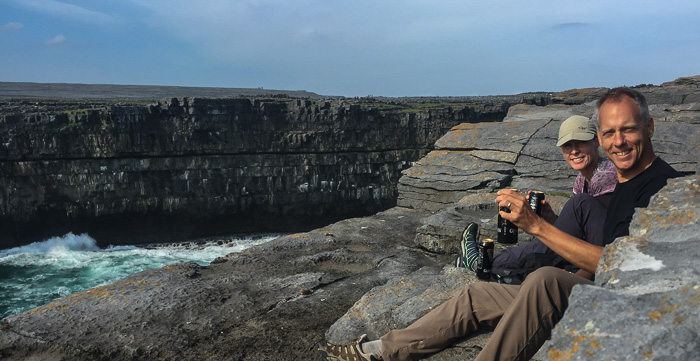 Chris and Julie just outside the Black Fort, toasting an incredible day on Inishmore[/caption]
I arrived skeptical and prepared to dismiss "the big island", but Inishmore is a special place indeed. If you can only visit one Aran island, I think this is the one to see, but to fully appreciate its wonders, stay a night or two and be sure to visit more than Dun Aengus.
[caption id="attachment_1799" align="alignnone" width="700"]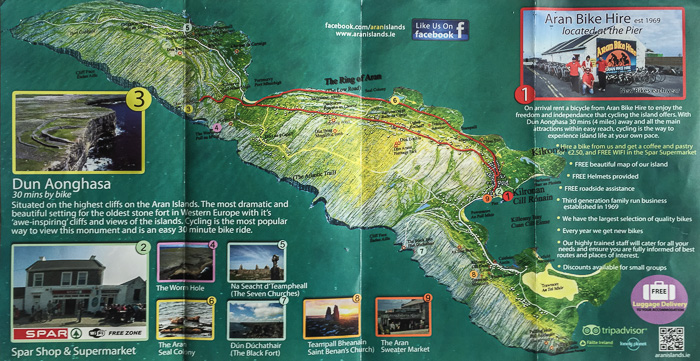 Inishmore sightseeing map[/caption]