Travel Technology in Ireland: What Worked and What Didn't Work
I made some proclamations back in August about the various technology items we would bring to Ireland and how we planned to use them. Here's a summary of how things worked out.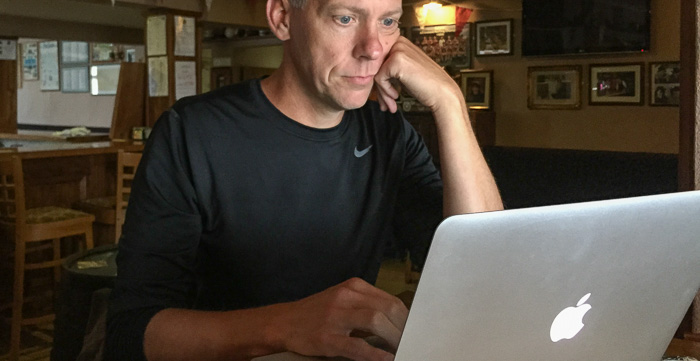 Computing Devices
We carried four "computers" on this trip: two iPhone 6s, an iPad Air, and a MacBook Air. Normally we would leave behind the laptop on a trip like this (who backpacks with a laptop?) but this was a working vacation after all, and Julie and I both needed to be able write regularly. I'm pretty good at writing on the iPad (I'm doing that right now) and Julie mostly worked on the laptop. I carried these two devices, kept in protective cases then tucked away inside my dry bag within my backpack. We never had any issues with them getting wet or damaged.
My iPhone was not so lucky. On our final backpacking day on the Dingle peninsula, I was a bit too aggressive with my photography and allowed the phone to get too wet. It stopped working that night and would stay incapacitated for the duration. I finally got it replaced in Albany NY.
We were always diligent about charging as soon as we arrived in our room. We carried three UK plug adapters and that was sufficient. Probably could have just carried two.
Photography
I planned to bring my Fuji X100S which would be my primary camera throughout the trip, but I broke it just a week before our planned departure. I was heartbroken as there was no chance to repair it quickly enough and it would be silly to buy a new camera for the trip. So I shipped it off to Fuji for repair (only receiving it today, nearly three months later, but that's another story) and resolved to make do with our iPhone 6 cameras.
This change did simplify some things. Less equipment to carry, less charging to do, and potentially easier access to photos as I wouldn't have to pull an SD card out of the camera and upload to our laptop or iPad.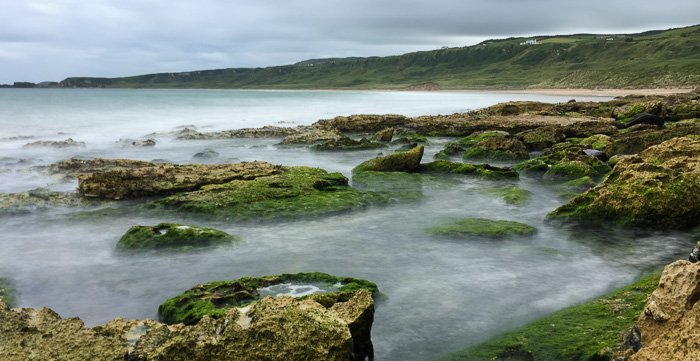 On the other hand, there's a reason I have a camera like the Fuji X100S. It gives me full manual control, high resolution, and outstanding in-camera color rendering. Constraints create opportunities to learn and improvise, so we made do with the iPhone and I learned how to play some tricks. I used the app Average Camera Pro to simulate long exposures and was able to take some waterfall photos like you see above.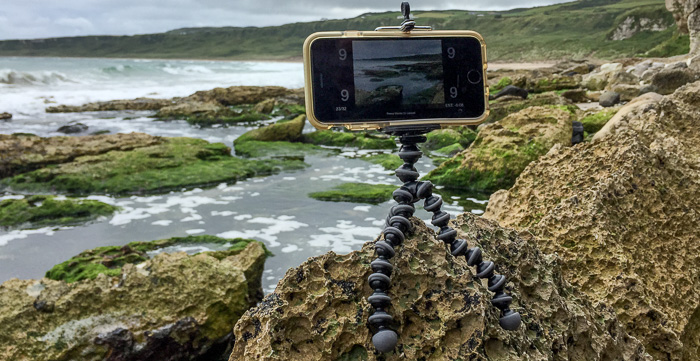 To make this work, plus to take group photos of Julie and me, we had our small Gorilla tripod and iPhone clip.
Mobile Internet and Phone
At first I was worried about our prospects for reliable mobile Internet. Within two hours of landing at Dublin airport, I purchased a SIM card at the Tesco in Drogheda. I was able to install this quickly in my cheap Android phone, and with a top-up card I also bought at Tesco I loaded up €20 of mobile Internet. I think this got me 10GB that wouldn't expire until after we would leave Ireland.
I assumed that I would be able to quickly test out the mobile Internet access with the phone, but had no luck accessing any services. I could make calls and send text messages with no problem. Add to this our imminent travel into the UK (Northern Ireland), I decided to just be patient and wait until we crossed back into the Republic before attempting again.
I should emphasize here that the phone worked great and was indispensable. We used it for advanced bookings at many (most, in fact) of our accommodations that wouldn't take online reservations. Our roaming fees in the UK were minimal and we never came close to running out of minutes.
Once we crossed back into the Republic, I tested out the SIM in my Huawei mobile WiFi device and it worked flawlessly. And it would continue to do so for the next 4–5 weeks of our trip. On several occasions we were able to use the mobile Internet while driving to help with navigation and communication. I shared the connection with our other traveling companions and we still had enough in the original load to last us until the end of the trip.
Total cost of the SIM card for internet plus all phone calls we made – about €30.
---
To summarize, I don't think we brought anything we didn't need, and what we had worked pretty well. Given the conditions we had while backpacking, the Fuji camera would have likely stayed tucked away inside a dry bag most of the time anyway, so not having it wasn't a big issue.