Day 5 of 6: Madison, WI to Kalamazoo, MI
Today's the big day! Matthew and I have never been to Wrigley Field and our first experience in the stadium will be Cubs vs. Reds. Go Cubbies! Within an hour of hitting the road we stopped at IHOP for breakfast. Boo, bad decision. Seriously, none of the food was good, not even the pancakes. We may have just hit a bad franchise, but after that experience we're unlikely to choose IHOP again.
We ran into traffic as we neared Chicago, but still made it to Wrigleyville in plenty of time for lunch before the game. We holed up at Heating and Cooling Pub for beer and wings while waiting for Chris's family to arrive. There's always laughter and good times with Uncle Don, Aunt Carol and cousin Alan, and we were delighted to meet Alan's girlfriend Halie. Don and Carol arrived within an hour, but Alan and Halie were still stuck in traffic when we left for Wrigley. All in, we were at Heating and Cooling for about 2 hours; the food was decent, but the service terrible.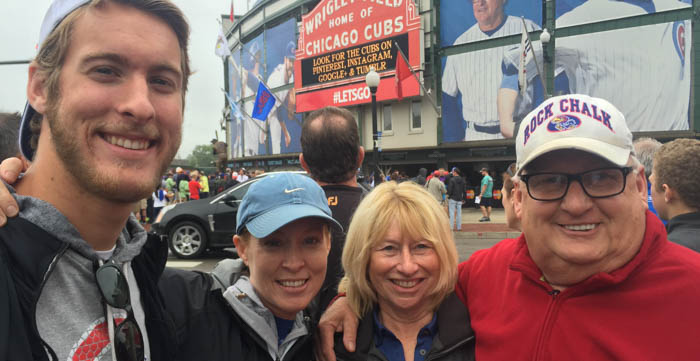 It was Straw Hat Day at Wrigley and we entered in time to get our souvenir baseball caps - yay! Given the foul weather, we opted for the top center bleacher seats. We weren't in ball-catching territory by any stretch, but the location was prime. The scoreboard provided cover and a beer stand was conveniently located a few feet away.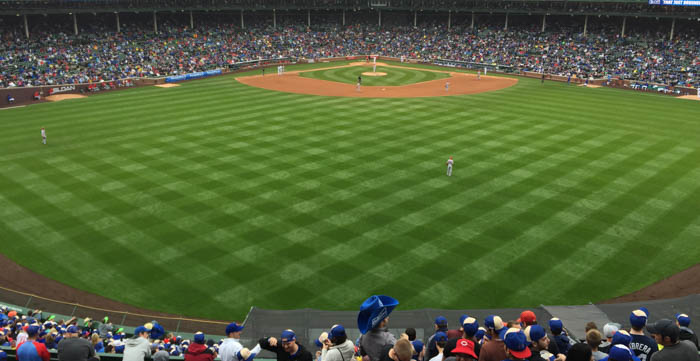 It was a great game that stretched to 10 innings, and we enjoyed the time to catch up with Don and Carol and share some laughs with surrounding fans. Regrettably, the Cubbies lost and we spent the whole game texting (rather than visiting with) Alan. He and Halie never made it to the game; so sad! There was a terrible fatality accident on the freeway and they were at a full stop for over 3 hours until road crews took out a center concrete median to release traffic. They finally pulled up as we were leaving the stadium. We hadn't planned to stay for dinner, but this certainly called for a change in plans. We opted for the Salt & Pepper Diner just down the street to grab a little bit of face-time with Alan and Halie. We first suggested Heating and Cooling, but after the game it was packed and insanely loud with everyone yelling over the live music; festive, but not what we needed at the moment. Salt & Pepper was much quieter and had good diner-style food and friendly service. We wish we could have lingered longer, but we all needed to say our goodbyes and hit the road.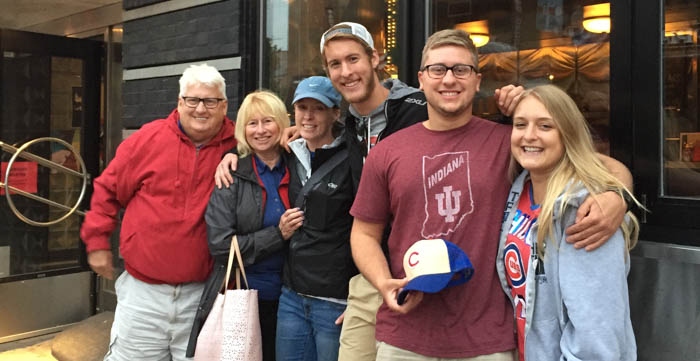 Matthew took the wheel and drove us the final leg to the Four Points by Sheraton in Kalamazoo. We arrived at midnight due to the extra time in Wrigleyville, so unloaded the car and hit the hay.
Miles traveled: 293
Hotel discount: 3,000 SPG points for a free night.
This post is part of the trip summary 6 Days Across the USA