Day 4 of 6: Kadoka, SD to Madison, WI
Unfortunately, there's not much to document from this leg of our trip. With tickets for a Cubs game the next day, we felt pressed to get to Madison so no sightseeing. Still I was hopeful when I saw a sign for the Laura Ingalls Wilder House and Museum, but it was way off of our route - about 9 hours south of Sioux Falls! This wouldn't have interested Matthew anyway, but maybe on our trip back in the fall. I was huge fan of Little House; Nellie, Albert, when Laura fell for Manly...sigh.
Chris once again found us a nice spot for lunch to break up the day. The Channel Inn in Fairmont was a bit off track, but worth the detour. The menu offered basic pub food, but the location was special. We were situated on the channel between Budd Lake and Hall Lake. It was a serene spot that made me even more anxious to get to Keuka.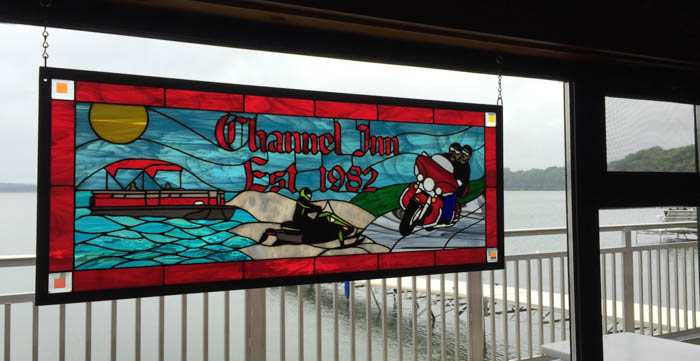 Chris had one more surpise for us up his sleeve. Our "big" sightseeing stop for the day was a bit of Americana. We meandered through Blue Earth just to find the statue of the Jolly Green Giant (Ho Ho Ho!) in the aptly named Green Giant Statue Park. There appears to be a small museum which wasn't open when we visited. It would have been nice to stretch the legs more, but alas the rainy weather held us to a quick dash for a photo before hitting the road again. There is a DQ adjacent, so it's a solid pitstop if passing by.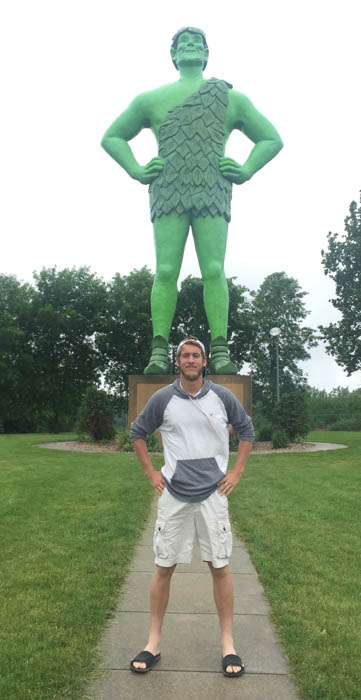 At about 7pm we pulled into the Sheraton Madison. Had the weather been nicer, the plan was to stroll around this unique college town. As it was, we unloaded the car and Matthew headed straight to the workout room. After Matthew cleaned up, we drove to The Old Fashioned for dinner, a Wisconsin-themed tavern with nostalgia covering the walls. The place was packed, likely due to the expansive beer selection and the tasty food. We probably shouldn't eat fried cheese curds every day, but man they were delicious. Chris of course tried their Old Fashioned (when in Rome!) made with Korbel brandy; who knew that Korbel makes brandy? The cocktail met with Chris's approval and I detected spicy cinnamon-like undertones. As we dashed through the chilly rain back to the car, we had an inspiring view of the brightly lit Capitol dome.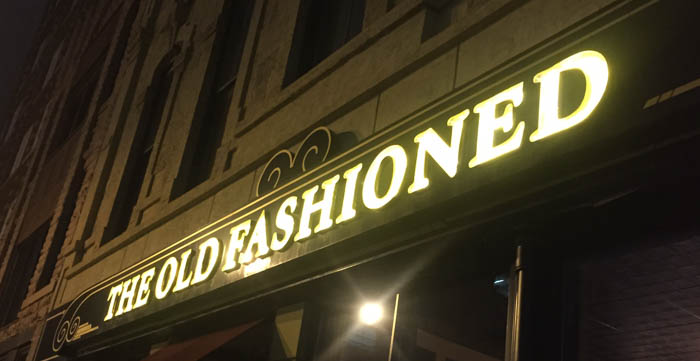 One other notable accomplishment for the day: we finished listening to Stephen King's Revival. The promo site describes it as "A dark and electrifying novel about addiction, fanaticism, and what might exist on the other side of life." We had to rewind quite a few times as one person would inevitably fall asleep and miss something important. The story really keeps you guessing so we were all in it to the end. The narrator David Morse was a highlight for me as he did a masterful job voicing characters.
Miles traveled: 689
Hotel discount: 7,000 Starwood (SPG) points for a free night
This post is part of the trip summary 6 Days Across the USA