Ireland Backpacking: Our Line-by-Line Packing List with Total Weight
I've written a surprising number of articles about packing for our 6-week Ireland trip, including how I choose clothes and pack lightly, how I choose and pack toiletries, my initial packing list, and my final packing list.  In this post I give you our line-by-line list complete with weights and notes.
I'm sorry the "tables" are so poorly formatted.  I brought them in from Google sheets but the cell borders didn't see fit to come along.  This article is best viewed on a desktop computer, laptop, or iPad - it needs a wide screen to see all columns properly.
My list is first and Chris's follows.  Enjoy!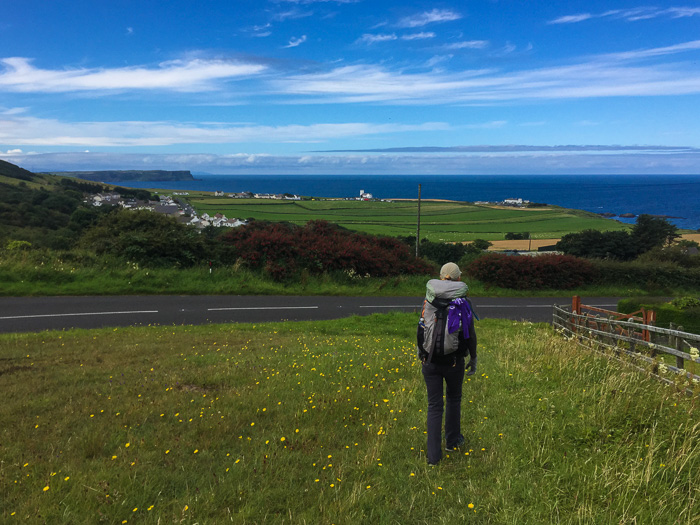 Julie's Backpacking List
Category
Type
Item
Where
Weight (oz)
Quantity
Total Weight (oz)
Total Weight (lb)
Notes
Base
Backpack
REI Backpack, 60L
Carried
53.0
1
53
3.31
Base
Pack cover
Asolo Pack Liner
Carried
3.5
1
3.5
0.22
Instead of using a pack cover, I keep all gear in waterproof bags inside my pack.
Base
Sitting pad
12"x10" foam pad
Carried
1.1
1
1.1
0.07
Clothing
Outer layer
REI down jacket
Carried
16.5
1
16.5
1.03
Clothing
Top layer
Nike half zip long sleeve
Carried
7.6
1
7.6
0.48
Clothing
Rain pants
REI shell
Carried
10.1
1
10.1
0.63
Don't skimp on rain gear when traveling in Ireland. This is one investment that's sure to pay off.
Clothing
Hiking pants
prAna Halle hiking pants
Carried
11.7
1
11.7
0.73
I love these pants! Great fit with a hint of stretch, quick drying, and nice enough to wear to dinner.
Clothing
Dress - medium wt.
Purple travel dress
Carried
11.4
1
11.4
0.71
Nice to have on colder evenings, but I didn't really need a second dress.
Clothing
Long underwear
HeatTech long underwear set (pants and top)
Carried
6.9
1
6.9
0.43
For sleeping.
Clothing
T-shirt
Nike Dri-Fit T-shirt
Carried
2.9
2
5.8
0.36
Could have gotten by with one t-shirt, although I ended up hiking in one and sleeping in the other.
Clothing
Underwear
Hanes poly/spandex blend
Carried
0.8
2
1.6
0.10
Clothing
Underwear
Sports bra
Carried
3.6
1
3.6
0.23
Clothing
Warm hat
Ear head-band
Carried
0.6
1
0.6
0.04
Clothing
Gloves
North Face e-Tip gloves
Carried
1.7
1
1.7
0.11
Clothing
Shoes
Sanuk flip-flops
Carried
8.3
1
8.3
0.52
I wouldn't bring this brand again. They get foamy when wet and take too long to dry.
Clothing
Shoes
Merrell Barefoot Mary Janes
Carried
10.0
1
10
0.63
Clothing
Socks
Darn Tough
Carried
1.7
2
3.4
0.21
Clothing
Socks
Wigwam liners
Carried
0.8
1
0.8
0.05
Clothing
Socks
Injinji toe liners
Carried
1.0
1
1
0.06
Clothing
Tights
Black tights
Carried
1.6
2
3.2
0.20
The first pair didn't rip/run so I didn't need the 2nd pair.
Clothing
Hat
Outdoor Research baseball-style hat
Carried
1.7
1
1.7
0.11
Clothing
Bandana
Cotton bandana
Carried
0.6
1
0.6
0.04
Cooking
Mug
Insulated mug
Carried
4.1
1
4.1
0.26
Cooking
Utensils
Grey spork
Carried
0.4
1
0.4
0.03
Cooking
Stove
Jetboil
Carried
12.4
1
12.4
0.78
We had mild weather and didn't need hot food/drinks. I wouldn't bring a Jetboil again.
Cooking
Fuel
Jetboil fuel (to buy in Ireland)
Carried
7.4
2
14.8
0.93
Cooking
Resealable bags
10 ziplocs, mix of gallon and quart
Carried
0.3
1
0.3
0.02
VERY helpful for repackaging food, keeping items waterproof, etc.
Laundry
Fabric spray
Travel bottle of Febreze
Carried
2.8
1
2.8
0.18
Fantastic! I regularly spritzed on t-shirts, socks, in shoes...
Extras
Bag
Reusable grocery bag
Carried
2.0
1
2
0.13
We grocery shopped more than I thought and should have brought two.
Extras
Knee bands
1 pr Patellar knee bands
Carried
2.8
1
2.8
0.18
Extras
Reading
Kindle Paperwhite and case
Carried
12.1
1
12.1
0.76
Extras
Chargers
Phone and Kindle
Carried
3.5
1
3.5
0.22
Extras
Plug adaptor
One Type G adaptor
Carried
1.1
1
1.1
0.07
Extras
Journal
Hardbound journal
Carried
18.5
1
18.5
1.16
My personal journal. Heavy, but worth it.
Extras
Guide books
Rucksack Readers
Carried
5.7
3
17.1
1.07
We brought 3: Causeway Coast Way, Dingle Way, and Wicklow Way. We didn't hike the Wicklow Way and insetad explored all three Aran islands.
Survival
Essentials kit
Small ziploc with thermal blanket, lighter, whistle, duct tape, cord, needle/thread, bandaids, moleskin, 5 safety pins, 5 rubber bands, extra bite valve
Carried
3.5
1
3.5
0.22
Survival
Light source
Headlamp
Carried
2.7
1
2.7
0.17
Toiletries
Shampoo
Small travel bottle
Carried
2.0
1
2
0.13
We stayed in many hostels so should have brought 3 oz each of shampoo and conditioner in bottles with large enough openings for easy refill. Soap too!
Toiletries
Conditioner
Small travel bottle
Carried
2.0
1
2
0.13
Toiletries
Face Lotion
Oil of Olay w/SPF
Carried
3.0
1
3
0.19
Toiletries
Deodorant
Travel stick
Carried
0.5
1
0.5
0.03
This one was just enough for the 6-week trip
Toiletries
Dental care
Full toothbrush, 0.75 oz travel paste, small floss
Carried
1.6
1
1.6
0.10
Toiletries
Nail clippers
Small pair clippers
Carried
0.6
1
0.6
0.04
We didn't have a knife or scissors, so these helped snip thread, etc.
Toiletries
Razor
Disposable razor
Carried
0.5
1
0.5
0.03
Toiletries
Make-up
1 oz base, eyeshadow, mascara, 1 oz mascara remover
Carried
4.3
1
4.3
0.27
Toiletries
Other liquids
1.7 oz bug spray, 1 oz sunscreen, 1 oz hand sanitizer
Carried
3.7
1
3.7
0.23
We didn't use the sunscreen. It wasn't sunny enough overall, plus I relied on my face lotion with SPF.
Toiletries
Lip balm
With SPF
Carried
0.2
1
0.15
0.01
Toiletries
Small stuff
3 hair bands, 2 hair clips, 45 Q-Tips, 4 earplugs
Carried
0.9
1
0.9
0.06
Hairbands were essential - Ireland is very windy! A band was always either on my wrist or in my hair.
Toiletries
Wipes
10-count pkgs
Carried
0.9
2
1.8
0.11
Toiletries
Feminine hygiene
2-week supply
2.3
1
2.3
0.14
Water
Water bladder
2L Platypus Hoser
Carried
3.5
1
3.5
0.22
Water
Water bottle
20 oz Gatorade bottle
Carried
1.2
2
2.4
0.15
Extras
Phone
iPhone with case
Carried
5.5
1
5.5
0.34
Clothing
Purse
Travel purse with wallet, brush, passport, Field Notes notebook, sunglasses, earbuds, 17 oz empty bottle, gum, 2 pens, 1 Sharpie, small nail file, small containers of allergy med and ibuprofen, and lip balm
Carried
26.4
1
26.4
1.65
Clothing
Dress - light wt.
Black travel dress
Worn
8.1
1
8.1
0.51
I'm so happy I brought this. It was very comfortable for travel days, and nice to change into for dinner in the evening.
Clothing
Pants
Black calf-length yoga pants
Worn
7.4
1
7.4
0.46
These were a versatile last-minute addition. I could wear them hiking, or under my travel dress for added warmth.
Clothing
Long underwear
HeatTech long sleeve v-neck
Worn
3.9
1
3.9
0.24
HeatTech is from Uniqlo and is by far my favorite base layer ever!
Clothing
Socks
No-see running socks
Worn
2.6
1
2.6
0.16
Clothing
Shoes
Salomon X-Ultra hiking shoes
Worn
23.5
1
23.5
1.47
These shoes were very comfortable, but I should have brought waterproof shoes and gaiters.
Clothing
Underwear
Hanes
Worn
2.2
1
2.2
0.14
Clothing
Underwear
Sports bra
Worn
3.0
1
3
0.19
Clothing
Rain jacket
Outdoor Research shell
Worn
5.5
1
5.5
0.34
I survived with this coat, but by the end was unsure of it's waterproofiness. I'll invest in a new rain shell for the next trip.
Clothing
Scarf
Black scarf
Worn
3.7
1
3.7
0.23
Provided extra warmth on the plane and when walking outside on cold evenings.
Carried:
20.21
Worn:
3.74
Total:
23.95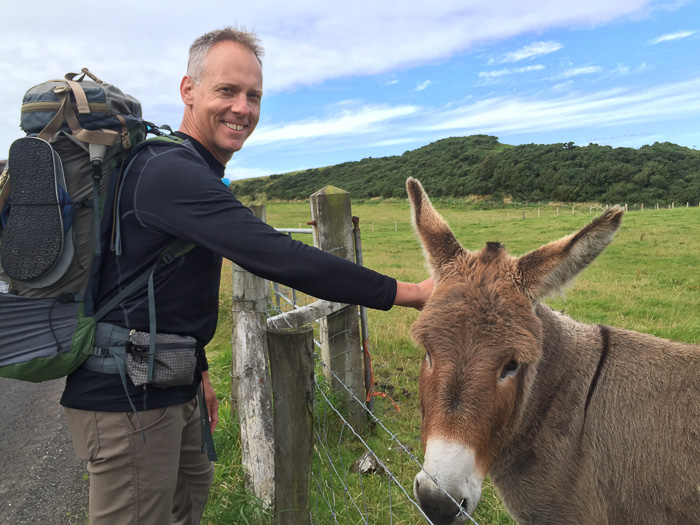 Chris's Backpacking List
Category
Type
Item
Where
Weight (oz)
Quantity
Total Weight (oz)
Total Weight (lb)
Notes
Base
Backpack
Granite Gear Crown VC 60 b/p
Carried
34.0
1
34
2.13
Base
Sleeping bag
Sierra Sniveller quilt
Carried
24.0
1
24
1.50
Chris brought this as a backup layer for travel days or when we stopped on the trail. We never needed it but used as a blanket for napping a couple times.
Base
Day pack
Granite Gear Lineloc Lid
Carried
9.0
1
9
0.56
Base
Waterproof liner
Asolo pack liner
Carried
3.5
1
3.5
0.22
Base
Sitting pad
12"x10" foam pad
Carried
1.1
1
1.1
0.07
Base
Dry bag
Sea to Summit electronics bag
Carried
0.7
1
0.7
0.04
Not quite as waterproof as we'd hoped. It did ok, but we'll upgrade for our next trip.
Base
Packing cube
Small eBag Cube
Carried
8.0
3
24
1.50
Clothing
Rain coat
Mountain Hard Wear shell
Carried
10.1
1
10.1
0.63
Don't skimp on rain gear when traveling in Ireland. This is one investment that's sure to pay off.
Clothing
Rain pants
GoLite Tumalo Trinity 2.5 pants
Carried
7.0
1
7
0.44
See above!
Clothing
Long pants
Prana hiking pants
Carried
14.2
1
14.2
0.89
Loved these
Clothing
Long underwear
HeatTech long underwear set
Carried
10.1
1
10.1
0.63
Probably only needed the top
Clothing
Sweater
Uniqlo Grey HeatTech Sweater
Carried
15.2
1
15.2
0.95
Clothing
T-shirt
Nike combat gear
Carried
10.5
1
10.5
0.66
Clothing
T-shirt
Dry fit t-shirt
Carried
5.6
1
5.6
0.35
Clothing
Running shorts
GoLite Trail Shorts
Carried
5.3
1
5.3
0.33
Clothing
Socks
Darn Tough (2 pr)
Carried
5.6
2
11.2
0.70
Clothing
Underwear
Ex-Officio Give-N-Go Briefs
Carried
2.1
2
4.2
0.26
Clothing
Dress shoes
Leather boots
Carried
43.1
1
43.1
2.69
Clothing
Shoes
Flip-flops
Carried
8.0
1
8
0.50
So glad I got these
Clothing
Hat
Black pullover beanie
Carried
3.0
1
3
0.19
Hardly used
Clothing
Gloves
Black touch gloves
Carried
0.1
1
0.1125
0.01
So light but worth having
Clothing
Bandana/chamois
Cotton bandana
Carried
0.6
1
0.6
0.04
Always
Cooking
Resealable bags
5 or so freezer bags
Carried
4.3
0
0
0.00
Cooking
Mug
Insulated mug
Carried
4.1
1
4.1
0.26
Cooking
Utensil
Snow peak blue spoon
Carried
0.5
1
0.5
0.03
Extras
Reading
iPad with case
Carried
25.6
1
25.6
1.60
Extras
Computer
Macbook Air with case
Carried
35.0
1
35
2.19
Extras
Chargers
Phone and iPad charger
Carried
3.1
1
3.1
0.19
Extras
Mobile Wifi
Wifi Hot Spot and charger
Carried
3.2
1
3.2
0.20
Once we got it working was very valuable - better in Republic than N.I.
Extras
Tripod
Gorillapod
Carried
1
0
0.00
Fantastic for taking long exposure shots with the iPhone.
Extras
Notebook
Field Notes (2 or 3)
Carried
1.1
1
1.1
0.07
Extras
Pen
Ball point pen
Carried
1.0
1
1
0.06
Extras
Headphones
iPhone buds
Carried
2.4
1
2.4
0.15
Extras
Bottle
20 oz Pepsi bottle
Carried
1.3
1
1.3
0.08
For whiskey
Extras
Passport
Chris' passport
Carried
1.0
1
1
0.06
Extras
Game bag
Sticheln deck, chips, rules
Carried
8.0
1
8
0.50
For normal card games plus special German style games in ziploc bag
Extras
Phone
Unlocked phone
Carried
6.0
1
6
0.38
Cheap Android phone
Extras
Phone
iPhone with case
Worn
5.8
1
5.8
0.36
We'll bring a waterproof cell case next time. Chris's phone died after pulling it out one too many times in the rain.
Extras
Trash bag
Heavy duty bag to wash laundry
Carried
8.0
1
8
0.50
Extras
Laundry detergent
Small bottle
Carried
2.2
1
2.2
0.14
Survival
LIttle stuff (survival and toiletries)
Toiletries (toothpaste, sunblock, pack towel, etc) and small survival kit (first aid kit, thermal blanket, compass w/mirror, lighter, whistle, stormproof matches, duct tape, cord)
Carried
23.8
1
23.8
1.49
Survival
Light source
Black diamond head lamp
Carried
2.8
1
2.8
0.18
Water
Water bladder
2L Platypus Hoser
Carried
3.5
1
3.5
0.22
Water
Water bottle
20 oz Gatorade bottle
Carried
1.2
2
2.4
0.15
Clothing
Long pants
Cotton corduroy pants
Worn
20.6
1
20.6
1.29
Clothing
Belt
Leather belt
Worn
8.0
1
8
0.50
Clothing
T-shirt
HeatTech T-shirt
Worn
3.3
1
3.3
0.21
Clothing
Long sleeve shirt
Mizzen and Main grey Oxford
Worn
10.5
1
10.5
0.66
Clothing
Socks
Merrel socks
Worn
1.8
1
1.8
0.11
Clothing
Hiking shoes
Merrel hikers
Worn
29.2
1
29.2
1.83
Chris also needed waterproof shoes and gaiters.
Clothing
Underwear
Ex-Officio Give-N-Go Briefs
Worn
2.2
1
2.2
0.14
Carried:
24.08
Worn:
4.73
Total:
28.81